COVID-19 vaccine begins second trial
Share - WeChat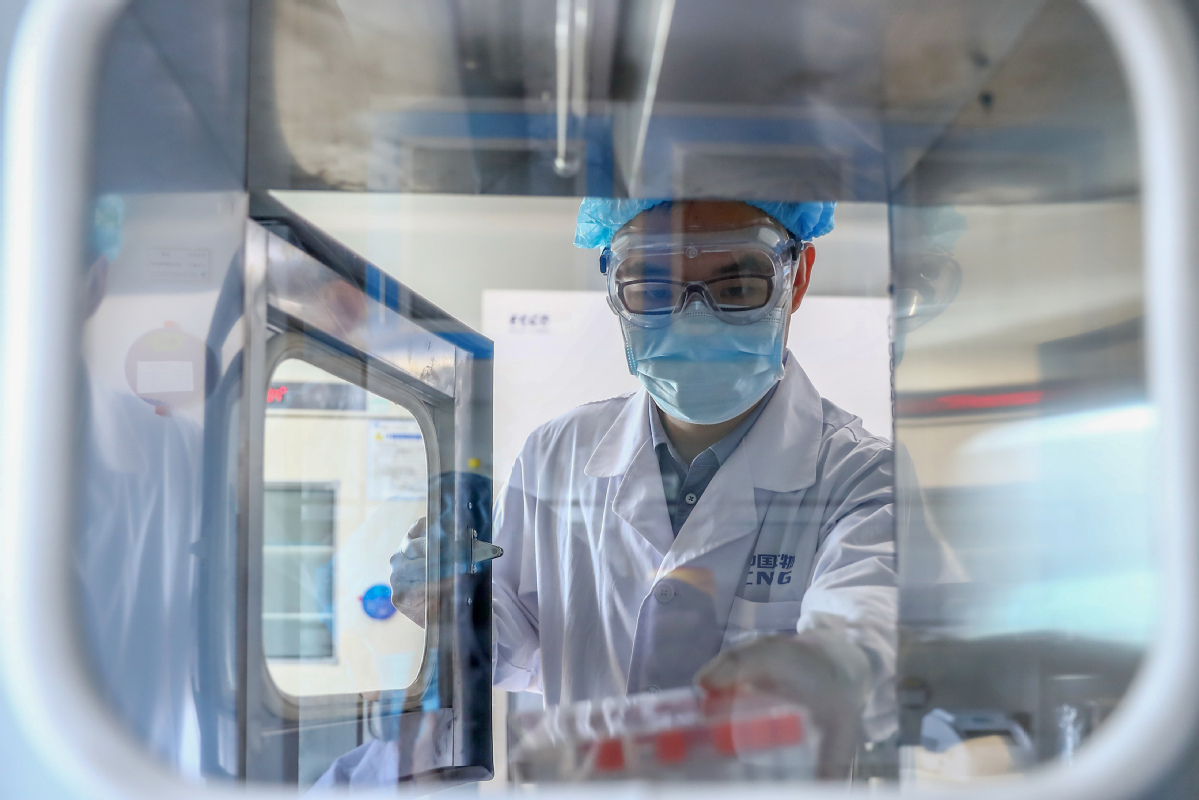 An experimental COVID-19 vaccine developed by the Chinese Academy of Medical Sciences' Institute of Medical Biology entered phase two of human trials on Saturday as China continues to make progress on the development of five potential vaccines under clinical studies.
The institute, located in Kunming, capital of Yunnan province, said that phase two clinical trials for its inactivated COVID-19 vaccine will be conducted in Mile and Gejiu cities in Yunnan's Honghe Hani and Yi autonomous prefecture.
Regional disease control and prevention centers have started screening for volunteers and are expected to finish recruiting participants in one week, according to an article released on its WeChat account on Sunday.
The institute gained approval from the National Medical Products Administration to roll out the first and second stages of human trials on May 13.
The first phase was recently completed at Sichuan University's West China Second University Hospital in Sichuan province, enrolling nearly 200 healthy volunteers aged 18 to 59.
During the second phase, researchers will further evaluate the experimental vaccine's safety and its efficacy in stimulating immune response in humans, and determine the appropriate dosage and the proper procedures for administering shots.
Meanwhile, the institute is ramping up production capacity in Kunming. A new plant equipped with biosecurity protections is expected to be put into use in the second half of the year.
So far, China has five vaccine candidates for the novel coronavirus in human trials-one vector and four inactivated, accounting for about 40 percent of all experimental vaccines in advanced stages around the world, according to the Ministry of Science and Technology and the National Health Commission.
Zeng Yixin, vice-minister of the National Health Commission, said during a news conference in mid-May that all of these vaccine candidates are set to complete their phase two trials by July.
Three of the five domestically-developed vaccine candidates under clinical studies have completed the second phase of clinical trials while conforming to international standards in vaccine research and development, and efforts are underway to push ahead with the third and most crucial stage in vaccine development, according to Wang Junzhi, a member of the vaccine development unit of the State Council's Joint Prevention and Control Mechanism.
Wang told China Central Television over the weekend that the next step is "to proactively seek the rollout of the third stage of human trials, so as to obtain data on the vaccine's protective effects on the masses," adding that the third stage is required to be launched in areas where the virus is still spreading and is bound to take a longer time.
Since the COVID-19 outbreak hit China in late December, China has initiated a total of 12 vaccine research projects in the country, utilizing five different approaches. In addition to the vector and inactivated vaccines, scientists are also studying recombinant protein vaccines, live attenuated influenza vaccines and nucleic acid-based vaccines.
The Ministry of Science and Technology said other types of vaccines are likely to receive approvals for human trials in the future.