Meng Wanzhou's lawyers: US is misleading Canada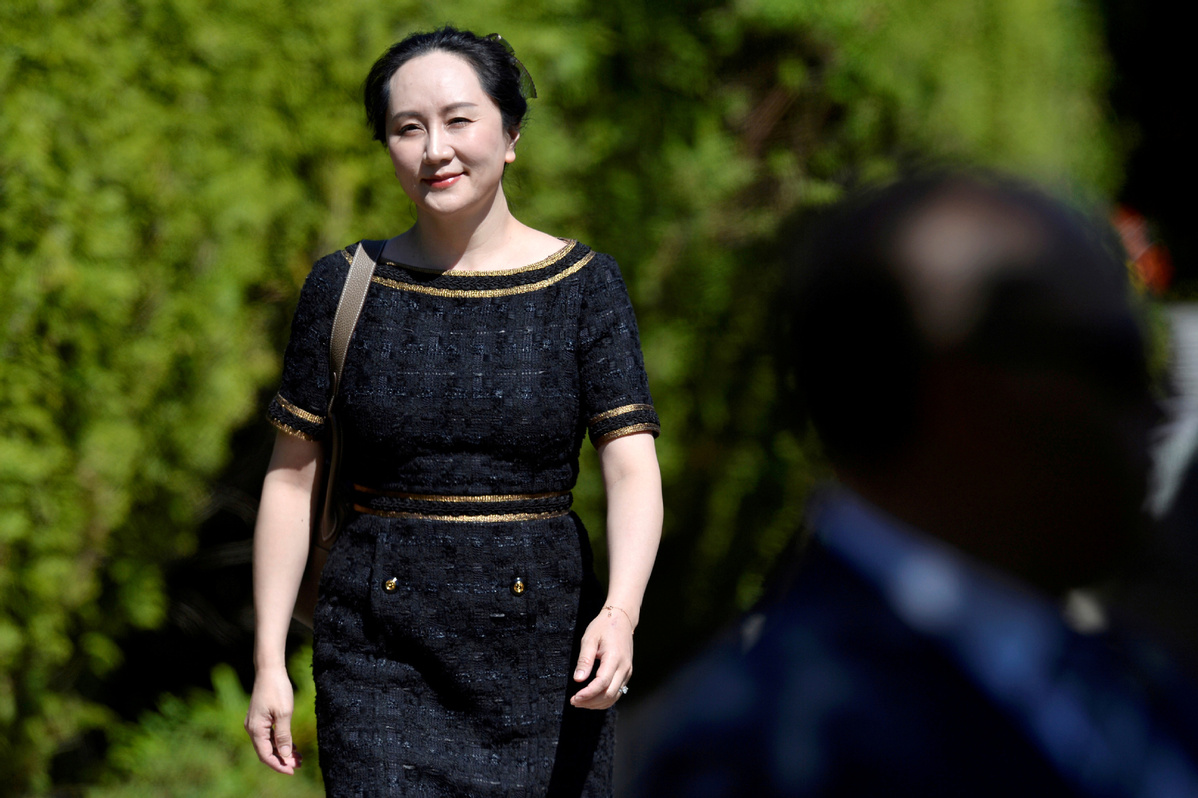 Lawyers for Huawei executive Meng Wanzhou have claimed that US authorities are trying to mislead the Canadian court in her extradition case by providing a "grossly inaccurate" summary of the evidence, arguing that the case should be thrown out as a result.
The new allegations came as newly released Canadian court documents on Friday revealed that the Canadian Security Intelligence Service (CSIS) predicted Meng's arrest in December 2018 would send "shock waves around the world" and become "a significant bilateral issue" for Canada and China.
Meng's lawyers said that the report disclosed by the CSIS provides evidence of "coordinated state misconduct" between the US and Canada against her, and it bolsters the case that Meng is a victim of abuse of the legal process and political interference.
"Ms Meng will submit that the Requesting State's summary of evidence … is grossly inaccurate and based on deliberate and/or reckless misstatements of fact and material omissions, thereby constituting a serious abuse of the extradition process that should disentitle the Requesting State to proceed," her lawyers said in a memo, released on Monday by the Supreme Court of British Columbia.
Meng's lawyers claimed a two-page redacted report shows that the CSIS was conscious of a "pre-planned scheme" allowing authorities to intrude because the report said her arrest was expected to occur at about 4 pm even though her plane landed at 11:30 am.
Disclosed as part of Meng's extradition proceedings, the CSIS report also shows it got a heads-up from the US Federal Bureau of Investigation (FBI), and the FBI will not be present in an effort to "avoid the perception of influence".
One of Meng's lawyers, Richard Peck, said the extradition case is very "unusual" and "unique".
"It does give rise to three arguments on abuse of process … (one) in relation to the president of the requesting state and his assertion that he would effectively do what he wanted with Ms Meng, which we consider to be an outrageous comment," Peck said at Monday's hearing.
Meng, the Chinese telecom giant's chief financial officer, was charged with fraud over allegations that she violated American sanctions against Iran, which she and Huawei have denied.
Soon after Meng's arrest, President Donald Trump said that he reserved the right to weigh in on the case against Meng if it would help the US secure a trade deal with China or serve other American national security interests.
China restated on Monday that the arrest of Meng is a political conspiracy by the US, which is trying to crack down on Huawei and other Chinese high-tech companies, according to the Chinese Foreign Ministry.
"The documents fully exposed the political plot of the United States to deliberately suppress Chinese high-tech enterprises and Huawei," said Zhao Lijian, Foreign Ministry spokesperson, adding that Canada played the role of a US "accomplice".
Last month, the British Columbia Supreme Court delivered a critical decision on Meng's case by ruling that the American extradition proceedings against her satisfied the "double criminality" test.
The Chinese embassy in Ottawa called her case "a grave political incident" and warned Canada "not to go further down the wrong path".