Unrest grows amid calls for police reforms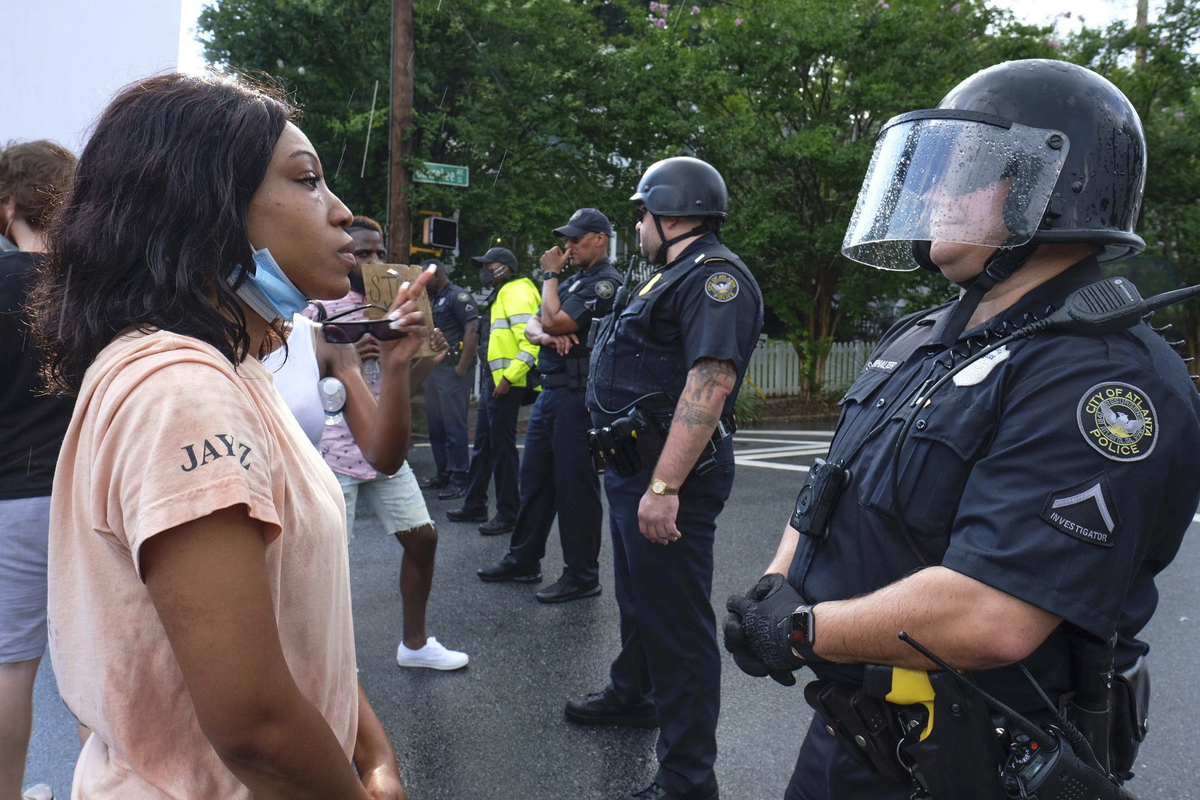 US tension intensified by killing of Atlanta man who failed sobriety test, struggled to avoid arrest
The tension in major cities across the United States over the death of George Floyd, a black man who died in police custody in Minneapolis on May 25, has intensified following the killing of another black man by police in Atlanta.
Protesters shut down a major highway in Atlanta on Saturday and burned down a Wendy's restaurant where Rayshard Brooks, 27, was fatally shot by police on Friday as he fled to avoid arrest. Both officers involved in the Atlanta altercation are white. The confrontation was captured on video.
The death of Brooks was a homicide caused by gunshot wounds to the back, the Fulton County Medical Examiner's office said on Sunday.
An autopsy conducted on Sunday showed that Brooks died from blood loss and organ injuries caused by two gunshot wounds, an investigator for the medical examiner said in a statement. The manner of his death was homicide, the statement said.
Atlanta's police chief, Erika Shields, resigned over the shooting. The officer identified as the one who shot Brooks was fired, and the other officer involved in the incident was put on administrative leave.
Brooks' fatal encounter with police came after an employee of a Wendy's restaurant in Atlanta phoned authorities to say that someone had fallen asleep in his car in the restaurant's drive-through lane.
The encounter, caught on the officer's body camera and a surveillance camera, seemed friendly at first, as Brooks cooperated with a sobriety test, which he failed, and talked about his daughter's birthday.
"I watched the interaction with Mr Brooks and it broke my heart," Atlanta Mayor Keisha Lance Bottoms said on CNN. "This was not confrontational. This was a guy that you were rooting for."
But when an officer moved to arrest him, Brooks struggled with him and another officer at the scene before breaking free and running across the parking lot with what appears to be a police Taser in his hand, a bystander's video shows.
A video from the restaurant's cameras shows Brooks turning as he runs and possibly aiming the Taser at the pursuing officers before one of them fires his gun and Brooks falls.
States and cities across the United States are looking to reallocate funds from their police departments into social programs to help communities of color and marginalized communities, while also changing police tactics that could be deadly.
In recent days, protesters and activists in many cities have embraced the slogan "Defund the Police", saying they have given up trying to change police behavior and are instead advancing a more radical idea-cutting police budgets and giving police functions to other municipal departments or community groups.
On June 12, a majority of the Minneapolis City Council pledged to dismantle its police department and create a new system of public safety.
Minneapolis Mayor Jacob Frey expressed support for major structural reform of the police department, but reaffirmed his opposition to disbanding the department.
"We need a full structural revamp. But abolishing the police department? No, I think that's a bad idea," he told National Public Radio.
While some seek to abolish police departments, some others favor cutting budgets and transferring the money to social programs and other reforms.
According to data from the Washington, DC-based think tank Urban Institute, from 1977 to 2017, state and local government spending on police increased from $42 billion to $115 billion.
Many cities have acted quickly, with moves to divest funding from police either pledged or underway in Los Angeles, New York, Seattle, San Francisco, Baltimore, Philadelphia, Chicago and at least a dozen other US cities.
Patrisse Cullors, a co-founder of the Black Lives Matter movement, said she hopes to eventually see police forces abolished entirely.
Meanwhile, she said she would like to see at least some funding shifted from police departments toward organizations that support marginalized communities.
"It's not just about taking away money from the police; it's about reinvesting those dollars into black communities," Cullors said.
Democrats in Congress unveiled legislation on Monday in response to widespread protests over police brutality. The legislation assembled by the Congressional Black Caucus is backed by House Speaker Nancy Pelosi and others.
The bill would ban chokeholds, create a misconduct registry and mandate training against racial profiling, among other changes to national policy.
Senator Tim Scott of South Carolina, the only black Republican in the Senate, is leading Republican efforts in Congress on criminal justice.
On Saturday, he rejected a Democratic proposal to end certain legal protections that make it difficult for citizens to sue police officers for using excessive force.
In Britain, Prime Minister Boris Johnson said a cross-government commission would examine racism and the disparities experienced by minority ethnic groups in education, health and the criminal justice system following Black Lives Matter protests, according to Reuters.
Johnson said he could not ignore the strength of feeling shown by tens of thousands of people who had demonstrated in London and other British cities following the death of Floyd.