Streams of gold from needles & threads
Share - WeChat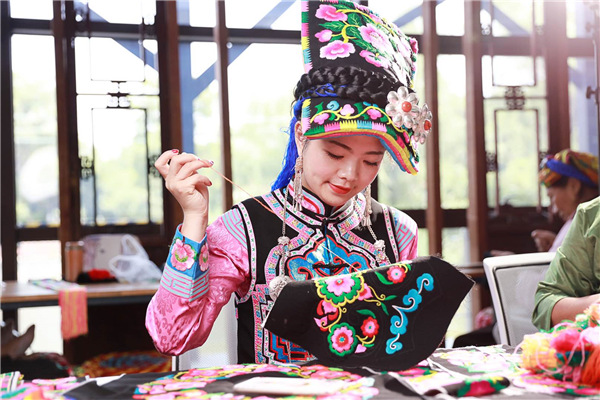 The earthquake forced many Qiang ethnic people to leave the area to find work in cities, but Zhang eventually decided to take the journey in the opposite direction.
Five years after the earthquake and a few years after graduating from college, she quit her job as a public servant, and in 2014 she set up a cooperative in her hometown bringing local women together to make distinctive Qiang ethnic hand embroidery and sell it on the internet.
She named her online shop Xi Yue, meaning happiness. Though it was exactly this that her career change would bring her, when she made her decision it confounded many of her relatives and others in her hometown, many of whom have come to be believe that city life holds the promise of nirvana.
"Qiang ethnic people and embroidery are inextricably linked in their culture and throughout history, and I had been interested in the bright handcrafted Qiang cotton and silk works since when I was a child," Zhang says. "I was keen to let more people know about the great culture of the Qiang."
Zhang's mother is the leader of the village's women's federation and helped local women to sell their embroidery products.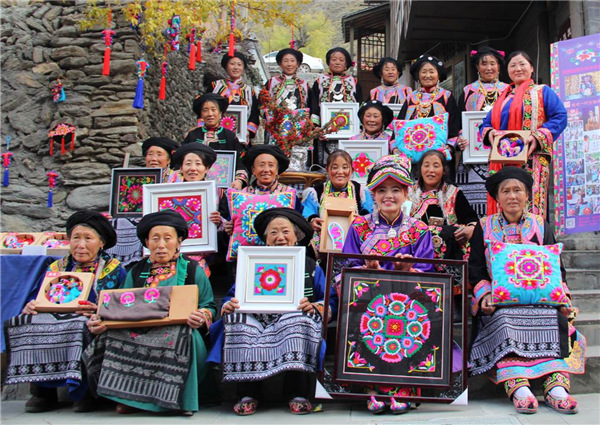 "The Qiang people have no written language, so the Qiang embroidery is carried forward only by hand and word of mouth," Zhang says.
With her online shop on Taobao and promoting the handcrafted embroidery products via social media platforms, Zhang steadily gained a following, especially among young buyers who like to put embroidered patterns to use in clothing, bags and accessories.
"Many Qiang women make embroidery for their own use and are unaware of how they can turn their handicrafts into commercial products," Zhang says. "Many of those who are, and who have never left their village see their products travel to different parts of the country and even throughout the world."
Having learned to do embroidery herself, she feels she can better present and explain products to customers. She also conducts workshops training local women so they can join the cooperative. She now works with about 120 Qiang women from 30 to 70 years old, who turn Qiang embroidery into items that fit contemporary life.
Zhang says she receives orders from all over China. The women of her cooperative produce every day based on the size and pattern of the embroidery products, and they can earn between 500 yuan ($70) and 3,000 yuan a month.
In addition to making embroidery products, villagers make a living by growing vegetables and raising livestock. The average income of the villagers is from 2,000 yuan to 3,000 yuan.
"Some disabled women cannot do farm work," Zhang says.
Most Popular