Keynote speech by Chinese Ambassador to UK at the briefing to Chinese and British business community on 'two sessions': strengthen the foundation and seize the opportunities of cooperation to create a brighter future
Share - WeChat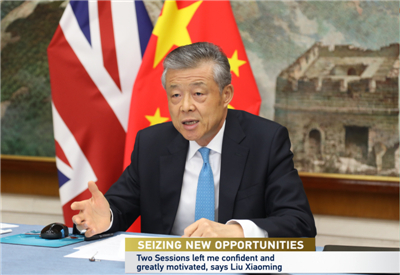 Chairman Perry,
Lord Sassoon,
Sir Sherard,
Chairman Fang,
Ladies and Gentlemen:
Good morning!
It is a real delight to join you online. This is my first speech to the Chinese and British business communities on the "Two Sessions" of this year.
The annual "Two Sessions" are major political events in China. They provide the world with an important window to learn about China directly.
This year, the "Two Sessions" are special. They are held under unusual circumstances at an unusual time during the battle against Covid-19. Although shorter and with some adjustments to formats, the two sessions were no less substantial or fruitful.
My take on the "Two Sessions" is two-fold: More confident and greatly motivated. I would like to share my feeling of confidence and motivation with you by answering the following three questions.
The first question is, what are the prospects of China's economic and social development amid COVID-19?
COVID-19 is the biggest pandemic we have encountered in a century. It is a crucial test on the public health system. It is also a major test on the economy. In this test, China has done well.
On the public health front, China has achieved important and strategic success in containing the virus.
Since the outbreak and under the direct leadership and command of President Xi Jinping, the whole nation has stood in unity and made utmost efforts to win the battle against the virus.
The most strict, comprehensive and thorough measures of prevention and control were taken.
· In a little more than one month, we achieved preliminary success in containing the spread of the virus.
· In about two months, we reduced the number of daily new cases to single digit.
· In about three months, the battle of Wuhan and Hubei, the epicenter of the outbreak, witnessed a decisive victory.
At the same time, China has engaged in international cooperation in an open, transparent and responsible spirit. In record time, China
· informed the WHO and the relevant countries about the outbreak,
· published the genetic sequence of the virus,
· shared its experience of prevention, control and treatment,
· and provided strong support and assistance to countries in need to the best of its capability.
At home, we did not let our guard down but stayed on high alert against imported cases and domestic rebound. We will continue to do so until the day of final victory.
On the economic front, China has also achieved significant success in bringing economic and social activities back on track.
The epidemic had its impact on China's economy, resulting in 6.8% contraction in the first quarter compared with the same period last year. It was actually the first quarterly contraction since 1992.
This situation calls for coordinated efforts on both fronts, and that's what China did. On the one hand, we have kept the regular containment measures in place; on the other, we have stepped up supportive policy to counter the impact of the epidemic and bolster economic and social development. Factories are reopening. Production lines are switched on. Shops and restaurants are ready to welcome customers. People are going back to work. And all these are done in an orderly manner.
· As of May 18th, large-scale enterprises were running on 99.1% capacity, where 95.4% of staff and workers were back to work.
· Manufacturing PMI was above the threshold for three months in a row, reaching 50.6% in May.
· In April, both the added value of large scale industrial enterprises and total electricity consumption were back in the positive zone, increasing by 3.9% and 1.3% respectively.
· Strong growth momentum has been shown in areas such as "stay-home economy", "cloud office", digital economy, artificial intelligence and medical care.
· From January to April, online retail sales of goods increased by 8.6% year-on-year.
These positive signs and rapid recovery bear witness to the strong resilience and enormous potential of China's economy. Therefore, I am full of confidence in China's capability to claim final victory over the virus, restore economic growth and continue to achieve social progress.
Now let me turn to the second question: what is the direction of China's development after the pandemic?
On this question, I think we need to keep an eye on the following four areas:
First, China will realize its first centenary goal, that is, to complete the building of a moderately prosperous society in all aspects and to eradicate absolute poverty in China.
These are China's goals in 2020 -- the year of milestone significance in China's development.
· These goals are the solemn promises of the Communist Party of China.
· They are the objective of several generations of Chinese people.
· When one fifth of the world's population is free from abject poverty, such extraordinary progress would be nothing short of a miracle in the history of mankind.
So, this year will mark a new starting point for China. We will then embark on a new journey towards another centenary goal.
Second, China will strengthen the weaknesses in public health governance, and work with the rest of the world to bring the pandemic under control.
Our public health and medical system has played a crucial role in containing the virus at home. However, weaknesses and shortfalls were also exposed.
There are experiences and lessons to be learned. We need to
· optimize the system for disease prevention and control,
· improve epidemic monitoring, early warning and emergency response,
· and increase investment in R&D in the area of health care.
We must do these in order to strengthen our capability of responding to major public health emergencies.
At the same time, China will continue engaging the world in making a joint response to COVID-19.
In the coming two years, China will provide 2 billion dollars in international aid. This will go to the countries that are battling the virus and at the same time trying to restore socio-economic order, especially in developing countries.
China will establish a mechanism of cooperation between hospitals in China and 30 hospitals from Africa. We will also accelerate the building of the Africa CDC headquarters.
China will also take an active part in international cooperation on R&D of vaccines. When we are successful in developing a vaccine and put it to use, we will make it a global public good, especially ensuring vaccine accessibility and affordability in developing countries.
China will join hands with other countries to improve global governance on public health and build a global community of health for all.
Third, China will follow the new development concept and focus on the quality of economic growth.
This year's "Two Sessions" did not set a growth target. This is a down-to-earth approach.
China will continue to implement the measures known as "six stabilize", that is, to
· stabilize employment,
· stabilize the financial market,
· stabilize foreign trade,
· stabilize investment,
· stabilize FDI
· and stabilize economic expectations.
Specific steps will be taken to protect employment, basic livelihood, market entities, food and energy security, stable industrial and supply chains, and normal operation of the grass root communities. These will promote steady and high-quality growth of the economy and deliver more benefits to the people.
The year 2020 is the last year for realizing China's 13th Five-Year Plan. It is time to formulate the 14th Five-Year Plan and draw a new blueprint for greater progress in China's high-quality economic growth.
Fourth, China will remain committed to reform, opening up, and to building an open world economy.
· China is deepening reforms by streamlining administration, delegating power, improving regulation and upgrading services;
· China is promoting market-based allocation of production factors;
· China is fostering an enabling environment for the development of the private sector;
· China is also carrying out a new round of pilot reforms to encourage innovation in all sectors.
These reform measures represent China's commitment to sustainable development, known metaphorically in Chinese as "conserve the green mountains" and "save the future for posterity". I call it China's wisdom and determination.
· On the front of opening-up, China will
· further implement the Foreign Investment Law,
· shorten the negative list for foreign investment by a big margin,
· accelerate the establishment of Hainan free trade port,
· and make the online 127th China Import and Export Fair and the third China International Import Expo successful.
These measures represent China's confidence in opening its market wider to the world even at this unusual time. No matter how the situation in the world develops, China will remain committed to deepening reform and promoting development through opening up. We believe closer business cooperation between countries will bring win-win results.
Now let me turn to the third question: what are the prospects of China-UK business cooperation after the pandemic?
The outbreak did pose challenges to the normal business cooperation between our two countries, and caused temporary downslide in bilateral trade. But the impact will be temporary and controllable. Yesterday, Chinese State Councilor and Foreign Minister Wang Yi had a telephone conversation with Foreign Secretary Raab. The two sides agreed that enhancing the mutually-beneficial cooperation between China and the UK is in the fundamental and long-term interests of both our peoples. I believe China-UK business cooperation after the pandemic faces four opportunities.
First, the opportunities of China's economic recovery.
By 2019, China has been the largest contributor to world economic growth for 14 years in a row, contributing around 30% of growth in recent years. China will remain a major economic powerhouse for the world in the years to come.
Now, as the world is fighting the pandemic, China is taking the lead in bringing economic activities back on track. In this process, we have accumulated useful experience. The UK is also gradually easing the lockdown and restoring its economy.
China and the UK could share experience, make full use of the "fast track" for businesses, and work together to realize economic recovery after the outbreak.
Second, the opportunities of China's expanding market.
China is the world's second largest consumer market, with a population of 1.4 billion, including more than 400 million middle-income earners. Last year, China's per capita GDP crossed the 10,000-dollar threshold for the first time.
As China continues to expand domestic demand and increase market access, businesses of all countries could find enormous opportunities for cooperation and development.
We welcome British businesses at the upcoming online 127th China Import and Export Fair and the third China International Import Expo to be held in November. These will be great opportunities to share in the benefits that China's market has to offer.
Third, the opportunities of new business models and new driving forces.
During the outbreak, emerging economic sectors have shown enormous potential and vitality. These include "stay-home" economy, digital economy, medical care, FinTech and green development.
Businesses of our two countries could seize these opportunities, leverage our respective strengths, and enhance cooperation on innovation in new business models and new driving forces, so as to foster more growth points.
Last month, ByteDance, a well-known Chinese technology company made an official announcement that it would place its TikTok European headquarters in London. This is certainly a new highlight in China-UK cooperation.
Fourth, the opportunities of multilateral business cooperation.
China and the UK are both staunch supporters for free trade. Our two countries could enhance coordination and cooperation in multilateral mechanisms such as the G20 and the WTO. It is important we join hands to uphold the multilateral trading system, build an open world economy, and ensure the global industrial chain is open, safe and stable.
We could also expand cooperation in areas such as infrastructure, financial services and public health, including in a third market, under the framework of the Belt and Road Initiative. This will provide new impetus for China-UK cooperation on the Belt and Road Initiative.
Ladies and Gentlemen:
Today is a special day for China-UK relationship. On June 9th, 1898, the Convention between Great Britain and China Respecting an Extension of Hong Kong Territory was signed, leasing the New Territories to the UK for 99 years.
Today, after 122 years, Hong Kong is part of China, and China-UK relationship has witnessed tremendous changes.
However, some UK politicians still cling to the Cold-War and colonial mentality, and refuse to accept the fact that Hong Kong has been returned to China and is now a special administrative region of China. They made irresponsible remarks recently on the national security legislation for the Hong Kong SAR and interfered in Hong Kong affairs, which are China's internal affairs. The Chinese side strongly opposes this.
With regard to the national security legislation for the Hong Kong SAR, I want to emphasize that making laws on national security is purely an internal affair of a nation. It falls within the legislative power of the nation and the responsibility of the central government, and brooks no external interference. This is true for China as it is true for the UK.
The national security legislation for the Hong Kong SAR targets the very few actions and activities that gravely jeopardize national security.
· It will not affect the high degree of autonomy of Hong Kong.
· It will not change Hong Kong's independent judicial power, including the power of final adjudication.
· It will provide better safeguards for the rights and freedom of the Hong Kong residents.
· It will ensure better protection of the legitimate rights and interests of foreign investors in the city.
· It will guarantee better rule of law and business environment in Hong Kong.
· And it will strengthen people's confidence in "One Country, Two Systems", and in Hong Kong's development in the future.
This legislation has won the support of the majority of Hong Kong people. Many countries have also upheld justice and expressed their appreciation and support for this legislation.
A prosperous and stable Hong Kong is in the interests of both China and the UK. I have noticed that some big British businesses in Hong Kong have expressed their understanding and support with regard to the legislation. I think this is a wise and visionary move.
It is my hope that the British business community will view the national security legislation for the Hong Kong SAR from an objective and reasonable perspective. I hope you will contribute positive energy to the long-term prosperity and stability in Hong Kong.
Ladies and Gentlemen:
President Xi Jinping said, we must find new opportunities in crisis, and open up new prospects amid changes.
In face of the difficulties and challenges, discussions are important in helping us see things clearly. But it is more important to take actions. I hope the Chinese and British business communities will strengthen confidence, stay motivated and seize the opportunities. We must race against the clock to make up for the losses caused by the pandemic.
Let us work together to turn crisis into opportunities for more outcomes, open up new prospects for win-win cooperation, and create a better and brighter future for China-UK relations!
Thank you!
Most Viewed in 24 Hours
China Views