Out of poverty with the stroke of a brush
Share - WeChat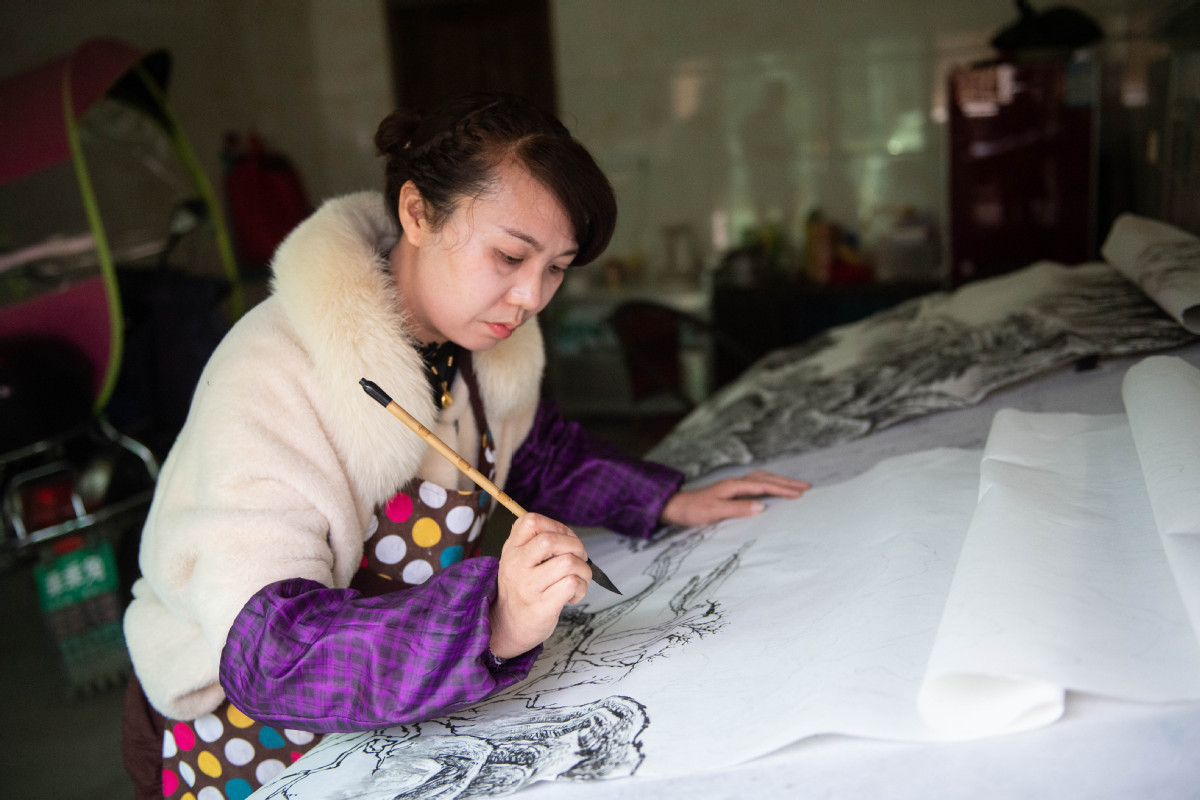 CHANGSHA-Zhang Gongmei, who spent half her life working tirelessly in the fields, relied on a paintbrush to support her son through high school.
The 50-year-old lives in Xiaohe village in a mountainous area of Hunan province, on the border with Jiangxi province, that is surrounded by stunning scenery.
"Trapped by endless peaks, even an experienced farmer with the sharpest hoe can't harvest much income," Zhang said.
"I used to grow soybeans, but I lost up to 30,000 yuan ($4,240) in the end as a lack of transport routes in the mountains made it hard to sell my produce."
To take care of her sick husband and school-age children, Zhang abandoned farming. Her family was listed as an impoverished household in 2014.
However, her life was turned around in 2016 when local authorities established several studios in Xiaohe to teach farmers how to earn a living from painting. Zhang was one of the first to pick up a paint brush.
"I was at a total loss at first and didn't even know how to hold a brush," she said. "When I hesitated the paint had already dripped from the tip, but my mind was still as blank as the paper."
Artistic concepts that the teachers taught such as layering, lines and composition overwhelmed Zhang, as if the instructors were speaking in a foreign language.
"The teacher taught us how to draw the base outline and apply strokes," she said, adding that after three months of practice she could finish a landscape painting on her own.
"There was a monthly subsidy of 1,500 yuan during the training phase. After that we could earn more than 3,000 yuan working as a painter."
Zhang said the more pictures she paints, the more she earns.
"I can draw nearly 20 pictures a day, with each bringing in over 10 yuan ($1.40)," she said, explaining that was how she paid for her son's high school education.
Since 2016, the art studios in Xiaohe have taught more than 460 painters like Zhang, who produce landscape and other paintings that are sold in countries including Japan and South Korea.
Last year the paintings earned over 20 million yuan.
Zhang lifted her family out of poverty in 2018. However, she continues to earn a living from painting.
She has also begun learning how to do creative paintings with oils, which have a wider market. "I'm not worried at all this time. I'm confident that I can do well," she said.
Fellow painter Lin Guichun, 34, said the training helped her achieve a childhood dream.
"I've loved painting since I was a child, but the heavy burden of looking after my family restricted me from learning art," she said.
Lin said painting had opened a new chapter of life. "Being in the countryside, we can also count on this 'beautiful business' to shake off poverty," Lin said.
Xinhua
Today's Top News
Editor's picks
Most Viewed