Revving into the reckoning
Share - WeChat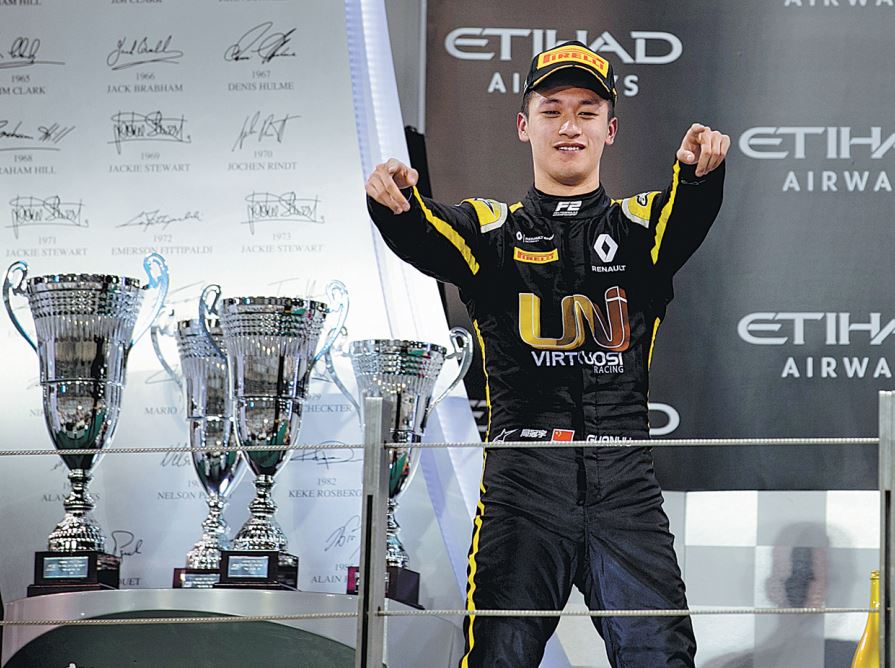 Big season awaits China's Zhou Guanyu as lineup change at Renault potentially opens door to historic F1 drive
Like most sports, Formula 1 has not been immune to the logistical and financial implications of the COVID-19 pandemic, with many teams feeling the pinch to trigger a number of lineup changes that could ultimately benefit China's Zhou Guanyu.
Sebastian Vettel is set to leave Ferrari at the end of the 2020 season, with McLaren's Carlos Sainz to succeed the German. In turn, Sainz's McLaren spot will be filled by Renault's Daniel Ricciardo, leaving a vacancy at the French manufacturer's team.
That presents a window of opportunity for promising Formula 2 star Zhou, who as Renault's test driver is tantalizingly close to becoming China's first F1 driver.
After the pandemic put the brakes on March's season-opener in Australia, F1 recently announced dates for the opening eight races of the 2020 calendar, starting with a doubleheader at the Red Bull Ring in Austria in early July.
Zhou has returned to Renault from his Shanghai home to prepare the coming season. The 21-year-old, however, is not letting speculation about his potential promotion distract him from the task at hand.
"Right now, I'm focused on what I'm doing now, which is to fight for a better ranking in F2," said Zhou during an exclusive interview with China Daily last week.
"For sure, if there's a chance, I hope to seize the opportunity.
"It will depend on my performance this season in F2. So my priority is to improve my results in F2, so I can move forward toward my goal."
Zhou, who signed with the Renault Sport Academy in January 2019 and has already gained some F1 experience as a development driver, earned the test-drive spot in Renault following an impressive debut season in F2 last year.
He finished seventh overall to claim F2's best rookie title in a highly encouraging campaign that included five podiums and one pole position. That helped his UNI-Virtuosi outfit to finish second in the team standings.
Under FIA regulations, Zhou needs to finish in the top four of the 2020 F2 championship in order to be eligible for a 'super license'-a requirement for all F1 race drivers.
Zhou is, therefore, raring to get back on the track and hit his targets.
"I'm excited to start the race in July ... During the pandemic, I kept doing physical training to maintain my condition. I hope I can embrace the start of the new season in my best form," said Zhou.
Amid the sport's shutdown, participating in online e-sports races was the only option for Zhou to sit behind the steering wheel and compete on F1 tracks-albeit virtual ones.