Chinese aid bolsters Peru's fight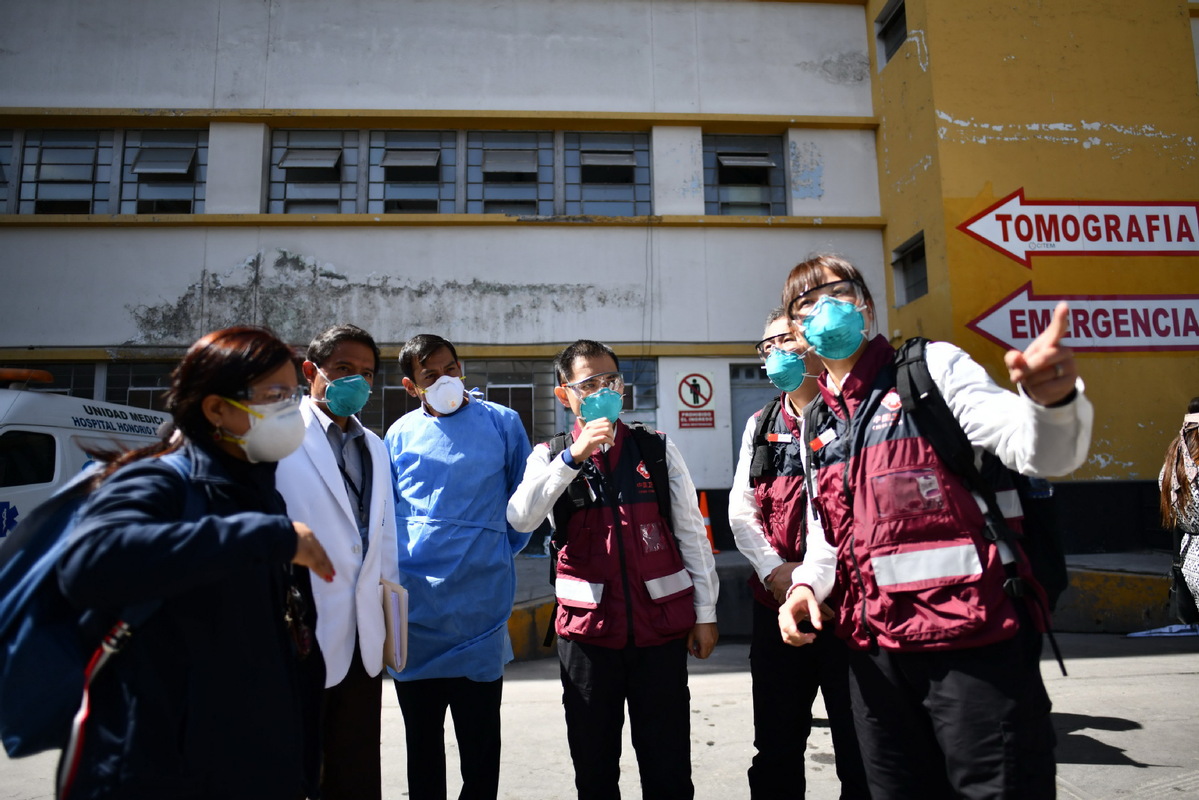 Equipment and expertise from China are helping Peru beat the coronavirus pandemic in a nation afflicted with one of the world's highest rates of infection in per capita terms.
"We have received a significant donation from the People's Republic of China to strengthen our intensive care units, as well as personal protective equipment," Peruvian Minister of Health Victor Zamora said.
"The first concrete international aid received was from China with the arrival of these devices on May 21 and, days later, with the arrival of the four specialists," said Juan Carlos Puertas, an analyst in Lima.
The team has worked side by side with Peruvian professionals in a range of health settings as part of the worldwide effort against COVID-19."They bring experience and knowledge," said Zamora.
The experts, picked by the Guangdong Provincial Health Commission, arrived by private jet at a military base next to Jorge Chavez International Airport in the Peruvian capital Lima. They were greeted by Zamora and the Chinese Ambassador to Peru Liang Yu.
They have been carrying out their work in accordance with the spirit of cooperation expressed by President Xi Jinping and his Peruvian counterpart Martin Vizcarra in an exchange of letters on May 29 and in a telephone conversation on April 30.
The Chinese experts could not have arrived at a more pressing time, with the South American country topping 5,000 infections for every million people.
"Peru currently holds the world record for COVID-19 infections per million inhabitants," said Puertas, adding it remains hard to get an exact record of deaths due to the remote and mountainous terrain in which many Peruvians live.
Issue of discussion
Ernesto Bustamante, a former chief of Peru's National Health Institute, said the way that confirmed cases are being counted could be an issue of discussion.
Peru adopted the polymerase chain reaction tests instead of the serology testing recommended by the World Health Organization. Chinese experts have been meeting with their peers and sharing the Chinese experience in dealing with the virus, including on the management of diagnostic tests and data.
The donation of medical supplies to Peru was part of a joint effort from the private and public sectors in China. China Three Gorges Corporation donated ventilators, monitors and other medical equipment, while e-commerce giant Alibaba and the Jack Ma Foundation sent in COVID-19 molecular testing kits and ventilators.
As far as Bustamante is concerned, China's aid is welcome.
"There are a lot of Chinese reactive devices in Peru and, naturally, the presence of the Chinese delegation, with a highly skilled team of professionals, is very useful given the fact that China has proved to be successful in containing the outbreak in Wuhan," Bustamante said.
The Chinese experts have also shared professional information with Chinese communities in Peru and representatives of China-funded enterprises and institutions.
China's efforts in helping Peru fit in with the broader context of an expanding relationship.
"Peru and China have a good economic relationship. China has invested a lot in Peru during recent years," said Susana Chan, a member of the Sino-Peruvian community in Lima.
The writer is a freelance journalist for China Daily.