Supervision of labs testing for COVID-19 to tighten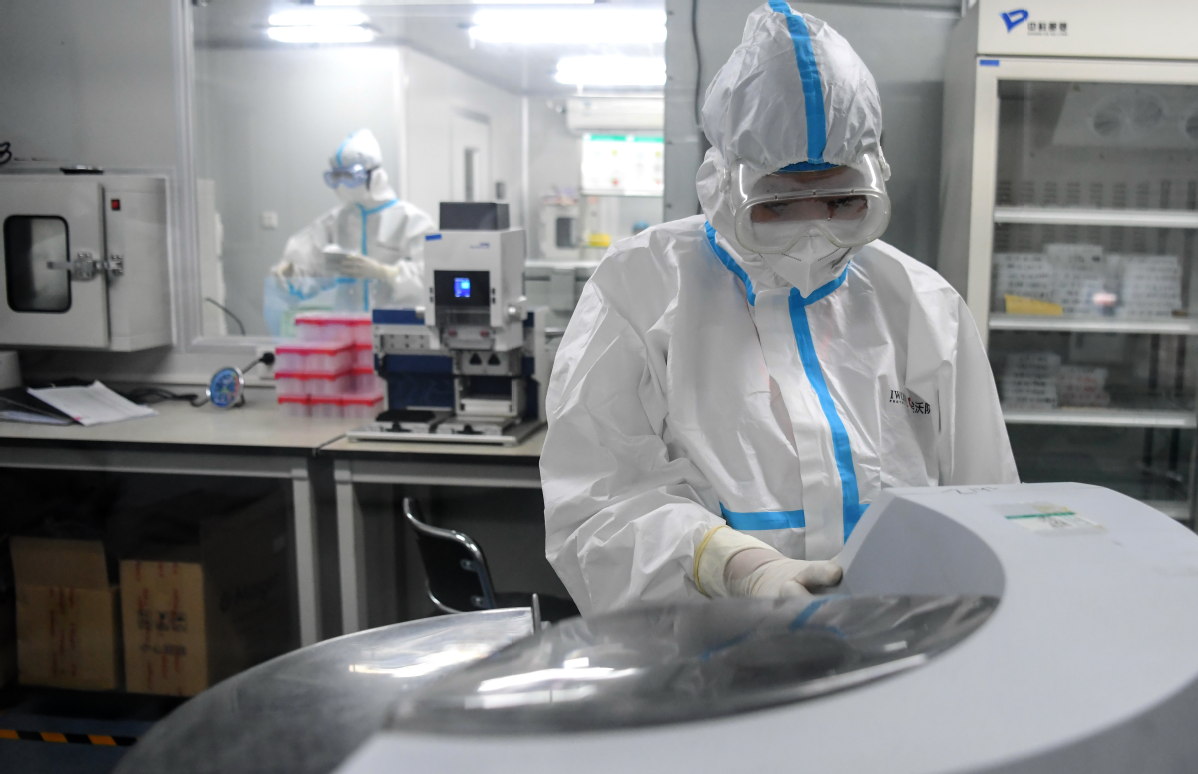 China plans to tighten supervision over laboratories running nucleic acid tests and enhance training of lab workers in order to ensure the quality of testing amid the COVID-19 epidemic, according to a notice released on Wednesday by the State Council's Joint Prevention and Control Mechanism.
The new measures are being rolled out as the country implements routine epidemic control work and local authorities step up infrastructure construction and boost testing efficiency, leading to swelling numbers of nucleic acid tests, according to the notice, which was published on the website of the National Health Commission.
"Local governments should attach great significance to the quality control of nucleic acid tests, ensuring a sufficient amount of tests will be launched to meet public demand while guaranteeing that test results are correct and reliable," it said.
It stressed that laboratories providing testing services should abide by relevant regulations and register with local health authorities.
Quality control officials on the national or provincial level will carry out regular examinations on laboratories. All laboratories will soon be arranged to undergo quality checks in batches, and those found to yield problematic test results or fail evaluations on working conditions will be banned from running tests, the notice said.
Meanwhile, more training and guidance will be provided to testing personnel in order to curb false-negative results.
Training will be comprehensive, but some key steps, such as the collection and handling of samples, should be highlighted so that laboratory workers will become dexterous in enforcing standards and taking proper biosecurity precautions.
Hubei's provincial capital Wuhan, the city hit hardest by the virus in China, recently completed a massive campaign to test nearly all residents in the city from May 14 to June 1. No confirmed cases were reported, but 300 asymptomatic cases were detected out of the nearly 10 million people tested, according to the provincial government.
Zhang Dingyu, president of the Wuhan Jinyintan Hospital and deputy head of the Hubei provincial health commission, said in order to ensure the accuracy of the enormous number of tests, the city had invited experts to help formulate working standards, detail regulations that covered all aspects and closely monitor crucial steps.
"Refined requirements such as which area the swab should reach in the throat, how many times a worker should scrub inside and how to set temperatures for storage are all laid out," he said.
Following the testing blitz in Wuhan, the health commission in Mudanjiang city in Heilongjiang province announced on Monday that it was stepping up preparations for a citywide screening. It has not revealed a time frame for the campaign.
The commission has gathered a test team consisting of 1,196 workers from 23 medical institutions and conducted offline and online training sessions to sharpen their skills. Experts with rich experience have also been asked to give on-site guidance and assessments.
Mudanjiang, with a population of 2.8 million, reported a cumulative number of 15 new asymptomatic infections since May 25 after a regional cluster of infections that had emerged in mid-April gradually wound down. No new asymptomatic infections were added on Tuesday.
The Chinese mainland added one new confirmed case on Tuesday, an imported infection detected in Guangdong province, and one new suspected case found in an incoming traveler in Shanghai, according to the National Health Commission.
Four new asymptomatic cases were reported on Tuesday. A total of 357 symptom-free individuals were under medical observation as of Tuesday.
Zhou Huiying contributed to this story.