Autopsies indicate homicide in Floyd case
By MAY ZHOU in Houston, Texas, and CHEN YINGQUN in Beijing | China Daily | Updated: 2020-06-03 11:24




Medical reports concur on main findings, as outrage over death sweeps across the world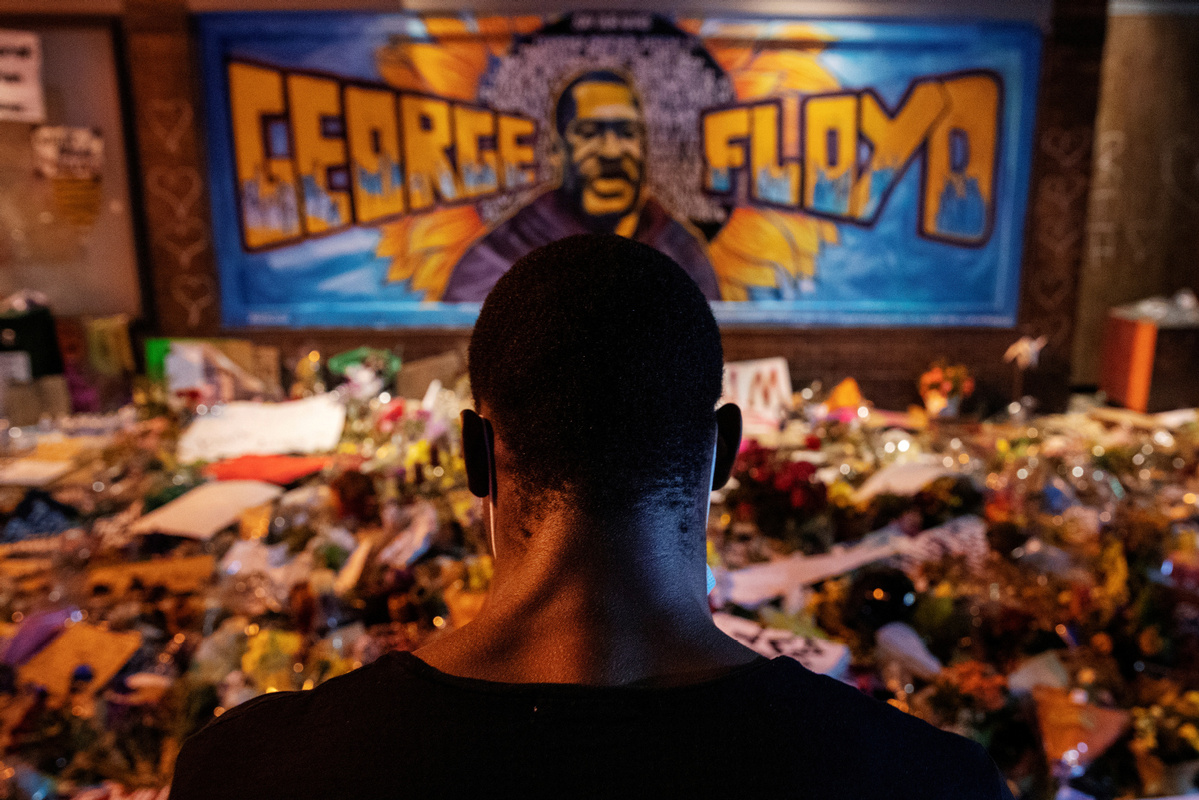 Two autopsies released on Monday indicate that the death at the hands of police of George Floyd was a homicide.
Floyd, a 46-year-old African American, died on May 25 while being arrested in connection with an alleged forgery in Minneapolis, Minnesota.
In the first of the medical reports, Floyd's death was called a homicide by an independent autopsy commissioned by his family. An official report followed later on Monday, also ruling it homicide but finding a different cause of death.
The results of the preliminary autopsy from the Hennepin County medical examiner ruled out traumatic asphyxia-deprivation of oxygen, or strangulation-as the cause of death.
The medical examiner's preliminary report concluded that Floyd's death was caused by "the combined effects of Floyd being restrained by the police, his underlying health conditions and any potential intoxicants in his system".
However, the independent autopsy found Floyd died from asphyxiation, and showed no underlying medical conditions caused or contributed to Floyd's death, medical examiner Michael Baden said at a news conference.
Benjamin Crump, an attorney for the Floyd family, said that Floyd was essentially "dead on the scene" on May 25. "The ambulance was his hearse," he said.
Following the release of the independent autopsy, the Hennepin County medical examiner's office released a report that said Floyd's death was a homicide resulting from being restrained, noting that he died from experiencing a "cardiopulmonary arrest while being restrained by law enforcement officers".
Derek Chauvin, the former Minneapolis police officer who was seen in a video with his knee on Floyd's neck, has been charged with third-degree murder and manslaughter. He is set to appear in court on June 8.
The victim's brother, Philonise Floyd, has set up a GoFundMe account as the Official George Floyd Memorial Fund, which had raised more than $7.5 million as of Monday afternoon.
"This fund is established to cover funeral and burial expenses, mental and grief counseling, lodging and travel for all court proceedings, and to assist our family in the days to come as we continue to seek justice for George. A portion of these funds will also go to the Estate of George Floyd for the benefit and care of his children and their educational fund," Philonise Floyd wrote.
Violent protests over Floyd's death continued on Sunday night and well into Monday in some US cities. On Sunday, three people died during protests as a result of police returning fire-two in Davenport, Iowa, and one in Louisville, Kentucky.
The unrest led to thousands of protesters being arrested over the weekend across the US.
Ghanaian President Nana Akufo-Addo expressed deep condolences to the family of Floyd on Twitter on Tuesday morning.
He wrote: "Black people, the world over, are shocked and distraught by the killing of an unarmed black man, George Floyd, by a white police officer in the United States of America. It carried with it an all too painful familiarity and an ugly reminder. It cannot be right that, in the 21st century, the United States, this great bastion of democracy, continues to grapple with the problem of systemic racism."
Inspiration for change
He added that "we stand with our kith and kin in America in these difficult and trying times, and we hope that the unfortunate, tragic death of George Floyd will inspire a lasting change in how America confronts head on the problems of hate and racism."
Iranian Foreign Ministry spokesman Seyed Abbas Mousavi said in Teheran on Monday that: "To the American people, the world has heard your outcry over the state of oppression. The world is standing with you."
Hundreds of the young members of the Greek Communist party KKE protested peacefully on Monday outside the US embassy in Athens and the US consulate in the northern city of Thessaloniki.
Raising banners with Floyd's last words caught on video "I can't breathe."
Protesters outside the US embassy chanted slogans such as: "No to a system giving birth to crises, wars, and racism."
KKE General Secretary Dimitris Koutsoumbas said earlier: "We join Greek peoples' voice with the voices of all people across the world against the barbarity … We join our voice with the US people who are giving a struggle these days for their rights, to be able to breathe."
Xinhua contributed to this story.