China to promote higher-standard opening-up
Share - WeChat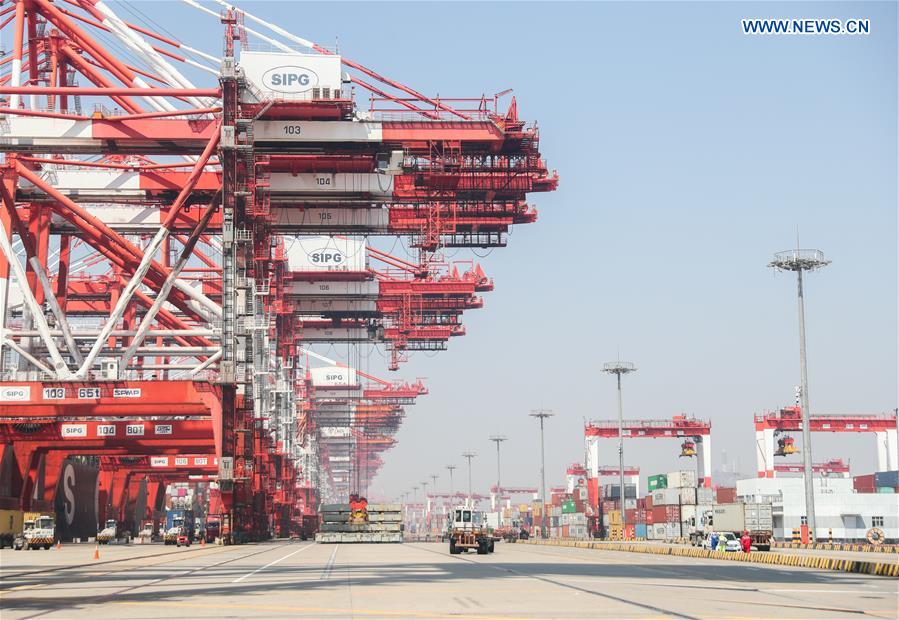 In the 2020 government work report, delivered at the opening meeting of the third session of the 13th National People's Congress, Premier Li Keqiang said that China will promote a higher standard of opening up and stabilize the overall performance of foreign trade and foreign investment.
The world has witnessed increasing trade and investment protectionism during the past several years and economic recession caused by the COVID-19 pandemic. Such changes have also imposed pressure on China's economic development. However, given the challenges in the external environment, China will stay committed to opening its door wider to the rest of the world, keeping its industrial and supply chains stable, and make opening-up a catalyst for reform and development, which will benefit not only the Chinese economy but the world economy.
China will adopt more comprehensive and extensive measures to expand the areas of opening up, especially in the financial and service sectors. As one of the main channels connecting the world economies, international trade plays a vital role in allocating world resources properly and generating job opportunities and incomes for countries involved.
Early this year, the lockdown in many parts of China lowered the supply capacity of Chinese firms to the international market, resulting in the cancellation of international orders. When Chinese businesses gradually resume their production capacity, international demand declined for Chinese products due to lockdown in Europe, America, and other regions to contain the spread of COVID-19.
To deal with these issues, China will step up efforts to help companies get more orders and retain their employees. To do so, China will increase credit supply, extend the coverage of export credit insurance, lower compliance costs for imports and exports, and promote the domestic sale of export products.
As the manufacturing sector and the service sector become more integrated, opening-up in the manufacturing sector is not enough to take full advantage of international trade, and the opening-up in the service sector, therefore, takes its turn in a wider open economy. Under such circumstances, China commits to a more open service industry with comprehensive pilot projects. There will be a new round of trials for the innovative development of trade in services. As such projects and policies go into practice, international businesses will benefit from doing business in and with China, while Chinese businesses will enhance their competitiveness in the world. Moreover, to attract more foreign capital, China will significantly shorten its negative list for foreign investment and draw up a negative list for cross-border trade in services.
Compared with the opening-up in terms of commodity and factor markets, China will pursue a deeper and higher level of opening-up in terms of institution. Institutional opening-up is not just to open trade in goods and services but to foster an enabling market environment in which all companies, Chinese and foreign, are treated as equals and engaged in fair competition.
The constructions of free trade zones and free trade ports will be the emphasis and main platform in institutional opening-up. Among these, the establishment of Hainan Free Trade Port and the formulation of related law send a great signal to the "higher standard" of opening-up. In addition, the launch of new pilot free trade zones and integrated bonded areas in the central and western regions provides another arena for opening-up at a higher standard. In April, the State Council approved the establishment of an open economy pilot zone in Jiangxi province. Moreover, the newly established Yangshan Special Comprehensive Bonded Zone in Shanghai Free Trade Zone marks another significant step forward in China's commitment to deepened and overall opening-up. All these practices have made the Chinese economy more open in terms of trade and investment and institutions.
China's opening-up aims to coordinate policies in different areas and sectors. For instance, import serves the same role as export in promoting economic development. The China International Import Expo, as a major event for the international economic cooperation, has greatly enhanced the ability of trade for global economic growth and will keep the global supply chain working.
China's endeavors to adopt a higher standard of opening-up stand out when the world economy is in a time of difficulty as many countries are looking inward and act alone in its response to the COVID-19 crisis. The world merchandise trade is predicted to plummet by between 13% and 32% in 2020 with an expected recovery in 2021. However, such recovery can only be realized when countries across the world are taking effective economic stimulus measures. China's efforts to promote a higher-standard opening-up will not only stimulate domestic economic growth but boost global economic collaboration and trade recovery.
Most Viewed in 24 Hours
China Views