Shanxi takes scientific route to help diversify its economy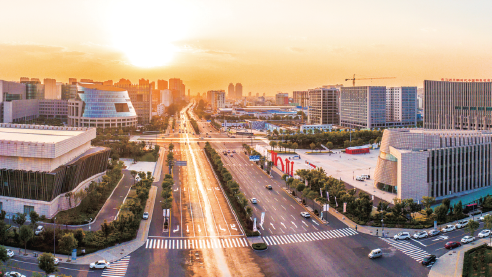 Computers and servers at internationally advanced levels, wafers used for disinfection, biobased polyamide clothing, recombined human-originated collagen III protein... Hundreds of high-tech products were displayed at a recent show in the exhibition center of the Shanxi Transition and Comprehensive Reform Demonstration Zone.
The exhibits were only a small part of the products demonstrating the latest achievements in transforming Shanxi from a resource-reliant economy to one with diversified growth.
The provincial authorities proposed a plan to diversify its economy 10 years ago to solve problems such as mounting pressure on the environment due to its reliance on coal mining, low-quality growth and lower-than-national-average growth rate because of the lack of new growth sectors.
The plan was approved by the State Council at the end of 2010, and Shanxi became a pilot region for the nation's reform of resource-reliant economies.
Over the past decade, the province has fostered 14 emerging industrial clusters that can drive local economic growth, including information technology, biomedicine, advanced manufacturing, new materials, environmental protection and logistics.
The Shanxi Transition and Comprehensive Reform Demonstration Zone, which was established in 2017 and covers more than 600 square kilometers, is a major destination for hosting new industries, according to the province's economic transition plan.
The demonstration zone combines eight development zones in the provincial capital of Taiyuan and its neighboring city of Jinzhong. It is the first pilot zone in the country serving in the transition of a resource-reliant economy.
Over the past three years, the zone established 118 new projects related to emerging industries, with a combined annual revenue projected at 428.6 billion yuan ($60 billion) when they are fully operational.
Many of the industries feature cutting-edge technologies that can spur high-quality growth and help upgrade traditional industries, according to local officials and entrepreneurs.
For instance, some products in the fields of IT, semiconductors and bio-based materials, which were displayed at the recent show, represent advanced levels in both domestic and international markets.
During the show, Jiang Jian, general manager of BW38 IC Manufacturing based in Xinzhou city, introduced wafers developed by his company.
"A small piece of integrated circuit equipped with several such tiny wafers can sell for dozens of dollars on the international market," Jiang said.
The executive said his company had just completed the main structure of its manufacturing plant and its opening is scheduled for the middle of 2021.
"Once our plant becomes operational, we can put our laboratory-developed wafers into mass production immediately. Our designed capacity is to produce wafers for more than 300 million mobile phones a year," Jiang said.
The locally made wafers' applications are not limited to electronics and IT sectors.
Zhongke Lu'an Advanced Ultraviolet Optoelectronic, based in Changzhi city, displayed its grain-sized light-emitting diode wafer, which can be used for disinfection.
Duan Fei, deputy general manager of the company, explained that its disinfection property comes from the ultraviolet rays the wafer emits.
Since the outbreak of the COVID-19 pandemic earlier this year, the company has received a great number of orders for products equipped with the ultraviolet wafers.
"The existing orders exceed our production capacity for an entire year and market demands have far surpassed our expectations," Duan said.
Another cutting-edge product on display was the recombined human-originated collagen III protein developed by Jinbo Biomedicine based in Taiyuan.
Zhang Xingdong, an academic of the Chinese Academy of Engineering and chief developer of the product, said the genetically recombined protein has great market potential as it is a crucial product for post-surgery recovery.
According to Zhang, Jinbo Biomedicine is one of the few manufacturers in the world able to mass produce the human-originated collagen III protein.
In addition to IT and biomedicine industries, Shanxi has also made breakthroughs in such sectors as advanced manufacturing, new energy vehicles, new materials, aerospace and environmental protection.
The provincial government of Shanxi predicts that its economic transition can be achieved by 2035 and the province will then be able to embark on a path of high-quality and diversified development.
Guo Yanjie contributed to this story.