Protest violence chokes the heart of HK
Share - WeChat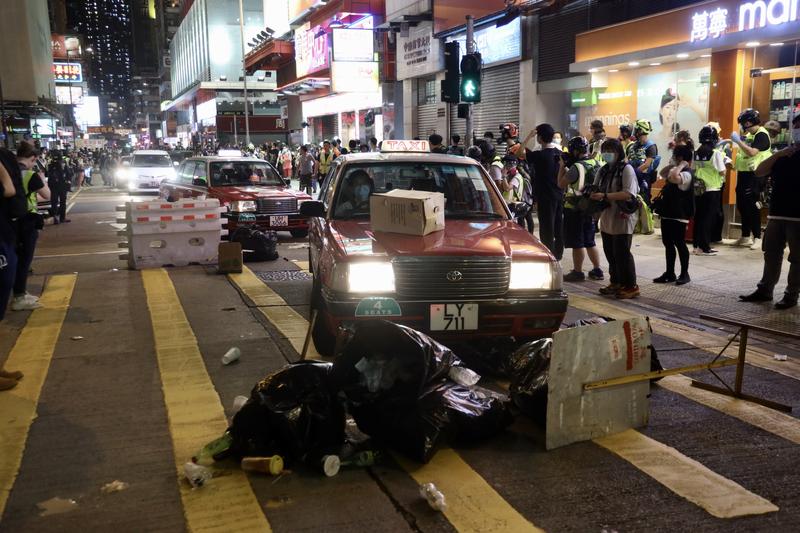 HONG KONG - Violent protests that erupted on Wednesday morning continued after nightfall as radical protesters started fires and erecting roadblocks in Mong Kok — one of Hong Kong's busiest districts.
Multiple explosions were heard in the densely populated business center. Flames rose meters high with plumes of smoke on Sai Yeung Choi Street, a street at the heart of Kowloon's key business district.
Traffic was blocked by radical protesters opposing the Legislative Council's resuming second reading of the National Anthem Bill, which outlaws acts that insult March of the Volunteers.
According to police, a gas canister was found on the ground near a fire. Police at the scene had warned reporters and bystanders in the vicinity to stay back. Burned marks and piles of ash remained on the ground after the fires were put out by firefighters.
In a statement, police said they would make more arrests if rioters continued with their "atrocious acts".
"Mong Kok is a crowded area and arson could pose acute threats to pedestrians and residents in the area, jeopardizing public safety," the police said.
As of 9:30 pm, the police had arrested more than 360 people for participating in unlawful assemblies and possessing offensive weapon on Wednesday. The radicals choked traffic in major thoroughfares of Central, Causeway Bay, and Mong Kok by setting up roadblocks. Dangerous items such as iron nails were also placed on the roads.
In Mong Kok, police arrested a 14-year-old boy holding a stick with iron nails for being in possession of an offensive weapon. Some petrol bombs and nails were found in his backpack.
After initial investigation, the boy is also suspected of being involved in a case of criminal damage on May 10.
Anti-government radicals earlier called online for rallies, and for the Legislative Council Complex to be surrounded on Wednesday to prevent lawmakers deliberating the National Anthem Bill.
During morning rush hours, some protesters disrupted train services at different stations including North Point, Tin Hau and Nam Cheong. A deliberate slow-driving at an exit of the Cross Harbour Tunnel — the city's busiest tunnel connecting Hong Kong Island and Kowloon — caused a major traffic jam during rush hours.
Police condemned the lawbreakers' acts as "selfish", saying they had affected the daily lives of the public and showed "a blatant disregard for road safety".