Chubby, Auspicious Faces
Share - WeChat Fascinated by traditional Chinese culture, an illustrator, known by her online name, Jiao Xiangyue, has created many cute and interesting drawings, mostly figures with chubby and auspicious-looking faces. Jiao's best-known series include drawings of women in ancient China's Tang Dynasty (618-907) and classic images from Dunhuang art. Jiao hopes her works will help develop viewers' interest in Chinese history and traditional art.

"Women of the Tang Dynasty are widely appreciated by character traits, such as being chubby, self-confident and independent. I am deeply impressed by the people, culture and art of the Tang Dynasty. I started to draw cute images of women with chubby faces," Jiao says, as she explains how she began creating the drawings of "panglian jixiang." In fact, many of her drawings are based on classic Chinese paintings from the Tang Dynasty.
On the last day of 2019, Jiao posted on her Weibo account drawings she had created during the past year. Besides the drawings that highlighted the customs and culture of the Tang Dynasty, she had created several cute images based on mural paintings in Dunhuang.
Jiao pays a lot of attention to details. She has bought books and studied ancient paintings to make sure she has drawn things correctly. "Once a netizen told me the differences between pipa of the Tang Dynasty, which had four strings, and pipa of today, which has five strings. The items to play the pipa, in different times, are also different," Jiao says. Through her works, she hopes viewers will realize images dating from ancient times can also be presented as "cool, trendy and cute."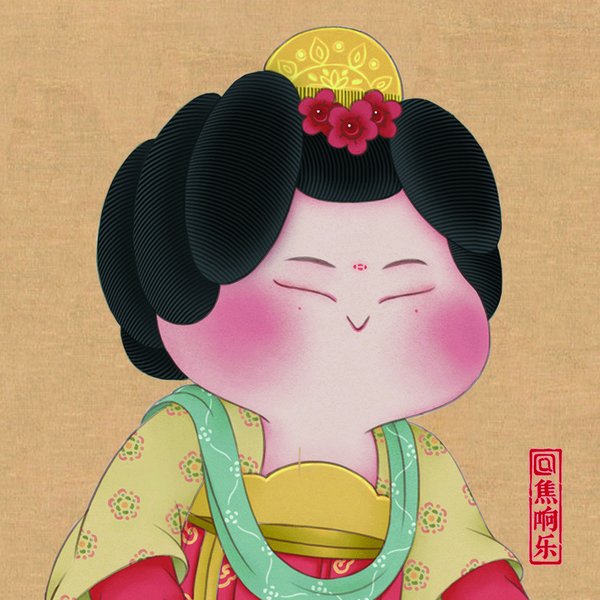 Illustrator's Bio
Jiao Xiangyue (@焦响乐), a graduate of Hebei University, is a professional illustrator known by her "panglian jixiang" (literally means "chubby, auspicious faces") theme of drawings. Her book, Da Tang Feng Su Zhi (Custom of Tang Dynasty), was published in October 2018. The book, with beautiful pictures and writings, presents interesting daily lives of people during the Tang Dynasty.