Online solutions safeguard health during meetings
Officials from the National Development and Reform Commission, the Ministry of Finance and other departments attended an online panel discussion of deputies to the National People's Congress from Hubei province on Saturday morning, instead of attending the discussion in person as they did previously.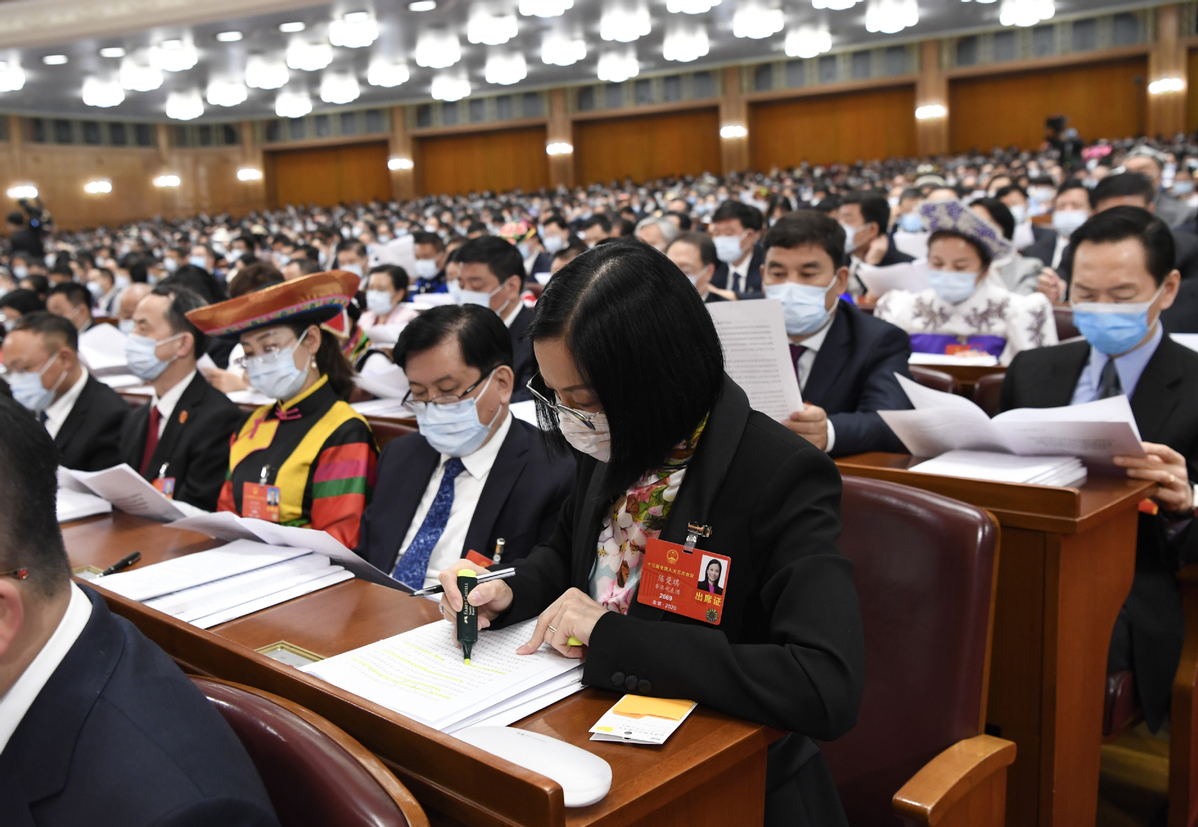 Given the current epidemic prevention and control concerns, the organization of the meeting and news releases for this year's two sessions adopted more online methods.
Each NPC delegation has been equipped with 5G mobile phones this year, which will link speeches and discussions of deputies in real time to related ministries and departments.
At an executive meeting on May 13, Premier Li Keqiang called on all departments of the State Council to innovate the way they listen to the opinions and suggestions of the NPC deputies and members of the Chinese People's Political Consultative Conference.
Authorities are asked to use video, telephone and internet channels to hear the reports by legislators and political advisers.
All government departments also set up hotlines for legislators and political advisers during the two sessions, recording their opinions and giving replies.
Face-to-face interviews have also been replaced by telephone, video or written interviews as the number of journalists attending the event this year has been greatly reduced.
Before the CPPCC National Committee session opened on Thursday, in a media room at the Great Hall of the People, the venue for the annual event, political advisers interacted with reporters sitting at the two sessions' Media Center Hotel more than 7 kilometers away.
Previously, the interview would take place in the passage leading to the main meeting room of the Great Hall of the People, with crowds of reporters holding cameras and microphones standing around the speakers.
As reporters raise questions at the media center, political advisers comment on topics including poverty alleviation and artificial intelligence.
Interviews with NPC deputies and CPPCC members could also be conducted through a video meeting of reporters and interviewees, as interview rooms are set up at each hotel.
Cheng Ju, an NPC deputy from Hubei province and Party secretary of a village in Xianning, has given four interviews to reporters by video link since arriving in Beijing for the two sessions.
"Although the epidemic has brought a lot of changes to the conference this year, deputies should adapt to such changes and ensure they perform their duty well," she said.
"Compared with the previous face-to-face interviews, the online communication makes me feel less nervous," Cheng said.
As a young deputy who grasps new skills faster, Cheng also helped others with the video link. "The use of these technologies is also in keeping with the changing times," she said.
Contact the writers at zhangyi1@chinadaily.com.cn