Step by step
Share - WeChat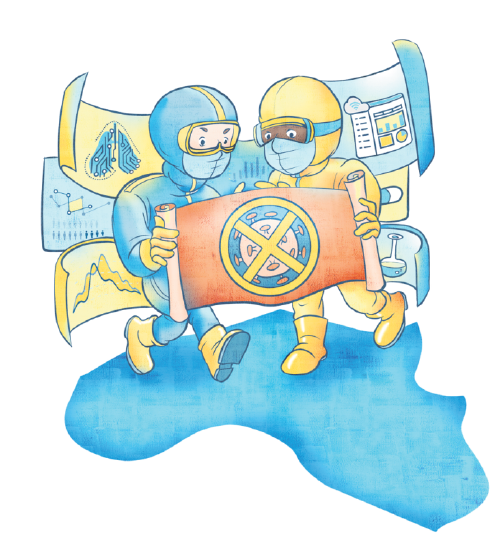 China should strengthen its cooperation with African countries as they enter phase two of the fight against the novel coronavirus
African countries, such as South Africa, Egypt, Uganda, and Namibia, have been gradually relaxing their containment measures since the start of May, signaling their fight against the pandemic has entered a second phase. Such moves may have been prompted by economic concerns, but the risks should not be overlooked.
African countries are burdened with economic pressures in three aspects. First, the containment measures could prove costly. Second, there have been food shortages and price hikes as farming has been disrupted and harvests have been delayed due to the absence of rural labor and lockdowns in regions hit hard by the virus. Third, the poor population is growing and their subsistence is severely challenged as more people have been laid off under the dual impacts of social distancing and industrial setbacks.
Despite progress in the fight against the novel coronavirus, it will take time and money to safeguard economic growth in regions hit hard by the virus. Problems in medical care and elderly care, issues such as employment injury, disability, survivors and orphans loom large in the public health emergency and pose a financial challenge to governments who are paying extravagant bills for the coronavirus containment. However, what has challenged African countries most is that, governments need to create a policy environment favorable to industrial recovery, and working conditions highlighting equality, security and fairness, to reduce bankruptcies and job losses.
It is acknowledged among international organizations that the economic aftermath will be even worse than the pandemic itself. In its Sub-Saharan Africa Regional Economic Outlook report, the International Monetary Fund predicts the regional economy will shrink by 1.6 percent in 2020. In its COVID-19: Protecting African Lives and Economies report, the World Bank warns of the African economy shrinking by 2.6 percent and heading into recession for the first time in 25 years, with 27 million African people stricken by impoverishment.
The risks of African countries entering phase two of the pandemic fight should not be overlooked. Fewer cases are reported on the continent because the local testing capabilities are insufficient. In the early stages of the pandemic, samples could only be tested in labs in Senegal and South Africa. By May, a total of 47 countries were capable of coronavirus testing thanks to the efforts of the World Health Organization. However, limited by the supply and price of testing kits, very few tests have actually been conducted.
With poor medical infrastructure and weak leadership and few resources, Africa is ill-equipped to respond to such a medical health emergency. Take ventilators for example, statistics from the African Center for Disease Control indicate with a population of 200 million, Nigeria has no more than 500 ventilators, 2.5 per million people. In Mali, 20 million people share 20 ventilators, that is, one for every million people. The Central African Republic has only three ventilators with a population of 5 million, 0.6 for every million people. The shortage of medical supplies will put African countries at risk once social transmission takes place.
The risks are exacerbated in areas of conflict and war, such as South Sudan, Central Africa, Mali, Burkina Faso and northeastern Nigeria where access to food, water and medical supplies is difficult due to the conflicts. Refugees deprived of shelters in regional conflicts have to migrate, which will allow the coronavirus to spread. Of the 25 million African refugees, 85 percent are in Congo, South Sudan, Somalia, Ethiopia, Sudan, Nigeria, the Central African Republic and Cameroon. Refugee camps with little space and hygiene facilities may become hotbeds for transmission of the virus.
China adopted comprehensive and effective containment measures and accumulated rich experience in treatment, scientific research and social governance, giving rise to a surge of African demand for Chinese assistance. China should send aid within its capability based on careful evaluation of the situation in Africa.
First, given the phased feature of the containment, China-Africa cooperation in public health should be carried out taking both short-and long-term perspectives. In the short run, an aid list could be formulated in accordance with risk ratings released by the World Health Organization. For recipient countries with low infection risks, medical aid such as nucleic acid test kits, face masks, hand-held thermometers and so on could be provided. For those with higher risks, the amount of protective gear, treatment equipment and medicine would be increased in the aid supplied. In the long run, both parties could cooperate in talent training, containment planning and public health system reform.
Second, China should take the initiative to make debt restructuring plans in advance and conduct debt negotiations at both bilateral and multilateral levels. It is inevitable that debt payments will be delayed or reduced. And with African governments being forced to shift their fiscal priority to public health spending while cutting agricultural expenditures and farmers unable to purchase high-quality seeds and fertilizers due to lockdowns, food production will be reduced in the second half of 2020. Follow-up evaluations are needed to prepare food aid for Africa in advance.
Third, the interests of developing countries need to be safeguarded in WHO reforms. In debates on the reform of the global health system, Western countries deliberately ignore the demands of developing countries and try to shift their responsibilities. China should seek to safeguard the interests of developing countries, and strive for more humanitarian support for developing countries in Africa.
As the world enters the second phase of the battle against the novel coronavirus, China should pay close attention and respond promptly to the economic and public health risks in Africa. A solid China-Africa relationship embodies the concept of a community with a shared future and promotes a positive and responsible national image.
The author is an assistant research fellow of the Institute of World Economics and Politics at the Chinese Academy of Social Sciences. The author contributed this article to China Watch, a think tank powered by China Daily. The views do not necessarily reflect those of China Daily.
Most Viewed in 24 Hours
China Views