Viewers get to excavate the past with modern technology
Share - WeChat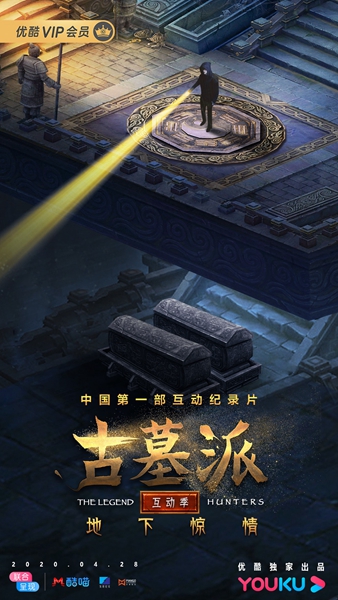 Digging up the past can lead to questions, possibly even answers if we are lucky, about the present. Regardless of what is answered or not, it can make for fascinating viewing on the small screen. The viewers know something of value will be unearthed, but what exactly? And will the body of evidence raise even more questions?
Well, an ancient tomb in Fuzhou, capital of Fujian province, is the subject of a new documentary series about unearthing the past.
The Legend Hunters, a five-part documentary, was debuted on April 28 on streaming platform Youku, with a new episode being released each week.
After being buried for more than 700 years, this tomb-belonging to an unnamed couple from the Southern Song Dynasty (1127-1279)-became the source of many questions when it was excavated in 1986.
These included: Why haven't the bodies rotted after seven centuries? And what caused the couple's death?
This year, new research on the buried couple has commenced, after another X-ray scan on them. However, before archaeologists wind up the whole story by answering all the questions, viewers can get involved themselves, as they become armchair researchers.
"We chose this site because it has so many mysteries," Liu Yang, producer of The Legend Hunters, says in a phone interview with China Daily.
"We think it will be great if we can develop it into some interactive product, like solving a case."
Liu says his team has combed through information on nearly all of the major Chinese tomb excavations since the 1980s.
The production team finally chose this one in Fuzhou, because they believe the case has the potential to be "a thriller".
"Like peeling an onion's multiple layers", viewers will see new facts thrown up to challenge their opinions.
Viewers may not have to physically pick up shovels and dig, but they will still face the choices real archaeologists do.
When viewers watch the documentary, questions will be frequently asked, such as "Will you take the coffin back to the lab, or do you prefer to open it now?" There is little time to ponder. "Do you want to first study the coffin, or the liquid inside?" And then it must be identified which leads to the question: "What kind of liquid do you think it is?"
Viewers' responses will lead to different narrative storylines of the documentary.
They will also be rated and, based on the answers, they will be labeled as "professional" archaeologists or just amateurs.
Mini mobile games are mixed into The Legend Hunters as a way to explain archaeological methodology and the science relevant to this site.
The intact tomb is like a time capsule, a portal that can transport modern viewers to the past.
The mystery of the well-preserved bodies is actually easily explained. The bodies were embalmed with, and soaked in, mercury inside the coffin. Because the water table in Fuzhou is high, a well-sealed coffin soaked in water is like being protected in an airless vacuum, as Lin Guo, a former leading archaeologist of the site, explains in the documentary.
While the plot moves in different directions, no matter which path of research viewers follow or how many detours they make, all will be revealed in the end.
"Wherever you walk, the destination is still the same in this documentary," says Zhang Wei, a supervisor who is in charge of Youku's documentary channel.
"But we'll try something more after this first step. The interactive mode can be open-ended.
"Your choices and interests will lead you to thoroughly different fields. It's like academic studies."
The production squad of The Legend Hunters includes a wide range of talent and skill. On one hand, there is a team producing traditional archaeology-themed programs, who have over a decade's experience in the field. On the other, there are the IT engineers and mobile game designers in their 20s.
Innovation requires a comprehensive understanding of the subject, Liu says.
Only when you have a solid foundation of knowledge can you bring a fresh perspective and a modern approach to explaining it with the creativity it deserves, Liu adds.
Zhang agrees with Liu.
"Creative storytelling methods can give documentaries a new appearance to hook the younger generation. It's how we embrace this time of 5G, which demands technical breakthroughs," Zhang says.
"Documentary is no longer a one-sided communication," he adds.
"However, in spite of new formats, something has never changed: We have to include a reflection of humanity and history from multidimensional perspectives."
Most Popular