HKSAR CE: Report on protests fair, objective and factually based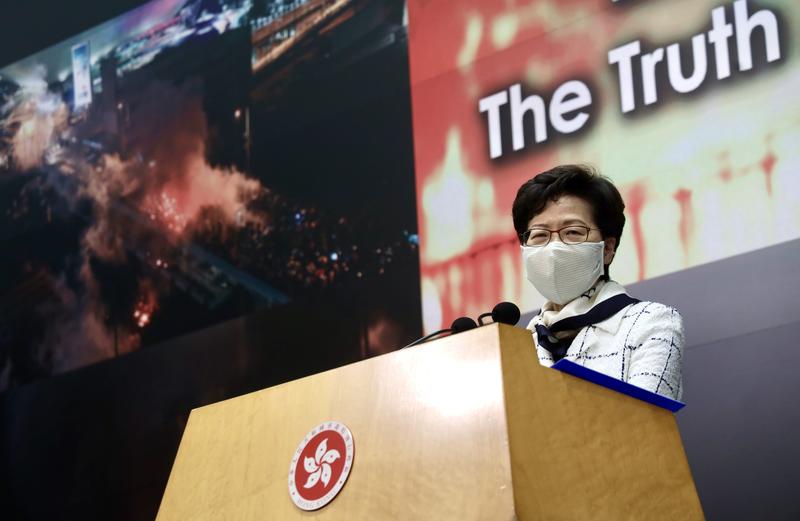 The long-awaited investigation report by the Independent Police Complaints Council on Hong Kong's protests was "fair", "objective" and "factually-based", Chief Executive Carrie Lam Cheng Yuet-ngor on Friday said.
Lam said the government would form a task force under the Security Bureau to follow up suggestions — including reviewing assistance given to the press when covering protests — put forward by the watchdog.
Lam made the remarks after the council released a 1,000-page report based on its months of investigation.
Stressing the report carried weight, Lam said she hopes everyone, regardless of their political views, can read and assess it with a fair attitude.
According to the report, police use of force is necessary to fulfill its duty in maintaining law and order. They did so in reaction to illegal activities by protesters, and to protect themselves from attacks leveled at them by protesters, the report added.
Agreeing with the report, Lam said the police have been performing its duty of enforcing the law and safeguarding stability in society — as the rule of law is the cornerstone of Hong Kong.
The government will firmly reject violence and make every effort to maintain the city's security, Lam stressed.
The release of the report doesn't mean social unrest will end, Lam said, adding the government will continue to follow up police-related complaints and other controversial cases.
The IPCC in the report also proposed 52 recommendations to improve police handling similar situations in the future. These suggestions include clear guidelines on the use of force to allow the public to have a better understanding of the police's duties and work routine.
Accepting all recommendations put forward by the IPCC, Lam said a task force, steered by Secretary for Security John Lee Ka-chiu, will regularly report to her on its progress of following up on the watchdog's advices.
The chief executive said she hopes police can re-establish a strong bond with residents.
The Security Bureau on the same day revealed it is making preparations to convene a task force meeting in a bid to identify the priorities of all 52 recommendations listed in the IPCC's report.
According to Lam, the priority items may include reviewing the assistance given to the press when covering the often-violent large-scale protests and enhancing the police's cross-departmental collaboration at such events.
In a written statement, the spokesperson of the Security Bureau said it is believed that improvement measures mentioned in the report should help police better handle large-scale public events and improve enforcement mechanisms.
Police have also pledged to fully collaborate with the task force. It expressed gratitude to the IPCC for its efforts in producing the report and for the improvements it suggested.