Remembering Tagore on his birth anniversary
Share - WeChat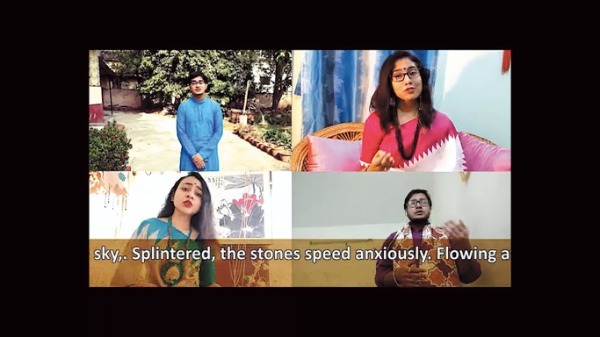 A micro-documentary that went online on Friday showed students and scholars from various cities in China singing in Bengali and Indian students and academics doing the same in Mandarin. They were marking the 159th birth anniversary of the poet Rabindranath Tagore and the 70th anniversary of the establishment of Sino-India diplomatic ties.
It seems a befitting tribute to a man regarded as "a father figure of India-China cultural relations in the modern era".
The poet was born on May 7, 1861, but his birth anniversary is usually marked according to the Bengali calendar, which fell on Friday.
The micro-documentary, aptly titled Gitanjali, was produced in a week. It's an ensemble of poetry, song, music, dance and art dedicated to a man who was himself a poet, novelist, playwright, musician and artist, and who played a pivotal role in building a golden bridge between the two ancient civilizations and neighbors.
The program was directed by Beijing-based author and media professional Suvam Pal. It has been produced by Pandit Sarit Das, a percussionist who is also a visiting faculty at China's Central Conservatory of Music in Beijing. He has composed or arranged a major portion of the music for the program, complete with popular Indian string instruments like the sitar, percussion instrument tabla, a rare string instrument predominantly used in Rabindra Sangeet called esraj, and a slew of traditional Chinese instruments like pipa, guzheng and yangqin, apart from popular Western instruments like the piano and guitar.
Most Popular