Annual ballet workshop theme will reflect on pandemic
Share - WeChat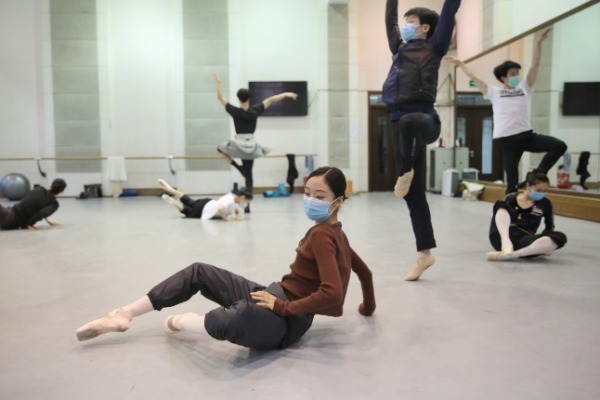 Every spring, the National Ballet of China holds its annual ballet creative workshop, which brings together young choreographers with their original works.
This year, despite the coronavirus outbreak, which forced the National Ballet of China to cancel all of its shows in theaters, the company has decided to continue with the launch of the creative workshop.
With six works-four choreographic ballet pieces and two video performances-the workshop will be livestreamed on Tuesday. The six works are a reflection on the influence of the outbreak.
One of the works, titled A Lesson, is created by dancer-choreographer Wang Sizheng, who is also the director of this year's workshop. As this year marks the 10th anniversary of the National Ballet of China's workshop, Wang wants it to be unique.
As a teacher of the ballet school of the National Ballet of China, Wang, who loves recording his life with his camera, shot a documentary, which focuses on his students and his own life.
"Like many schools in China, we launched online classes amid the coronavirus pandemic. I felt closer to my students through the camera since we could see each other's facial expressions," says the 30-year-old.
Wang was born in Jiujiang, Jiangxi province, and joined the National Ballet of China in 2007 after graduating from the high school affiliated to Beijing Dance Academy the same year. He played roles in the classics performed by the National Ballet of China, including The Red Detachment of Women, Raise the Red Lantern and Swan Lake.
Due to the viral outbreak, Wang enjoyed more time with his parents at his home in Jiangxi. On March 17, he had his 30th birthday at home, which was memorable. "I left home at a young age to study dancing in Beijing, so every year I had my birthday with my friends. This year's birthday is quite different," he says.
Most Popular