Pangolins might act as intermediate hosts of novel coronavirus: study
Share - WeChat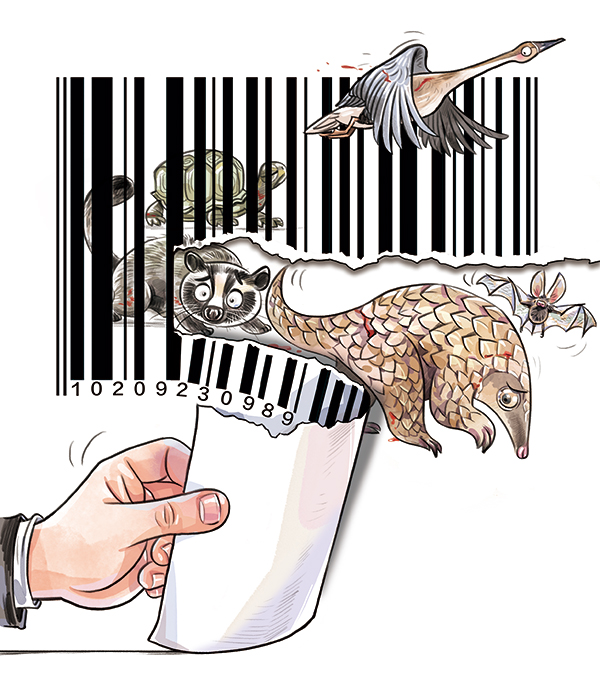 LONDON -- Results from a comparative genomic analysis have shown that the novel coronavirus might have originated from the recombination of a pangolin virus and a bat virus, according to a study conducted by Chinese researchers.
The new virus, SARS-CoV-2, which caused the COVID-19 pandemic, shares a high sequence identity to SARS-CoV, an animal virus identified in 2003, and the bat coronavirus RaTG13, said researchers from South China Agricultural University and Guangdong Laboratory for Lingnan Modern Agriculture in a preprint published Thursday in the journal Nature.
"While bats may be the reservoir host for various coronaviruses, whether SARS-CoV-2 has other hosts remains ambiguous," the unedited paper said.
Meanwhile, one coronavirus isolated from a Malaysian pangolin presented 100 percent, 98.6 percent, 97.8 percent and 90.7 percent amino acid identity with the novel coronavirus in the E, M, N and S genes, respectively, the paper said.
"In particular, the receptor-binding domain within the S protein of the Pangolin-CoV is virtually identical to that of SARS-CoV-2, with one noncritical amino acid difference," it added.
The pangolin virus was detected in 17 of 25 Malaysian pangolins analyzed by the scientists.
"The isolation of a coronavirus that is highly related to SARS-CoV-2 in pangolins suggests that they have the potential to act as the intermediate host of SARS-CoV-2," they said.