US' anti-science attitude hurting its fight against the pandemic
Share - WeChat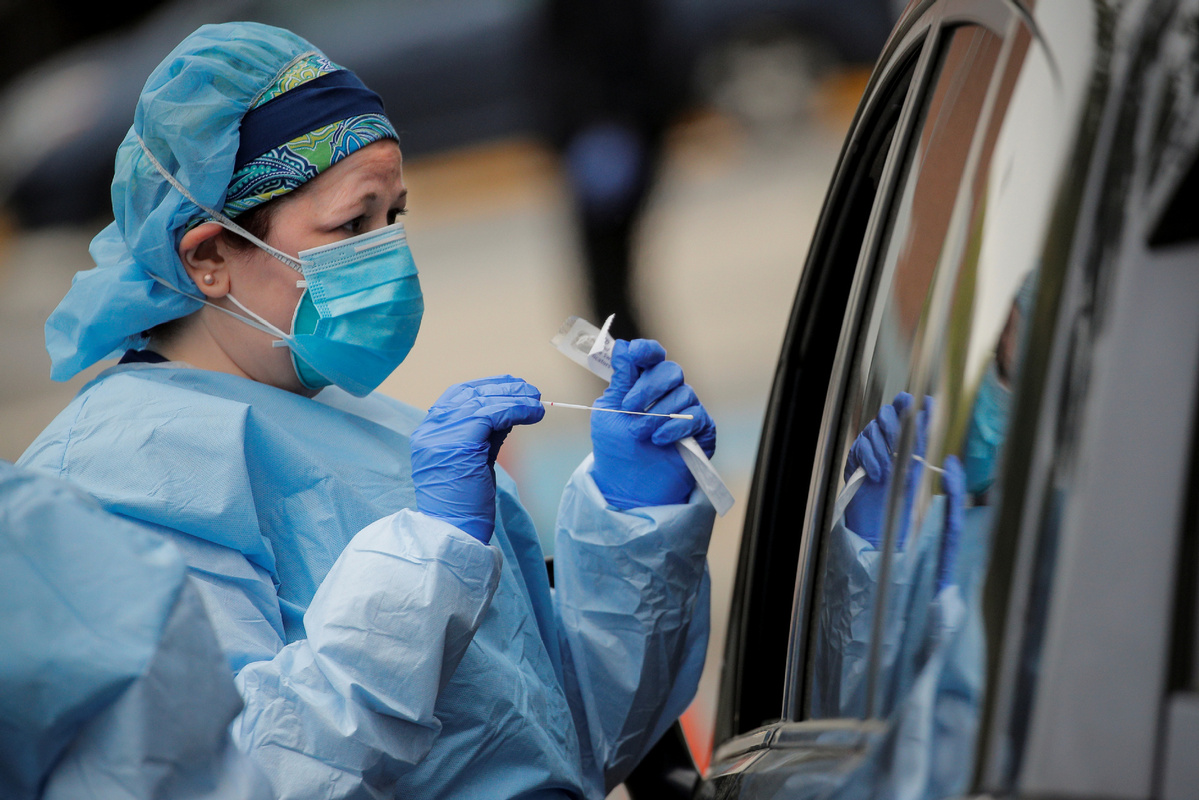 It was shocking to hear the US president imply that disinfectant injections could be used to treat COVID-19 patients. That was two weeks ago. He shocked people again on Tuesday, by not wearing a face mask and ignoring social distancing norms during a visit to Honeywell's mask factory in Arizona despite a sign saying that observing both rules was mandatory.
But most shocking for me of late were the many abusive comments against Bill Gates on my Twitter account after I posted a video clip of the Microsoft co-founder and philanthropist. In the video, Gates is responding to a question from CNN's Fareed Zakaria on the US administration lacking the cooperative spirit when it comes to jointly fighting the novel coronavirus pandemic with China.
Gates described the US blame game vis-à-vis China as a distraction. He said China did a lot of things right at the beginning of the outbreak. But it's sad, he said, that the US, which people expected to do well, did a particularly poor job of fighting the pandemic. However, Gates reiterated that this is not the time to talk about that, it's time to talk about science and the fact "we're in this together".
The 45-second video drew more than half a million viewers in less than 48 hours, reflecting the popularity of Gates.
The last time I heard Gates speaking in person was at the United Nations Climate Change Conference in Madrid, Spain, in December. His views on climate change and global public health have been widely applauded. His commitment to developing a malaria vaccine and eradicating polio, too, has been praised, especially by people in the developing world. Last week, the Bill & Melinda Gates Foundation announced that it would focus its "total attention" on containing the pandemic, and it is investing and donating money to develop a COVID-19 vaccine.
The vicious attack against such a great cause, mostly by Gates' fellow Americans, is beyond belief. On my Twitter account, many have accused Gates of promoting "eugenics", "depopulation", "vaccine profiteering" while some have called him a "traitor", seemingly because he praised China's effective containment measures while lamenting the US' poor response.
That many Americans nurse an eternal hatred toward Gates is obvious. For example, during a recent rally in Austin, Texas, against the stay-at-home orders, hundreds of protesters, led by far-right radio host Alex Jones, demanded that businesses be reopened and shouted "arrest Bill Gates" slogans.
Gates is not the anti-lockdown protesters' only target. They have also targeted Anthony Fauci, director of the US National Institute of Allergy and Infectious Diseases and an adviser to every US president since Ronald Reagan, in Texas and other places. A member of the White House Coronavirus Task Force, Fauci is regarded as the most authoritative voice in the US in the fight against COVID-19.
Both Fauci and Gates have advised caution in reopening businesses and factories, in contrast to the US president's call to reopen the economy. Gates has also criticized the US administration's decision to halt funding to the World Health Organization.
The attacks on Gates and Fauci come at a time when the numbers of COVID-19 cases and deaths in the US have exceeded 1.17 million and 62,000(as of Thursday), the highest in the world.
The US boasts some great scientists and public health institutions, but their expertise has sadly not been welcomed by some, largely due to the nasty domestic election year politics.
Juan Cole, a professor of history at the University of Michigan, said that "when people let their ideologies overrule reason, they are digging their own graves". In an April 7 article, Cole argued that the US' anti-science and anti-intellectual attitude is forcing it toward a coronavirus "Pearl Harbor".
This should be a wake-up call for Washington in its tough fight against the pandemic.
The author is chief of China Daily EU Bureau based in Brussels.
Most Viewed in 24 Hours
China Views