UK records Europe's highest virus death toll
Share - WeChat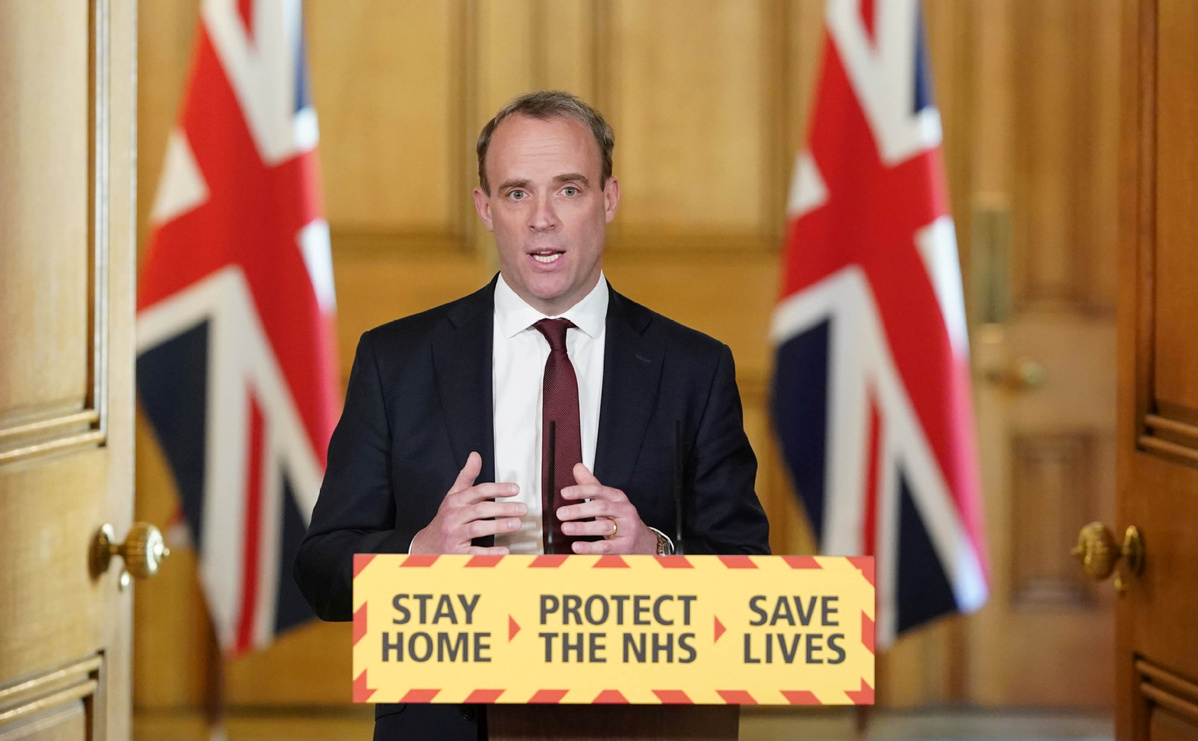 The United Kingdom has recorded Europe's highest novel coronavirus-related death toll and is now globally second only to the United States, after figures released by the Office for National Statistics revealed it had surpassed Italy, previously Europe's worst-affected country.
As of Saturday, there were 29,648 related deaths in England and Wales, and when figures for Scotland and Northern Ireland were included, the number of death certificates mentioning COVID-19 was more than 32,000.
Tuesday's Downing Street media briefing revealed that for the third day in a row, the government had failed to meet its target of 100,000 daily tests, and Foreign Secretary Dominic Raab said although there was "evidence" of a flattening of the peak of COVID-19, it was not over yet.
"We need to be under no illusions, the next stage won't be easy," he continued, adding that people would have to "adjust to a new normal".
"We have never experienced anything like this first stage of COVID-19 in terms of the scale of the lives lost but also the lockdown it has required," he added.
"As we go forward, we want to make sure that the next phase is more comfortable, is more sustainable and prevents lasting damage to jobs and livelihoods."
Earlier, the UK's chief scientific adviser, Patrick Vallance, told a parliamentary committee that in hindsight, more testing at the start of the outbreak "would have been beneficial" but "for all sorts of reasons that didn't happen".
"I think it's clear you need lots of testing for this, but … it's completely wrong to think of testing as the answer. It's just part of the system that you need to get right. The entire system needs to work properly."
In the business world, the Virgin Atlantic airline has announced it will shed more than 3,000 jobs in the UK and will not resume operations out of Gatwick Airport when lockdown ends. The announcement was described by the pilots' union BALPA as "devastating".
"We have weathered many storms since our first flight 36 years ago but none has been as devastating as COVID-19 and the associated loss of life and livelihood for so many," said Shai Weiss, chief executive of Virgin Atlantic, which currently employs around 10,000 people.
Chancellor of the Exchequer Rishi Sunak has warned that companies' furloughing of employees, which sees them temporarily laid off with the government paying up to 80 percent of their wages, cannot continue indefinitely.
The government's job subsidy scheme was introduced on April 20, since when almost one-quarter of employees in the country have been furloughed, and is currently running until the end of June.
Before it began, out of a labor force of 33 million, Britain had approximately 27.9 million people employed. In the scheme's first two weeks, 800,000 companies temporarily closed 6.3 million jobs at a cost of around 8 billion pounds ($9.96 billion), and the Office for Budget Responsibility estimates that by the end of June, that figure could reach 39 billion pounds.
"I am working as we speak to figure out the most effective way to wind down the scheme and ease people back into work in a measured way," said Sunak. "But as some scenarios have suggested we are potentially spending as much on the furlough scheme as we do on the NHS (National Health Service) for example. Now clearly that is not a sustainable situation."
The country's trade unions have given a less than enthusiastic reaction to government ideas for workplace safety, to allow the economy to be revived. "This guidance was thrown together in a hurry and it shows," said John Phillips, acting general secretary of the GMB Union.
"In its current form, this guidance does not adequately protect workers from COVID-19 exposure and as a result many may refuse to work to avoid putting themselves and their families at risk."
Figures from the Society of Motor Manufacturers and Traders reveal how the virus has affected car sales. Registrations of new vehicles in April fell by 97.3 percent compared to the same period 12 months earlier, which was itself viewed as a poor month because of Brexit uncertainties.
Elsewhere, a doctor in France has suggested the novel coronavirus could have started earlier than previously thought, at the end of last year, after a patient treated for suspected pneumonia was later found to have had the virus. The man, who has since recovered, had not travelled abroad but his wife works in a shop near Paris's Charles de Gaulle Airport.
And the mayor of Paris has indicated some city street closures could become permanent when lockdown is lifted. "I know that the majority of Parisians do not want to see a return of cars and pollution," said Anne Hidalgo.
Italy continues to adjust to the gradual lifting of lockdown, and although movement may now be more free, the psychological scars of the lockdown will take longer to heal.
A survey by opinion poll company the Piepoli Institute revealed 62 percent of Italians think they will need psychological support to adjust. "The night of the virus continues and you can hardly see the light on the horizon," sociologist Ilvo Diamanti wrote in the La Repubblica newspaper. "If anything, we're getting used to moving in the dark."
There is more positive news from Austria, one of the first countries to ease its lockdown three weeks ago, which has seen no new increase in infections since.
"The situation is very, very constant, very, very stable and that is a really very, very positive, good situation," said Health Minister Rudi Anschober, while urging people to avoid complacency. "May will be the decisive month," he added.