Taking the safe scenic route
Share - WeChat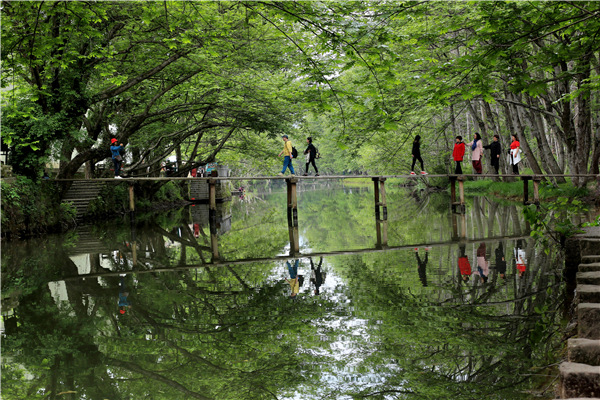 As the epidemic eases, more people are venturing out of their homes to quell boredom while avoiding crowds.
Over the past three months, people across China led isolated lives, confined in limited spaces at home and spending their time telecommuting, cooking, overindulging in cellphone usage and interacting with only family members.
These collective efforts to stay home paid off as the country has seen the number of novel coronavirus cases plummet.
With the epidemic situation winding down and spring bringing warmer temperatures, those who have put their outdoor activities on hold for a long time have recently shown their desire to take a breath of fresh air.
A report by Ctrip, an online provider of travel services based in Shanghai, stated that more people booked for tours within their provinces last month, triple that of March.
According to an analysis by the China Tourism Academy, most urban tourists traveled farther in April, with an average trip radius of 3.6 kilometers during the Tomb Sweeping Day holiday (April 4-6)-a 36.8 percent increase of that during Spring Festival.
Qiao Yuanchen, a 35-year-old working in the finance industry in Beijing, said she cherishes the opportunity to experience nature more than before the outbreak.
"I need to go to the office every other week and my husband has been working from home since the outbreak," Qiao said. "Working at home was not any easier because my 6-year-old son doesn't need to go to school due to the outbreak. He wouldn't concentrate on doing his homework and tends to make trouble to attract my attention."
She added that she now needs to prepare three meals instead of just dinner as she did before the outbreak.
"We used to go on an outing once a week before the outbreak, but now we look forward to our routine weekly excursions more than ever. We usually find places with fewer people in the countryside," she said.