UK scientists close to double breakthrough
Share - WeChat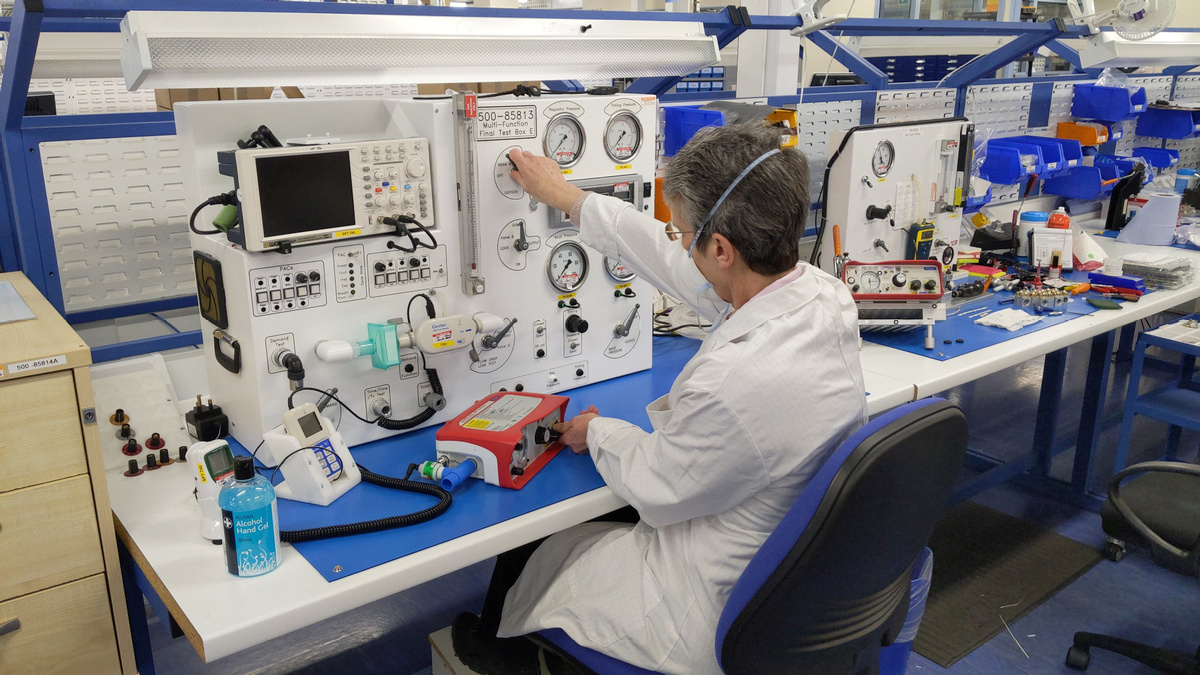 Vaccine and ventilator technology could bring major progress in virus fight
British scientists have this week provided two promising contributions to the fight against the novel coronavirus, as Imperial College London announced it is moving its vaccine into human trials and Cambridge University researchers released the open source design for an inexpensive ventilator machine.
Drug designers at Imperial College London said their COVID-19 vaccine will enter human testing in June, after the lab received 1.8 million pounds ($2.2 million) in fresh funding from the United Kingdom Research and Innovation agency and the National Institute for Health Research.
Early findings have shown that animals given the vaccine are able to produce neutralizing antibodies.
"The next step will be to show that our vaccine is tolerated in humans and whether it can produce the same promising immune response we've seen in our animal studies," said project leader Robin Shattock from the university's Department of Infectious Disease.
In a separate study, Cambridge engineers hope to ease shortages of ventilators in low-and middle-income countries with a machine that can be constructed using readily available parts for a fraction of the cost of conventional designs.
Ventilators are essential to hospitals dealing with COVID-19 patients. This is because severe cases of the disease can cause damage to the lungs, making it hard for patients to breathe without the assistance of a machine.
Many developing countries, including several in Africa, have a severe shortage of ventilators. An example is Mali, a nation of 19 million people, which currently has just 56 ventilators across all public and private hospitals.
Cambridge has partnered on the Open Ventilator System Initiative, or OVSI, with a consortium of academics, engineers, intensive care medics, and industry partners in the UK and Africa.
The OVSI ventilator can be assembled using components that are readily available to manufacturers in most nations, meaning that machines can be repaired easily if parts from the initial assembly kit need to be replaced.
The engineers also made sure to use inexpensive parts when designing the machine. The Cambridge team estimates that the OVSI design can be assembled at around one-tenth the cost of a conventional ventilator.
"It's often the case that those living on less than $4 per day are excluded from the innovation process," said Lara Allen, chief executive of the Centre for Global Equality, an international development network that partnered on the project.
"As a result, many well-meaning innovations are not what is needed or wanted by the intended beneficiaries and end up not being used. This is disappointing for designers, a waste of humanitarian resources, and low-resource communities continue to go without the support they desperately need. This is why taking an inclusive innovation approach is vital for sustainable impact."
The prototype of the ventilator is currently being developed into a version that can be mass-produced at a facility owned by Prodrive, a motorsport manufacturer in Oxfordshire that builds racing cars for Aston Martin and Volkswagen.
The machines will also be manufactured in South Africa by domestic appliances manufacturer Defy Appliances and defense company Denel.