Brazilian band fights against epidemic in China
Share - WeChat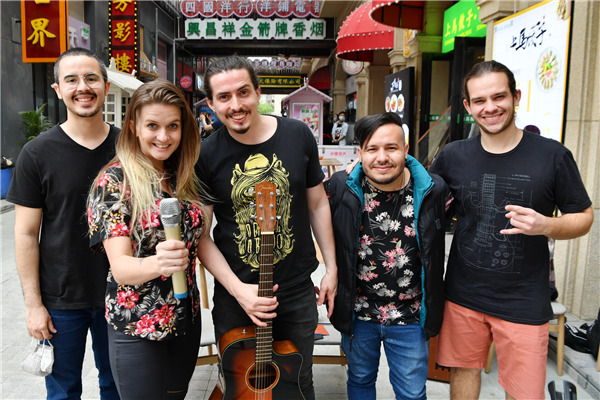 They usually rock the stage for cheering fans and sing at the top of their lungs, but members of Brazilian band Fancy recently took a very different direction: fighting the coronavirus epidemic in China.
The band has five members. After signing a contract with an art company in Northwest China's Shaanxi province, the ecstatic band members were looking forward to performing a series of shows in China during the Spring Festival holiday. They were arranged to do residencies in some bars and hoped to get their foot in the door in China.
Then came the coronavirus epidemic. Excitement turned into surprise and confusion.
"We embarked on our journey to China but ended up in a battle against the epidemic," said the members.
Lead singer Mariana said they received a call from their manager on their way to China, telling them that the Chinese New Year shows might be halted.
"We did not expect the epidemic to be so serious at that time," Mariana said.
On Jan 26, they arrived in Xi'an, Shaanxi provincial capital, an ancient city known for its iconic Terracotta Warriors.
"Before we could experience the ancient Chinese culture here, we had to be in quarantine," Mariana said.
John, the guitarist, said that they had no idea how the virus transmitted, but the community's measures were in time, which "made us feel safe," he said.
The province later upgraded its emergency response to the first level, as local districts started to close off their compounds.
"We stayed at home as much as possible, and would wear masks whenever we went outside," he said. "They took our temperatures every day, which I believe was quite effective."
In the apartment they rented, the band members turned the living room into a temporary venue for rehearsals with a bass, a box drum and maracas.
Most Popular