Bone remains suggest kneeling burial of ancient human sacrifice
Share - WeChat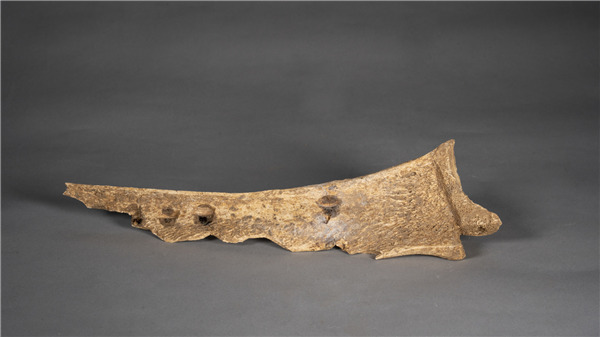 Archaeologists have discovered human bones in kneeling position in a sacrificial pit of ruins dating back to the late Shang Dynasty (1600 BC-1046 BC) in Central China's Henan province, which proves a glyph in oracle bone inscription of the burial.
In the excavation of the Chaizhuang site in Jiyuan, archaeologists found a large number of tombs of the late Shang Dynasty, providing evidence for the study of ancient social and ritual customs.
The bone remains found at the site suggest that the human sacrifice was beheaded, facing north and kneeling in the pit with his hands crossed in front of him.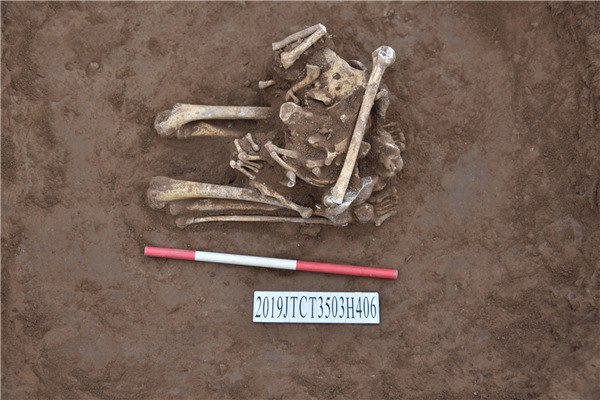 "This well-preserved human bone is shaped like the oracle bone inscription of the character 'Kan,'" said Liang Fawei, head of the Chaizhuang site excavation project.
Liang said according to the study on records of oracle bone inscriptions unearthed in Yin Ruins, sacrificial culture prevailed in the Shang Dynasty and hieroglyphs such as "She," "Shi," "Tan" and "Kan" were used to describe sacrificial activities of different rituals. Among them, the word "Kan" depicts the way of offering sacrifices of people or livestock in pits.
Oracle bone inscriptions, or Jiaguwen, are an ancient Chinese language named for their inscriptions on tortoise shells and animal bones. They are a primitive form of Chinese characters and the oldest fully-developed characters in China.
Previously, the remains of human sacrifice discovered were mostly in a lying posture. Experts assumed that the sacrificial method recorded in the hieroglyph "Kan" suggests burial in an upright position, which must have been a more prevailing burial than that in a lying position.
Archaeologists from the Henan Provincial Institute of Cultural Relics and Archaeology and the Jiyuan Municipal Cultural Relics Team have excavated 6,000 square meters of the site since 2019.
Their survey found the ancient Chaizhuang settlement covers 300,000 square meters. Semi-crypt-type houses, wells, ash pits, roads and fireworks have been found at the site, along with a trove of relics including pottery, stone, bone, mussel and jade artifacts.