Cities set for train travelers arriving from Wuhan
Share - WeChat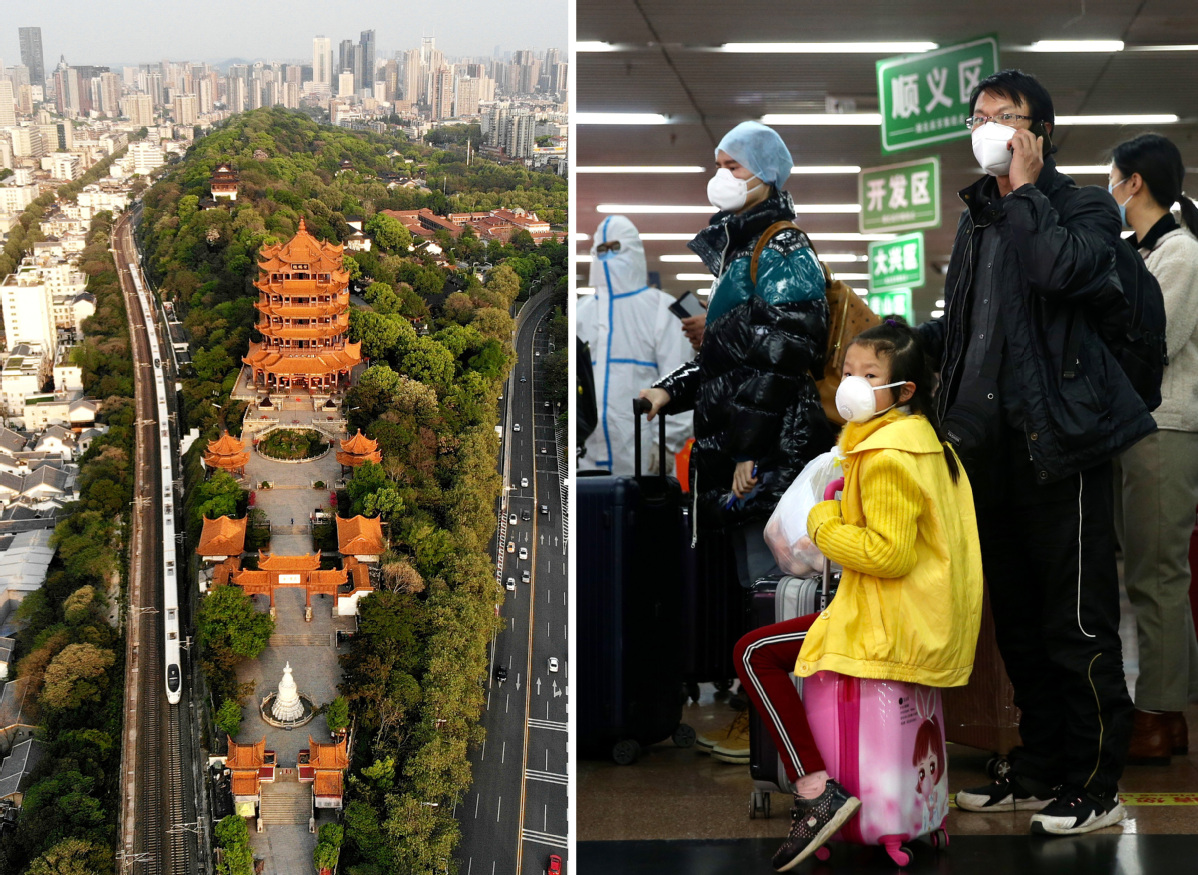 Major destination cities for outbound train passengers from Wuhan, the city hit hardest by the novel coronavirus outbreak, have taken preventive measures to curb the spread of the virus.
Around 55,000 people were estimated to have left Wuhan by trains for major cities in the mainland after the lockdown was lifted in the capital of Hubei province on Wednesday.
A total of 276 passenger trains, including 54 trains that originated from Wuhan, left the city for Shanghai, Guangzhou and Shenzhen in Guangdong province, Chengdu in Sichuan province, Fuzhou in Fujian province, Nanning in the Guangxi Zhuang autonomous region and other major mainland cities on Wednesday.
Railway departments stepped up disinfection of the trains, platforms, waiting rooms, ticket counters and related public venues in the railway stations on Tuesday and arranged for more railway staff to help measure body temperatures of passengers and inspect their identity cards and nucleic acid test results on Wednesday to prevent and control the outbreak of COVID-19, according to the China Railway Wuhan Group.
"Only those who test negative on nucleic acid tests can board the trains to leave Wuhan, and attendants are also conducting spot measures of passengers' temperatures on board," the group said. "Also, there is no dining car in all the passenger trains that depart from Wuhan."
More than 20,000 people, or 40 percent of the passengers who traveled from Wuhan, arrived in major cities in the prosperous Pearl River Delta in Guangdong province, a major production base.
In Guangdong, major cities including Guangzhou, Shenzhen and Zhuhai have prepared to welcome people from Wuhan.
Lu Qiwen, deputy head of Guangzhou's Baiyun district, said her district will treat everyone equally in terms of epidemic prevention and control measures.
"All the people who come from Wuhan can live in local communities and housing estates when their nucleic test results are negative, and we will arrange these tests for the Wuhan people who did not take them before they left their home for Guangzhou," Lu told a news conference in Guangzhou on Wednesday.
Luo Lexuan, director of the Shenzhen Health Commission, said people from Wuhan will not have to go into quarantine if their nucleic acid tests conducted in Wuhan were negative.
"But the people from Wuhan will be required to have a second nucleic acid test after they have arrived in Shenzhen in one week," Luo said.
The Zhuhai Special Economic Zone only requires all people from Wuhan to show their Yuekang health code-given by an online platform called Yueshengshi operated by the provincial government-after they have registered their health conditions online in advance.
In Beijing, relevant departments have strengthened communications and contacts with their Hubei counterparts to properly arrange for people who have been stranded in Wuhan to return to the Chinese capital.
Chen Bei, deputy secretary-general of Beijing municipal government, said the city is estimated to have about 11,000 of its residents stranded in Wuhan, and only 1,000 are allowed to return to Beijing daily by train or car after having nucleic acid tests. In addition to taking the test before leaving Wuhan, the returnees are required to take it again one week after arriving in Beijing.
A two-week mandatory quarantine, either at home or at a designated venue, is also required for people returning from the beleaguered region.
Shanghai has called on the public to remain vigilant and has encouraged local companies and institutions to offer nucleic acid tests to their employees from the provinces and regions that have been hardest hit by COVID-19 in the coming weeks as asymptomatic infection has become a threat, said the leadership group for the containment of COVID-19 on Wednesday.
The municipal government has also promised to introduce more effective measures to prevent and control the outbreak of COVID-19 in the city in the coming weeks.