Stocks jump on less dire virus data, oil falls after OPEC+ delay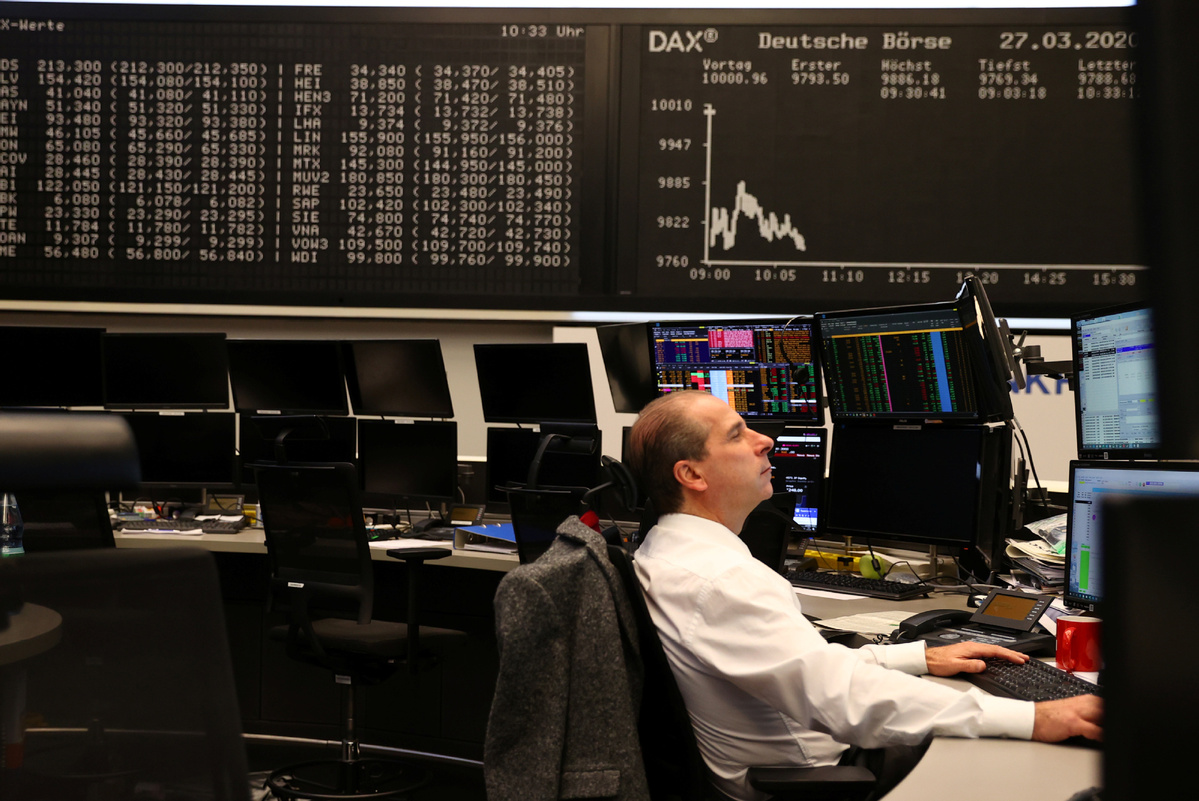 NEW YORK - World stock markets jumped on Monday, encouraged by slowdowns in coronavirus-related deaths and new cases in some global hot spots, while oil prices tumbled again due to a delay in talks between Saudi Arabia and Russia to cut supply.
The US dollar was little changed against a basket of peers and sterling turned negative versus the greenback and euro after news that UK Prime Minister Boris Johnson was moved to intensive care as he grew sicker with COVID-19.
Equity investors were encouraged as the death toll from the virus slowed across major European nations, including France and Italy.
In New York State, Governor Andrew Cuomo said that despite an increase in the number of cases and deaths, a daily decline in new hospitalizations and other data suggested a possible plateau in the crisis.
"It is definitely not going to be a one-way street but this potentially could be a turning point; we are starting to get some good news and hopefully that trend will continue," said Peter Jankovskis, co-chief investment officer at OakBrook Investments LLC in Lisle, Illinois.
The global economy will continue to feel the effects of the measures taken to slow the spread of the virus. Investor morale in the euro zone fell to an all-time low in April and the currency bloc's economy is in deep recession due to the coronavirus, which is "holding the world economy in a stranglehold," a Sentix survey showed.
The Dow Jones Industrial Average rose 1,627.46 points, or 7.73%, to 22,679.99, the S&P 500 gained 175.03 points, or 7.03%, to 2,663.68 and the Nasdaq Composite added 540.16 points, or 7.33%, to 7,913.24.
The pan-European STOXX 600 index closed up 3.73% and MSCI's gauge of stocks across the globe gained 5.49%.
US crude dropped sharply following two sessions of double-digit gains after Saudi Arabia and Russia postponed a meeting of the Organization of the Petroleum Exporting Countries and its allies, or OPEC+, until Thursday instead of Monday.
"Perhaps it is best that the meeting was delayed for producers to cement a minimum of common ground before the actual discussions take place on Thursday," BNP Paribas analyst Harry Tchilinguirian said.
The market was further weighed down by a report from data provider Genscape that inventories at the Cushing storage hub in Oklahoma, the delivery point for WTI, rose by about 5.8 million barrels last week, traders said.
US crude recently fell 7.3% to $26.27 per barrel and Brent was at $33.13, down 2.87% on the day.
Reuters