Theme parks ride again
Share - WeChat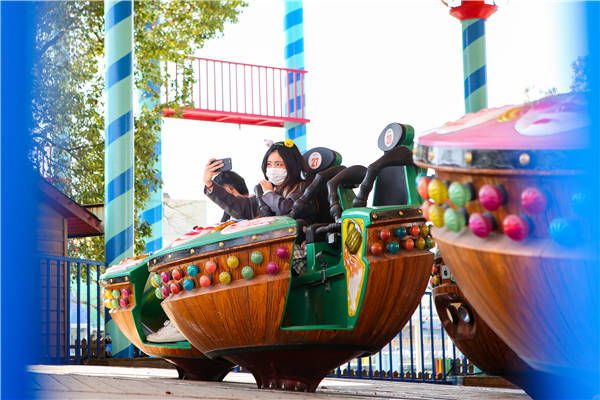 All staff wear masks and have regular temperature checks, while all areas, ranging from offices, staff dormitories and entertainment facilities, are carefully cleaned and disinfected.
Shanghai Happy Valley was reopened on March 20, with more than 5,000 visits in the first three days. Its number of average daily visits in March was 1,660, about 24 percent of the number from the same period of last year.
"The difficulty is that COVID-19 may have a continuous negative influence on people's willingness to visit," says Zhao Shuai, marketing director of Shanghai Happy Valley.
"To tackle that problem, we're striving to ensure that tourists' health always comes first, offer ticket discounts and organize creative activities, with good-quality products and services."
Shanghai Happy Valley has made the best use of the time during the closure by upgrading and improving things around the park, maintaining and adjusting equipment, and disinfecting everything thoroughly. It has also improved its online booking system and electrical navigation map.
For popular rides, tourists can use 16 on-site ticket-collection machines to get a number and queue up virtually. Such measures save their time, enhance their experience and avoids the potential risk of having people assembled for a long time waiting in line.
Two weeks before the reopening, they held several emergency drills and trained their staff members for non-contact service.
Zhao suggests that tourists always wear masks and don't assemble in crowds.
For the safety of tourists, entertainment equipment, such as rides, will operate at 40 percent visitor capacity each time, with strict rules governing the distance between people.
Staff members have put signs every 1.5 meters in the waiting areas and seats of recreation equipment, to remind tourists to keep a distance of at least 1.5 meters from each other. Staff are also on-hand to guide visitors and maintain an orderly queue.
All indoor services and entertainment remains closed, such as performances and indoor dining, and some outdoor activities that may gather tourists in large, close proximity gatherings, such as parades are also suspended.
Fantawild Holdings Inc has reopened several of its theme parks like Changsha Fantawild Oriental Heritage.