Xi's trip to Zhejiang boosts confidence
Share - WeChat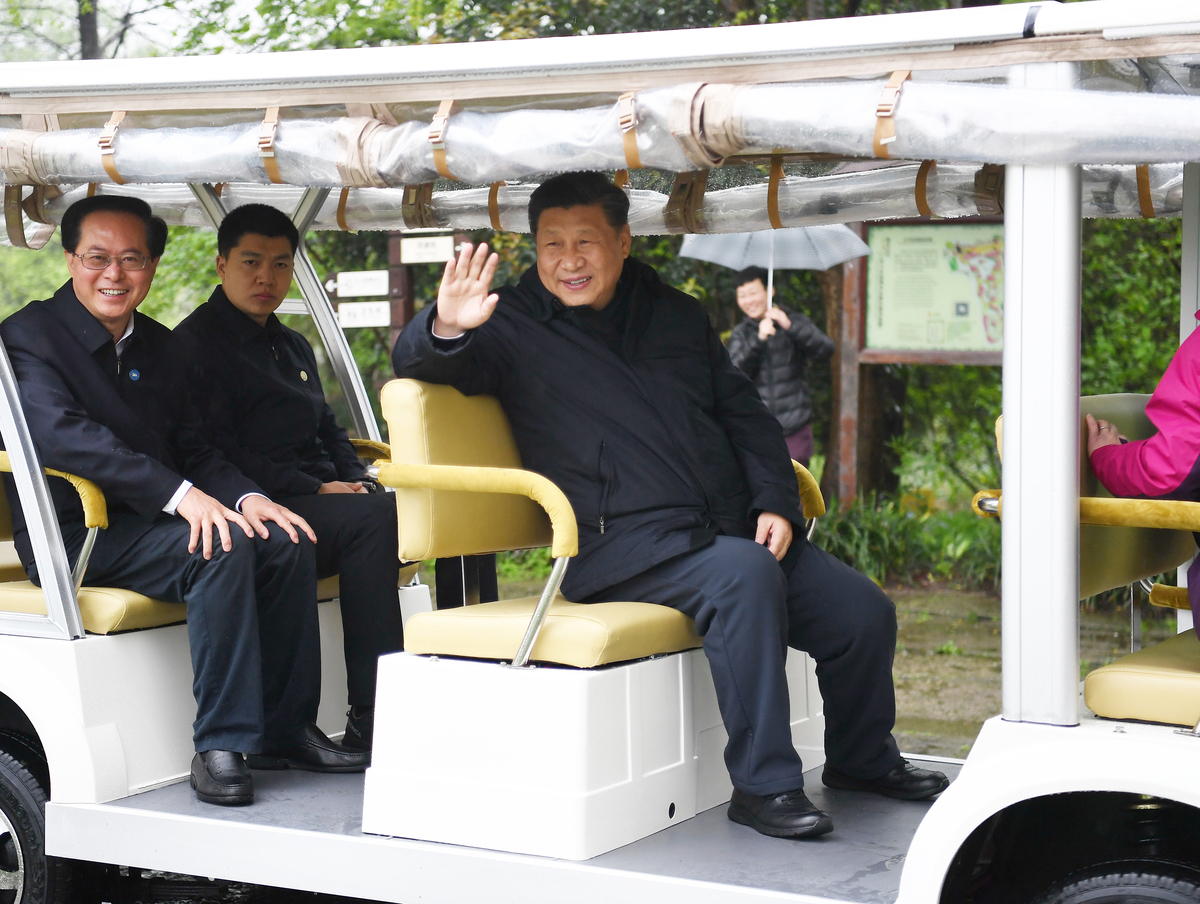 President says China must foster new growth engines amid challenges of crisis
President Xi Jinping has offered a confidence boost to the market and businesses with his four-day inspection trip to Zhejiang province, in which he underlined the importance of turning crisis into opportunities and fostering new growth engines amid the COVID-19 pandemic.
Xi, who is also general secretary of the Communist Party of China Central Committee and chairman of the Central Military Commission, started his trip with a visit to the Port of Ningbo-Zhoushan, the world's busiest in terms of cargo tonnage and the world's third-largest container port.
He called for proactive efforts to respond to and mitigate the impact of restrictive measures adopted by different countries on cargo transportation, in order to ensure China's exported goods can be delivered and imported goods can enter the country.
The port visit came days after Xi chaired a meeting of the Political Bureau of the CPC Central Committee that highlighted the need to enhance international trade and economic cooperation, bolster the development of international logistics and supply chain systems, and ensure smooth international cargo transportation.
His next destination was an industrial park that produces auto parts and molds in Ningbo, where he met with workers, business leaders and officials and listened to their opinions.
He reiterated the important role of private businesses and small and medium-sized enterprises in China's industrial development.
The pandemic has to varying degrees hurt a range of businesses, and the CPC Central Committee has rolled out a mix of policies to counter the impact. These will be refined in line with the course of the pandemic, Xi said.
He encouraged SMEs to give play to the spirit of entrepreneurship, remain enterprising and conquer the challenges posed by the outbreak.
With an export and import volume of 3.08 trillion yuan ($434 billion) last year, Zhejiang is one of China's leading powerhouses in foreign trade, accounting for 9.8 percent of the national total.
The province's private sector, which accounted for 95.9 percent of all market players, contributed to about 65.5 percent of its GDP and 71.6 percent of foreign trade volume, and created 90 percent of its new jobs last year, according to Economic Daily.
Xu Xiujun, a researcher on international political economy at the Chinese Academy of Social Sciences, said the booming foreign trade of Zhejiang and its flourishing private sector are the reasons Xi chose the province as his destination.
"The foreign trade sector and private businesses both have crucial roles in creating jobs, which is currently a top priority for policymakers," he said.
The province is also a pillar of the regional economy, since a rebound of economic growth in the province can lead regional and even national recovery, he said.
"The resumption of the supply and industry chains in Zhejiang is also of paramount importance to the global supply and industry chains," he said.
In a meeting with provincial officials of Zhejiang on Wednesday, Xi said crises and opportunities always coexist, and the conquering of a crisis means opportunities will come.
With the accelerated spread of the pandemic overseas and international trade and economic activities being severely jeopardized, China's economic growth faces fresh challenges, he said.
However, the pandemic also brought about fresh opportunities for China to speed up its growth in science and technology and promote the upgrading of industries, Xi said, adding that it is important to capture and create opportunities from the crisis and difficulties at the moment.
He called for more timely and targeted policies and measures to ensure smoothness in the international supply chain and in the conducting of various economic and trade activities.
The country must seize opportunities from the digitalization of industries and the industrializing of digital technologies, Xi said. It also must accelerate the development of new types of infrastructure, such as 5G telecommunications networks and data centers, while planning the development of emerging sectors such as the digital economy, health and new materials, in order to foster new growth areas and growth engines, he added.
Xu, the researcher, said Xi's trip to Zhejiang can further lift market confidence in China's economic growth for this year.
The pandemic has given rise to the further development of sectors such as artificial intelligence, online education, smart logistics and online shopping, he said.
"China could further elevate its position in the world economy if the country can minimize the impacts of the pandemic while unleashing the potential of new growth engines," he added.
Many businesses in Zhejiang also hailed Xi's trip as a boost for morale and confidence.
Jiang Jindong, vice-president of Zhejiang Panshi Information Technology, an internet company based in Hangzhou, said Xi's trip enhanced his confidence in innovating in the company's business operations and better facilitating global e-commerce transactions and investments.
He said the company, which has 1,500 workers overseas, has seen its businesses in India and Vietnam disrupted by the pandemic, with the outbreak also making it difficult to undertake overseas marketing campaigns, due to border controls.
"Despite temporary difficulties, we are cautiously optimistic about a sound recovery and development in the middle and long run, especially with China gradually bringing the novel coronavirus epidemic under control," he said.
Wang Lei, who owns a Hangzhou company that exports fireproof materials, said that although the spread of the virus worldwide poses difficulties for his overseas business, he is still confident in global trade and looks forward to a rebound soon.
"The visit that President Xi paid to Zhejiang and what he said to local workers consolidated my confidence," he said.
"Smaller companies are going through a difficult time, and support from government is one of the most effective remedies for our anxiety," Wang added.