Fire danger worse than last year in many regions
Share - WeChat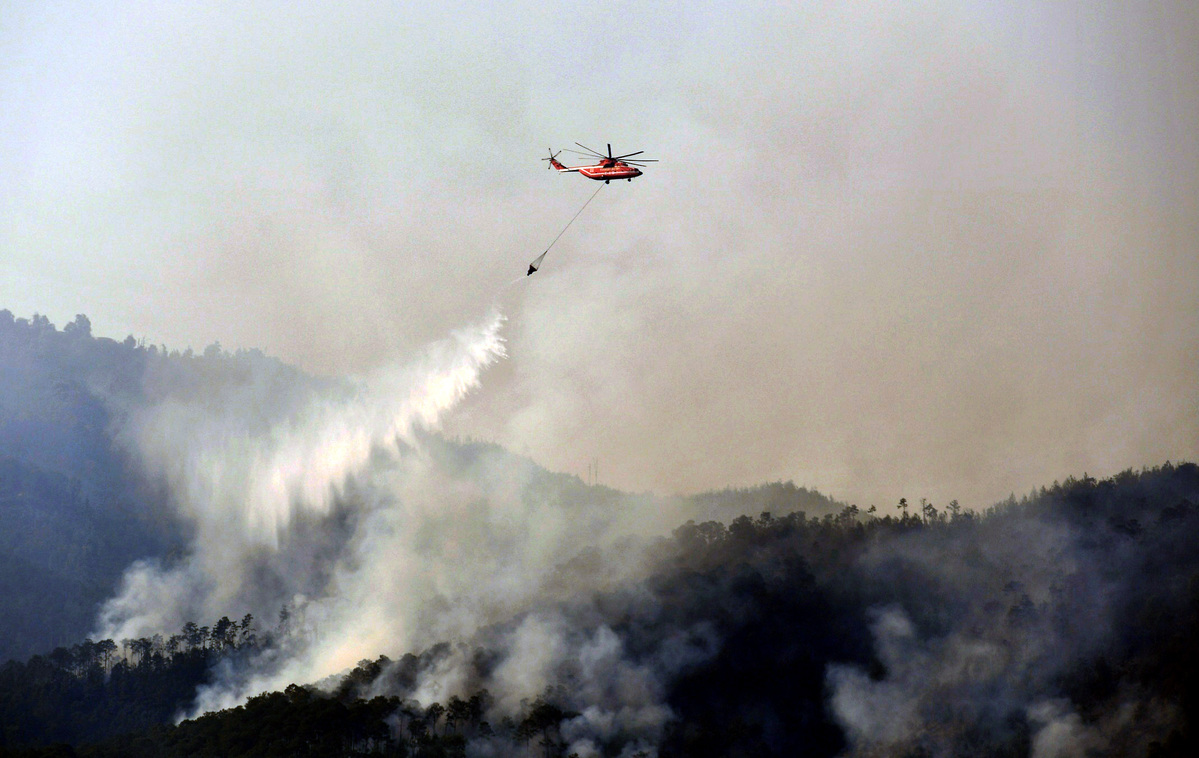 In Muli county, Sichuan province, people customarily go to temples on the third day of the new year on the Chinese lunar calendar to pray that there will be no forest fire disasters in the coming year.
Things often don't turn out that way, however. As a reminder, banners emblazoned with fire prevention slogans are common in the county, which has substantial forest coverage.
The remote county's name, previously unfamiliar to most Chinese, was in the headlines on March 30,2019, when 31 people, including 27 firefighters, died in a forest fire they were fighting.
This year, as people paid tribute to the dead, new battles against fires had begun.
On Saturday evening, a forested area bordering Qiaowa and Xiangjiao townships in the county was ablaze. Only 15 hours after the fire began, it had consumed 30 hectares of forest, according to the local fire control headquarters.
The situation triggered a Grade 3 emergency response, the second-lowest level in a four-tier system. There was no indication at press time on Tuesday that the fire had been extinguished.
Muli is not the only area plagued by forest fires this year. Many regions are facing an even grimmer fire control situation this year.
On March 17 alone, 56 forest fires occurred across the country, claiming five lives, according to the Ministry of Emergency Management.
"As global warming continues, these are now times of explosive occurrences of forest and prairie fires. Generally, the weather conditions are unfavorable for fire control this year," the ministry said in a news release.
The situation for forest and prairie fire control is "complicated and grim", it said.
Even with the increasingly extreme weather, most of the recent fires across the country were started by human activity, the ministry said. In the past 10 years, people were to blame for 97 percent of forest and prairie fires, with the top causes being ceremonial sacrifices and farming activities, it said.
On March 15, the ministry began a three-month campaign on management of outdoor ignition sources.
Officials also directed that firefighters be stationed in areas prone to forest and prairie fires in order to respond more quickly when fires break out.
The forest and prairie fire rescue authority in the Inner Mongolia autonomous region, for example, has dispatched three teams with a total of about 400 firefighters to be stationed in Shanxi and Hebei provinces to be on guard against fires.
An Jun, a commanding officer of the forest and prairie fire rescue team based in Xilin Gol league in Inner Mongolia, said his team arrived in Shanxi on March 18 to help with fire control efforts.
"We have to remain stationed here until June 30, according to the current plan," he said, adding that they will be on duty at all times during that period.