A sweet treat in spring
Share - WeChat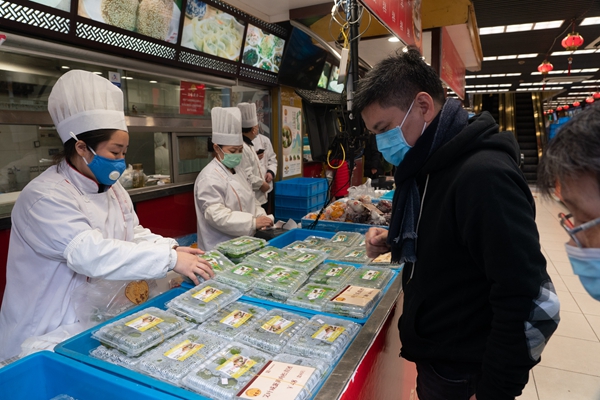 Despite the COVID-19 epidemic, business has been brisk for restaurants selling green glutinous rice balls, a staple snack in spring, Xing Yi reports in Shanghai.
With Qingming, or Tomb-Sweeping Day, approaching, long lines of customers have become a daily scene in front of the Ningbo Tangtuan store in the Yu Garden shopping arcade in downtown Shanghai.
The time-honored brand which specializes in sweet desserts has enjoyed such popularity every day since it started selling qingtuan, a green glutinous rice ball that is a popular dessert in spring for Shanghainese and those from the lower reaches of the Yangtze River.
"Despite the novel coronavirus outbreak, we sold more than 400 servings of qingtuan on March 2, the first day we started selling this snack," says Li Yaohua, one of the chefs of Ningbo Tangtuan.
"Because of the outbreak, many of our customers this year ordered online instead of coming to the shop in person."
Li expects to sell around 5,000 servings a day during Qingming, which falls on April 4 this year. The reason for this is qingtuan is a must-have offering that people place on the tombs of their ancestors or family members.
Apart from sticky rice, another important ingredient used is mugwort, an aromatic herb that is often used to treat asthma, inflammation and infections. The leaves and buds of the mugwort, which are picked right after the arrival of spring, are smashed and turned into a juice that is used to soak the rice dough, giving the snack its distinctive green hue.