China's success holds lessons for world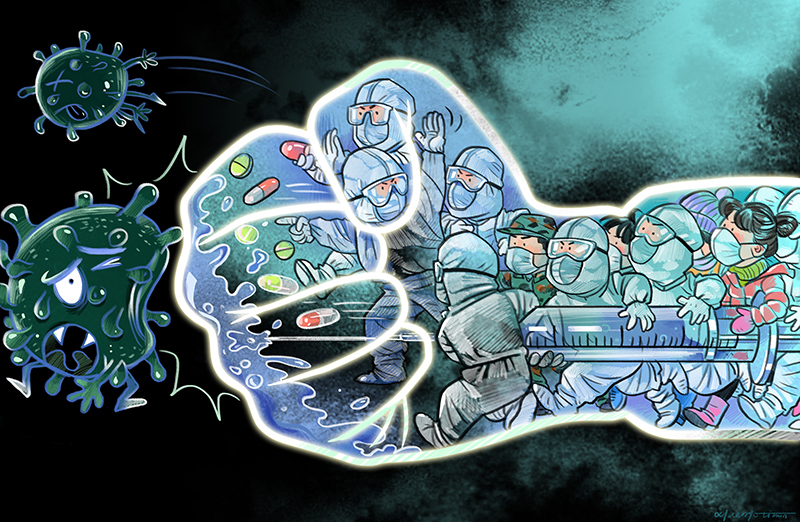 While the world is facing the possibility of the pandemic getting out of control, the People's Republic of China is manifesting highest level of achievement in curtailing the viral outbreak. The fear of coronavirus (COVID-19) infection among European countries is engulfing the general public at an unprecedented scale. Responding to this situation, a complete ban on travel from Europe to United Stated was imposed by President Donald Trump. However, the panic in the US and rest of the world is severe with rising incidences of unrest in big cities. Despite efforts from the World Health Organization, the rapid spread of virus continues globally. With world under the threat of coronavirus pandemic, the international commitment of China to be open and transparent since the start of COVID-19 epidemic reflects a responsible nation.
The impression that Chinese society is reluctant appears wrong. In case of preventing spread of coronavirus, the world has witnessed that a strong system of governance that draws it political power in a centralized manner has a distinct advantage over a spontaneous society. The city of Wuhan has reported no new case of infection. On the other hand, the death toll in Italy due to coronavirus has exceeded that in China.
Rapid drop in new infection cases in Wuhan city indicates a great success of disease containment by Chinese health system. Undoubtedly the public and government in China are highly united in fighting against the viral epidemic. It was surprising to see complete shutdown of Wuhan, a city with over 11 million people. The WHO stated said cutting off a city as large as Wuhan was unprecedented in public health history". Nowhere in the world was such a cooperation witnessed except in China where general public has joined hands with health professionals to adopt an effective strategy to prevent viral spread.
Now world is learning from the experience of Chinese health workers and effective epidemiological approach practiced. Prevention and self containment is the only way out because the COVID-19 is novel. Treatment is uncertain. No prescribed cure or medicine or vaccine is available so far. How dangerous the virus is, seems a challenging question for scientists. What we can ascertain at the moment is avoiding contact with infected person is the most effective strategy because COVID-19 spreads through sneezing, cough or droplets of saliva.
Motivation of Chinese nation is another crucial factor in defeating the disease. As global leaders and key political figures went on self or prescribed quarantine in recent weeks, the visit of President Xi Jinping to Wuhan made an unprecedented leap in stimulating moral of citizens all over the country. The visit of Xi Jinping became a confidence booster particularly for people in Wuhan who were locked down and desperate. The visit reflects strong commitment of Chinese government which transformed the whole nation as one unit to fight against the novel coronavirus.
Till now the reported global confirmed cases of coronavirus are 372,757 with death toll of 16,231. With this huge global disease burden spread over 183 countries the statistical prediction about coronavirus outbreak is hard to make. However, one trend is most prominent; substantial decline in new COVID-19 infection cases in China. Realizing the extent of epidemic the farsighted Chinese State Councilor and Foreign Minister Wang Yi recently expressed his support to multiple nations including Italy, Spain, Pakistan and Iran to enhance experience sharing, coordinate and arrange medical experts as he believes the epidemic has no borders.
This is the time world should benefit from Chinese versatile experience ranging from use of technology to raising public awareness, hand-on training of volunteers to use of community outreach platforms, commitment of doctors and health service providers to mobilization of national resources pooled and targeted for one cause 'overcome the coronavirus epidemic'. It is difficult to write down complex lessons learned by Chinese nation in COVID-19 context yet the application of Chinese experience and knowledge can be best shared in fight against COVID-19 epidemic considering it a global responsibility as humanity is one community with shared future.
The author is Professor in Pakistan and former postdoctoral fellow of Peking University, Beijing. He is currently leading Eco-Health Research Group in University of Gujrat, Pakistan.
The opinions expressed here are those of the writer and do not necessarily represent the views of China Daily and China Daily website.
Most Viewed in 24 Hours
China Views