Attractions continue to reopen nationwide
Share - WeChat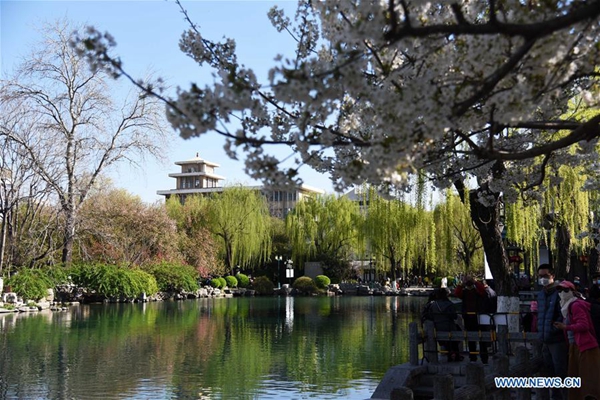 A growing number of tourism spots are reopening and travel restrictions are being loosened as the COVID-19 epidemic increasingly comes under control in China.
The National Health Commission received reports of 39 new confirmed cases on the Chinese mainland on Monday, all of which were imported. No new domestically transmitted cases were reported.
A total of eight museums, including Shenyang Palace Museum, the imperial palace of several Qing Dynasty (1644-1911) emperors, reopened to the public last week in Shenyang, capital of Northeast China's Liaoning province, after months of being shut down.
However, with the threat of cross-infection still a danger, visitors must have their temperatures checked on arrival, maintain a mutual distance of no less than 1.5 meters in lines and wear masks.
Museum authorities also took such measures as requiring real-time reservations, controlling visitor numbers and limiting opening hours to avoid overcrowding. Daily visitor numbers have been capped at 4,000.
"I feel assured by the museum's preventive measures," says Shenyang resident Zhao Yan.
"My family canceled our travel plans during the Spring Festival holiday. When the outbreak is over, we want to travel and relax."
Over 100 destinations have resumed normal operations in Northwest China's Xinjiang Uygur autonomous region. Many ski resorts have exempted or halved entrance fees to attract visitors.
Many provincial-level regions have introduced a health-code monitoring system to control people's movements.
"The tourists with green codes can make reservations online and enjoy free skiing if they stay in certain hotels," says Liang Jing, manager of Jiangjunshan ski resort.
Liang says the resort is temporarily closed to visitors who came from areas where the virus hit hard or have returned from abroad in the previous two weeks.
Most of Shanghai's top tourist attractions and all of its libraries had resumed business as of Wednesday. In early March, Shanghai Disney Resort partially resumed operations, with each of the reopened attractions running at limited visitor capacity and reduced hours.