High-tech helmets tackle temperature tasks
Share - WeChat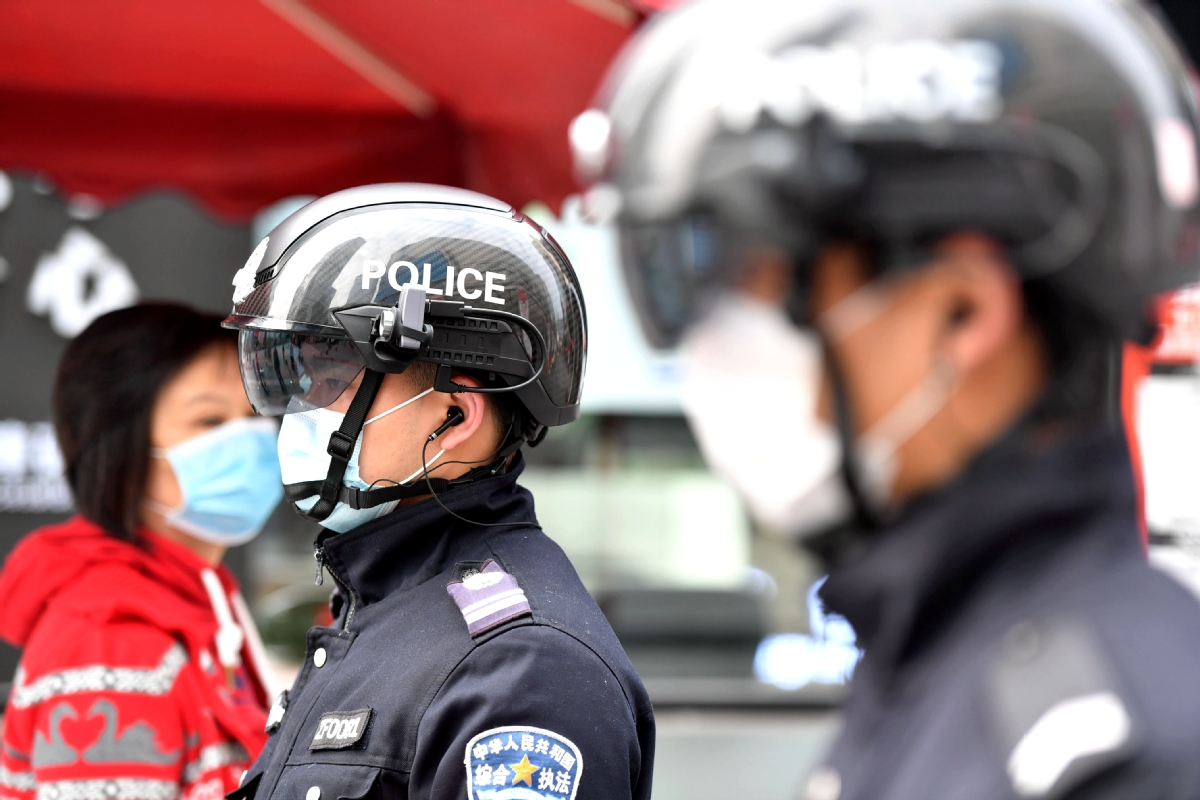 CHENGDU - Wearing a Robo-Cop-style smart helmet, Liu Tao attracts the attention of many passersby while standing guard at a mall gate on Chunxi Road, a popular shopping area in the city.
That's especially the case when the helmet speaks up on its own, "Maximum body temperature is 36.4 C, please pass."
Liu, an epidemic prevention and control worker in Sichuan's provincial capital, began wearing the artificial-intelligence-powered device while on duty a few days ago. "It has an eight-hour standby time and is safer and more effective than a handheld thermometer," he said.
Developed by Shenzhen technology company Kuang-chi, the smart helmet, which looks like a motorcycle helmet, can automatically pinpoint a person running a fever within a 5-meter radius.
Liu said sound and light alarms on the helmet are triggered when anyone within range has a body temperature above 37.3 C. It can identify and record the body temperatures of more than 100 people in less than two minutes.
Guan Yu from the local management office said Chunxi Road is a commercial block with a large pedestrian flow, noting that there used to be five or six monitoring personnel working at one checkpoint, while only one, with a smart helmet, was now needed.
Guards wearing futuristic-looking helmets have been seen recently at subway entrances, large conference venues and on pedestrian streets in several cities, including Chengdu, Shanghai and Shenzhen, Guangdong province.
Body temperature readings of passersby can be seen on a display screen through the helmet's viewing portal.
"Using hand-held infrared thermometers remains the primary monitoring method, which has to be done on a one-on-one basis," said Lei Tao, who is overseeing research and development of the device. But he said that was inconvenient for pedestrians and increased risks in epidemic prevention work.
Lei said that using the helmet, based on a prototype originally designed for police officers, was like watching a 178-cm television screen 3 meters in front of you, with body temperatures automatically measured in milliseconds.
"It helps lock onto those with fevers quickly and safely among the crowds," he said.
Since the start of the novel coronavirus pneumonia outbreak, Chengdu has been using smart helmets, temperature-measuring robots and drones to aid epidemic prevention and control.
Xinhua