Addressing coronavirus in a globalized world
Share - WeChat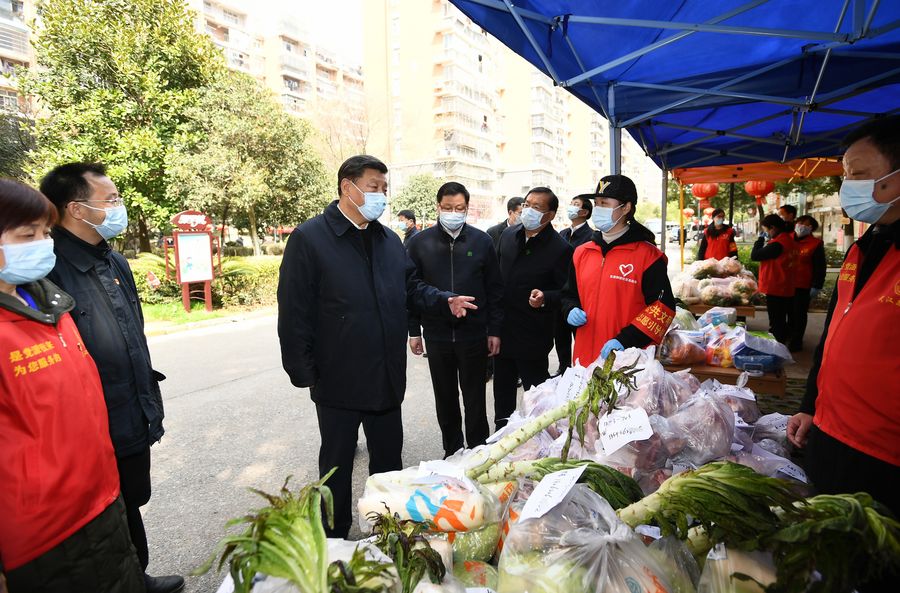 The recent visit by President Xi Jinping to Wuhan was an important moment in China, rousing and inspiring both the city and the Chinese nation, providing confidence to those making sacrifices as the community pulls together. Here we can see a nation's leadership dealing effectively with the COVID-19 issue and shedding light on the bravery at the front line, which is leading the battle against the coronavirus for the world. The international community owes a great deal of gratitude to China in dealing with this issue so effectively.
This leadership extends to cooperation with other countries and Chinese State Councilor and Foreign Minister Wang Yi recently discussed the battle against COVID-19 with Italian Foreign Minister Luigi Di Maio. The discussion between them raised valuable points, most importantly, that the epidemic knows no borders and that solidarity of the international community is needed to combat the virus.
A time of challenge
There has been a challenging landscape faced by China in recent weeks. Factories initially remained closed following Chinese New Year and little by little, many have slowly reopened with restricted measures. There is no complacency however, with a cautious balance still held and a careful step-by-step approach being taken. Global companies relying on Chinese production have their inventory to rely on, but some supply chains could be impacted. The big picture has seen some household names affected.
We now live in an interconnected world where what's good for one is what's good for all. Now that we are in a multipolar world, what affects one part affects each other part of the complex global fabric. China is now one important element of this and the challenges that the country faces will have an effect on the global economy.
China is now a vital component powering the global economic engine and an essential contributor to global GDP. If we run a comparison for the SARS outbreak for example, China contributed about 4 percent to global GDP in 2003, which with a comparatively smaller outbreak had a muted impact on the world. Now China contributes about 16 percent to global GDP and is the biggest contributor to annual GDP growth.
China has evolved to create a center of gravity, powering the world with goods while also moving to a higher level.
This issue has affected China at an inflection point. Its economy is increasingly diverse, as after four decades of historic development, the country's economy moves from a high rate of growth with low-cost manufacturing, to high quality growth driven by innovation.
An evolving situation
There has been a slow reopening of production due to the coronavirus and its related challenges, including carefully implementing health and safety for the benefit of workers and the public good. However, China is bringing back some economic activities online. Some experts believe that China is capable of mitigating the impact on its foreign trade with trade growth momentum maintained as the year goes on.
A stimulus package has been implemented by the Chinese Ministry of Finance to fortify the Chinese economy during this time of challenge. Such measures include introducing tax policies and financial relief measures to aid the economy during the epidemic and the People's Bank of China also has worked to guarantee sufficient liquidity.
This is much needed at a time when the IMF has downgraded its growth forecasts, warning that the global economy won't match the 2.9 percent expansion achieved in 2019. Global growth in 2020 will dip below last year's levels. But how far it falls, and how long the impact will be, is difficult to predict.
Supporting the global community
There will be challenges ahead, things won't be easy and recovery will take time, however slowly and surely things will improve.
When the green shoots of recovery arrive in China, the new concern will move from China production and consumption to global production and consumption outside of China. There could be hotspots in other parts of the world and the issues could change from low supply to low demand – the same parts and goods that were scarce might now shift to China production not being met by demand from countries struggling.
Some of this surplus can contribute to supporting countries currently facing challenges, including Iran and Italy - China is already planning to help countries facing inadequate supplies in their battle against the novel coronavirus epidemic by encouraging domestic producers to export their products. As China's production capacity of medical supplies has risen, so they are in a position to help further.
For example, daily output of protective suits in China has now reached 500,000 units, marking a surge from less than 20,000 at the beginning of the epidemic. Factories across the country can now make 1.6 million N95 surgical masks every day, up from 200,000 before the outbreak.
The UAE is following the same principles of global support for addressing and dealing with the coronavirus outbreak, and also playing a vital role with essential contributions towards the collective global research effort for a coronavirus vaccine. Dr. Tedros Adhanom Ghebreyesus, director-general of the World Health Organization, recently thanked Sheikh Mohamed bin Zayed Al Nahyan, crown prince of Abu Dhabi and deputy supreme commander of the armed forces, for his support in ensuring the success of an aid mission to affected areas, including 7.5 tons of emergency medical supplies and life-saving equipment. In this respect, the UAE has been coordinating with affected countries and has showed solidarity across the global community, with an effective role providing support and aid all around the world.
The aid package, worth Dh1 million, was arranged by the World Health Organization through the Emirates Humanitarian City in Abu Dhabi, delivering supplies to help 15,000 healthcare workers in Iran. The mobilisation of the Emirates Humanitarian City is making effective contributions to China in fighting this virus and is supporting the world, having been set up in just 48 hours, providing humanitarian aid and medical care globally.
The UAE also has supported China as best it can by deepening healthcare cooperation to support efforts to face this medical challenge. Our country is shipping hundreds of thousands of units of essential goods to affected areas of China, including surgical masks, medical gloves, goggles and protective clothing, to support the medical effort and healthcare personnel.
The UAE-China Bigger Picture
For the UAE and China, we have a strong bilateral relationship and a comprehensive strategic partnership that has provided a robust foundation.
President Xi Jinping made a state visit to the UAE in July 2018, where this comprehensive strategic partnership was established with the UAE leadership. This relationship was refined during the visit to the Belt and Road Forum by His Highness Sheikh Mohammed bin Rashid Al Maktoum, vice-president and prime minister of the UAE and ruler of Dubai. The partnership was deepened still further by the state visit to the People's Republic of China, by His Highness Sheikh Mohamed bin Zayed Al Nahyan.
This is the blueprint of a strong relationship supported by great chemistry between the leaders. Such a relationship provides a strong foundation for the future.
The UAE has a long-term strategy of engagement with China, as is clear from its work on the Belt and Road Initiative. In this respect, the country has signed both communiques of the two Belt and Road Forums so far and is a founding member of the Asian Infrastructure Investment Bank (AIIB).
The UAE and China have been described as creating a 'road map' for a century of prosperity, by His Highness Sheikh Mohamed bin Zayed Al Nahyan during his state visit to Beijing in July 2019. Such a long-term vision begins with steps to teach the Chinese language across more than 200 schools in the UAE.
The future of the UAE-China relationship is not just about trade, but about cultural exchange, with the nations deepening cultural cooperation. The UAE participated in last year's Dialogue of Asian Civilizations exhibition in Beijing, held under the patronage of President Xi Jinping. The 'Hala China' initiative was established last year in the UAE to reinforce commercial and cultural ties between the two countries and launch cultural and heritage events.
The longer-term aspirations of bilateral trade are to achieve $200 billion by 2030, building from a solid and sound long-term comprehensive strategic partnership.
The coronavirus matter is ultimately a short-lived bump in the road and the UAE-China relationship will flourish for the long-term.
Recovery
Any effects on the Chinese economy by COVID-19 can be mitigated against and the prudent measures set in place will support the nation's longer-term recovery.
There is an enduring confidence in China's economy from countries around the world, which remains stable. Recently China topped a trust index among 28 markets surveyed worldwide, with a record high public confidence in its government, business, media and NGOs. China achieved 82 points among the general population, four points higher than 2019 and nine points higher than in 2018. It is the third consecutive year that China has held first position.
Therefore, we can consider that we should collectively be prepared for the challenges this year from the coronavirus and plan accordingly. However, we can be confident that long-term stability is sound and that one of our closest trading partners will soon be in good shape once more.
The growth in bilateral UAE-China trade across numerous sectors, from clean energy to artificial intelligence, health, education and many more, will offset any challenges. Over this coming decade we will see a flourishing relationship for the mutual interest of both parties, as part of a dynamic global economy.
The author is ambassador of the United Arab Emirates to China.
The opinions expressed here are those of the writer and do not necessarily represent the views of China Daily and China Daily website.
Most Viewed in 24 Hours
China Views