Teaming with rural culture
Share - WeChat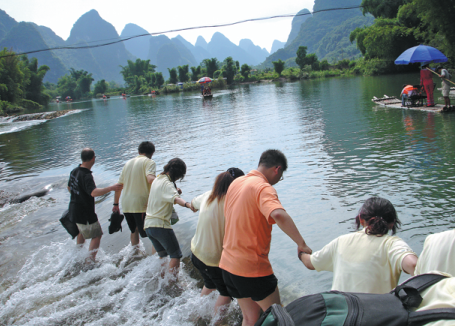 He leads people cross the Yulong River as part of a corporate team building event. CHINA DAILY
His new passion had him engage in repairing a historical temple in Shaxi town, southwestern Yunnan province, in 2012, a place he and his wife deemed auspicious. Having previously visited the temple only once, shortly after they had lost their baby girl due to a serious liver problem, the couple conceived their second child later that year.
Their daughter's birth led him back to the temple "to return a favor".
"I realized this temple required a lot of major repairs, so I began working with a local team to rebuild it from the ground up."
In the process, Barclay was staying at a small family guesthouse across the valley, and he became friends with the owner, giving him many suggestions on how to improve his business.
The owner then suggested Barclay take over management of the property, which also required a lot of restoration needing traditional building expertise.
They agreed a deal and, once the temple was completed, they renovated and opened the Old Theatre Inn in Shaxi. The inn has only five rooms, based around a theater temple that is over 250 years old.
Barclay then tapped into local traditional Bai ethnic dance and music and developed shows for his guests, as well as home cooked meals.
Speaking about his future plans, Barclay says he'd like to explore more opportunities with similar projects.
"I believe that China presents some of the best opportunities for vernacular building preservation, especially in the area of cultural tourism," he says.
At the moment, he is working on a new tourism project in Meixian county, Guangdong province.
"It has everything I'm interested in-tourism, culture and antique restoration," he says.
"Having been in China for over 30 years, and as a fluent Mandarin speaker, I feel I have a lot to contribute in China and that my contributions are welcomed."
Contact the writer at yangfeiyue@chinadaily.com.cn