TCM formula proves to be effective virus curb at community level
Share - WeChat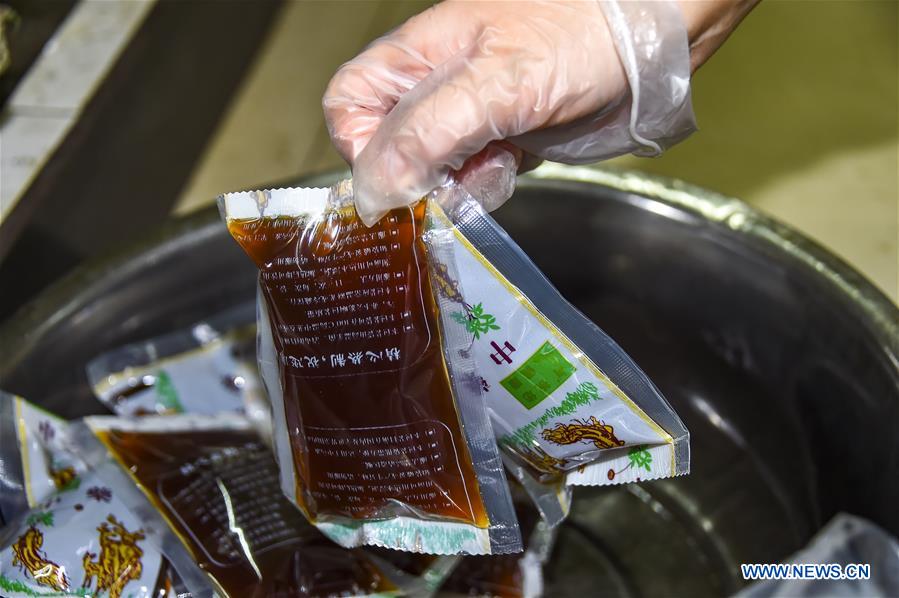 Wuhan's Wuchang district in Central China's Hubei province has distributed a traditional Chinese medicine formula to local residents, and this measure has been proved effective in curbing the novel coronavirus epidemic at the community level.
A residential community is the first line of defense in curbing the spread of the epidemic, said Tong Xiaolin, a traditional Chinese physician and academician of the Chinese Academy of Sciences, after he arrived in Wuhan, the epicenter of the outbreak, on Jan 28.
After consulting patients at local fever clinics, he developed a TCM recipe that was then distributed to residents for prevention and to patients while they were waiting to be diagnosed or admitted to hospitals at that time.
The measure was later dubbed the "Wuchang Model", which is to use TCM to prevent and control the epidemic at a community level in the face of major public health emergencies, especially when medical resources are in short supply and no vaccine or specific medicine is available, said Xiang Yue, deputy head of Wuchang district.
Such a model can help earn more time for patients to be treated and reduce mortality and severe illness, she added.
Xiang said at the early stage of the outbreak, Wuchang was short on hospital beds, doctors and medical supplies, and no modern medicine showed efficacy in inhibiting the disease.
"At that time, we thought we couldn't conjure up more beds, medical staff or materials, but at least we could help people start to take medicine first," she said.
Two community health centers then prescribed some TCM recipes and sent them to medical staff and local people, and as a result, no one was infected after taking the medicine. "We felt TCM could be an effective way," she added.
After arrival, TCM expert Tong checked patients and talked with local experts, then he formulated a general recipe in the hope of curbing the disease.
Tong said ideally a TCM recipe is personalized according to each patient's condition, but with a large number of patients waiting to see a doctor, it was impossible for doctors to consult each patient carefully. "At this special moment, the priority is to let patients use the medicine first," he said.
He said the initial symptoms of novel coronavirus infection were very similar, and the involvement of TCM at an early stage could help prevent the symptoms from becoming more severe.
Tong also contacted a pharmaceutical company in Jiangsu province to produce the recipe in granules and the Chinese Academy of Chinese Medical Sciences also developed a mobile phone software where patients could receive suggestions from online doctors by scanning a QR code, uploading pictures of their tongues and leaving comments of their symptoms.
This method greatly reduced the work pressure of frontline community doctors and their risk of being infected, Tong said.
Xiang said the decision to use TCM was more like a desperate move at first because there was no other way, but "now it proves to be a very correct choice".
"People didn't trust it at first. They still wanted to geta hospital bed. But later they saw there were hundreds of people cured by taking TCM, so they began to believe in it," Xiang added.
Tong said this model has fully demonstrated TCM's role in preventing the disease and also provided a new solution to dealing with major public health events.