Waste is bad taste as recycling steps up a gear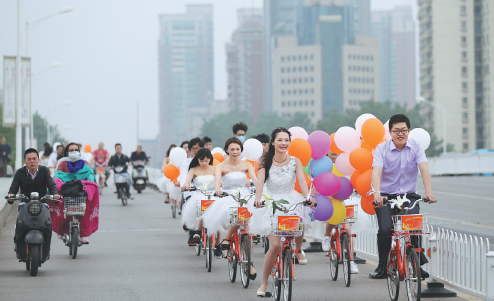 A couple ride bikes with friends at their wedding in Nanjing in May 2016. YANG BO/CHINA NEWS SERVICE
Waste not, want not, is a phrase that suggests if one does not squander, one will not be in need. Bie Shimin, 28, has adopted this approach as a way of life. While most of us drink our yummy milk tea in a fancy, disposable cup, Bie always asks the staff to fill her reusable bottle with the drink, and sips it with a stainless steel straw.
Committed to minimal waste, she always takes these items with her every day, plus a reusable lunchbox, chopsticks, handkerchief and a fabric shopping bag.
Bie became interested in "zero waste" two years ago when she sought to adopt a minimalist lifestyle. Reading online posts and joining activities like exchanging secondhand goods provided the useful tips she needed.
"The zero waste lifestyle makes my life simple and it brings me pleasure," says Bie, an office worker from Beijing. "I've broadened my social circle by making friends with those who share the idea of zero waste. They're from all walks of life."
According to the recently released Survey on Low Carbon Consumption Awareness and Behaviors of the Chinese Households by market research company Ipsos, 41 percent of the 3,500 respondents agree that low carbon behavior will reduce waste, 33 percent say they believe it's good for sustainable development, and 32 percent hold that it will decrease air pollution.
Meanwhile, 33 percent of the surveyed say that low carbon behavior allows them to live a healthy life, and 25 percent say that it makes them live a simple and agreeable life.
The survey reveals that 31 percent want to learn how to identify low carbon products and 28 percent want to know how to calculate a product's carbon footprint.
Many of the surveyed households have adopted different low carbon behavior and one of the most popular is purchasing energy-saving electrical appliances.
The report states that over half of those surveyed set their air conditioners at a temperature of 26 degrees Celsius in summer so as to save energy, thanks to guidelines by the government, nongovernment organizations and the media.
The survey points out that a low carbon footprint and the ideal life that one wants are not mutually exclusive. It is important to provide the general public with practical guidelines about low carbon behaviors in daily life and promote them as a beneficial lifestyle.
For Bie, one major change of going zero waste is her choice of low carbon daily necessities.
Instead of turning to chemical detergents, she uses dried sponge-like gourd pulp and tea seed powder to wash dishes.
She frequents the Beijing Organic Farmer's Market and F2N Market, which sell various sustainable and environmentally friendly goods, to buy things such as shampoo and soaps.
She also buys facial toner and cream from a vendor that reuses the bottles and refills them.
To assuage her concerns about environmental protection, she has learned to use washable sanitary towels and a menstrual cup, a reusable feminine hygiene product to be worn inside the body to collect menstrual fluid.