Scenic spots start reopening, cautiously
Share - WeChat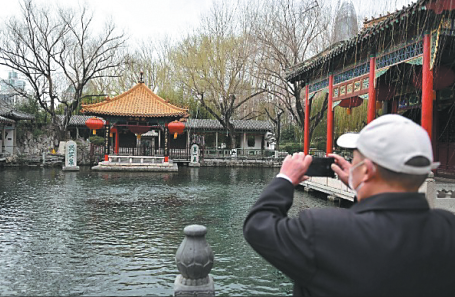 A visitor takes pictures at Baotu Spring Park in Jinan, Shandong province. Some popular attractions in regions with a lower risk of infection have gradually reopened to the public. ZHU ZHENG/XINHUA
Scenic spots across China are reopening as the novel coronavirus comes increasingly under control in the country.
A dozen attractions in southwestern China's Guizhou province have resumed accepting visitors since late February, and more will follow, according to the provincial culture and tourism authority.
"We have been sanitizing all public areas… three times a day," says Li Jing, a manager at Fengqi Hotel in Guizhou's Tongren city.
All workers are required to wear protective gear, and all visitors will receive body-temperature checks before entering, Li says.
The hotel is 20 kilometers away from the popular Fanjingshan scenic spot and is the biggest of its kind in the area.
"Usually, the hotel's income increases by about 20 percent during the Spring Festival golden week," says Li.
The epidemic is expected to cause the hotel to lose 2 million yuan ($284,500), including 620,000 yuan worth of bookings from before it had to close.
Only a few guests have come since the reopening, Li says.
Local governments should approve the reopening of popular attractions in regions with a lower risk of infection. And those in high-risk areas should remain closed for now, says Liu Kezhi, a senior official with the Ministry of Culture and Tourism's market regulation department.
More than 300 well-known scenic spots nationwide were open as of Feb 25, major online travel agency Ctrip reports.
They include the Longmen Grottoes in Luoyang, Henan province, and the Changbai Mountains in Jilin province.
A total of 11 scenic spots and parks in Nanjing, Jiangsu province, have resumed operations since Feb 20, including the City Wall and the Sun Yat-sen Mausoleum.
West Lake in Hangzhou, Zhejiang province, has allowed tourists to enter at different times from Feb 19, and is operating at less than half of its traveler-reception capacity. Groups must have fewer than 30 members. And all guests must wear facemasks.
Over 60 A-rated scenic spots in Hangzhou have reopened so far.
To date, more than 100 closed scenic spots nationwide have worked with Ctrip to offer presales with preferential rates. But those destinations account for only a sliver of the more than 8,000 scenic spots in the country.
Ctrip tells tourists to follow protection guidelines and cooperate with attractions' management, since it's still a critical time for epidemic control and prevention.
The travel agency will keep close contact with scenic spots to offer quality products and services, says Fang Hongfeng, a senior official with the company.
Central and local authorities are racing to ease the sector's financial strain.
China's tourism regulator has decided to return 80 percent of security deposits for tourism-service quality to registered travel agencies.
As of Feb 25, 35,200 travel agencies had applied for the returns, accounting for 90 percent of agencies nationwide, Liu says. A total of 3.46 billion yuan was returned.
The taxation watchdog extended the maximum carry-over period for tourism players' losses incurred in 2020.
At the same time, China's culture and tourism authority has urged scenic areas to take stringent epidemic-control measures when resuming operations.
Some scenic spots saw crowds of tourists after a dozen provincial-level regions lowered their epidemic emergency-response levels.
A large number of tourists flocked to the Fragrant Hills in suburban Beijing on Feb 22 and 23, triggering concerns about contagion. Its management bureau later shut down the indoor areas and closed five parking lots to limit visitor inflows.
On Feb 25, the Culture and Tourism Ministry issued guidelines that require real-name ticketing along with tourists' contact and transportation information. They encourage full use of big data technology to keep track of real-time tourist information during the ongoing epidemic control and prevention.
The ministry also requires scenic spots to monitor and report their employees' health conditions and enhance hygiene and epidemic control at major sites. Venues or activities that could draw large crowds should remain shut down.
Currently, over 1,000 scenic spots offer free access to medical workers as a gesture of gratitude for their efforts and sacrifices on the front line. They span nearly 200 cities and a range of themes, including natural wonders, heritage sites, theme parks, museums and cruise liners.
"We believe (our business) will recover up to 60 percent step-by-step in the second quarter," Li says.
He expects a boom in the summer vacation and that things will be back to normal in the fourth quarter.
Contact the writers at yangfeiyue@com.cn
Xinhua contributed to the story