First death confirmed as Trump urges calm
Share - WeChat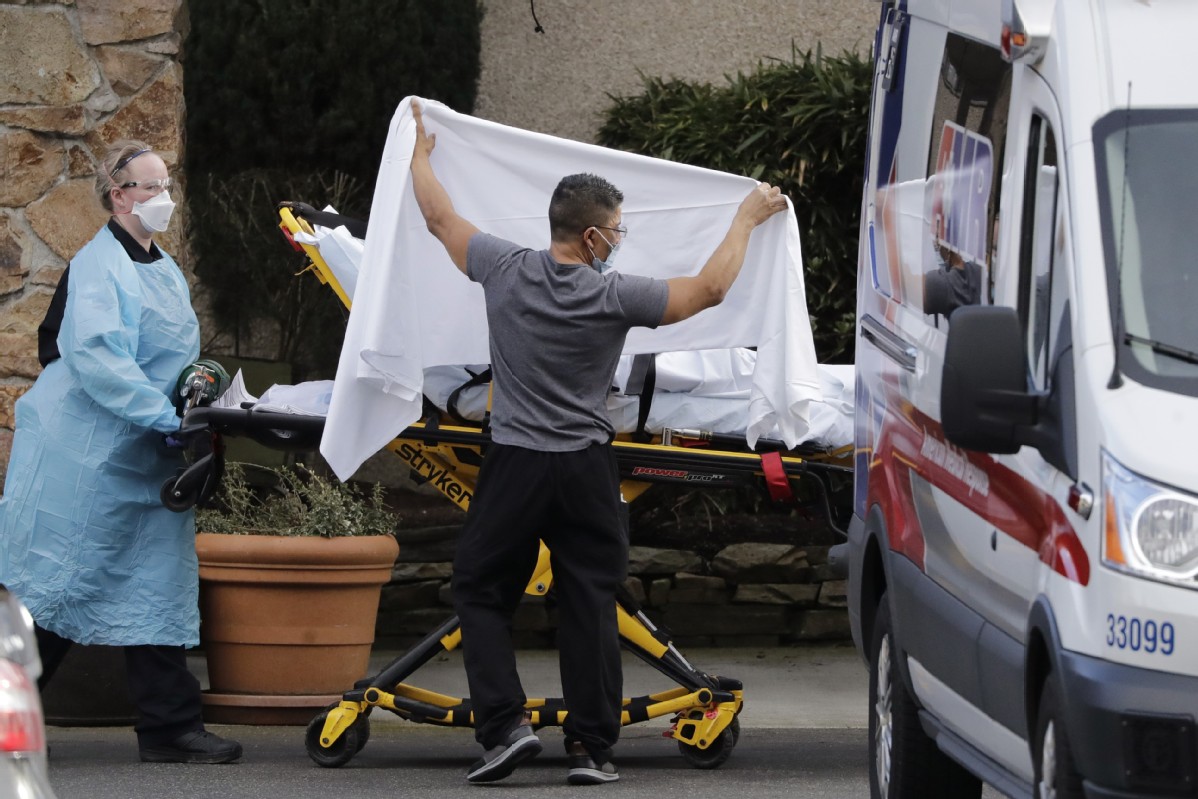 Fresh foreign travel warnings and restrictions issued with tally climbing
Health officials in the state of Washington have reported the first novel coronavirus death in the country as US President Donald Trump urged the public to stay calm and issued new foreign travel warnings and restrictions.
Trump assured US citizens that "our country is prepared for any circumstance", at a hastily called news conference at the White House with top US health officials and Vice-President Mike Pence on Saturday, only moments after the first death was announced.
He appealed to "the media and politicians and everybody else involved not do anything to incite a panic, because there's no reason to panic at all".
"This too will end," he said.
Pence and Robert Redfield, director of the Centers for Disease Control and Prevention, or CDC, both said the risk to US citizens is low. "We need to get on with our normal lives," Redfield said.
But to health officials troubling new signs of how the coronavirus is spreading in the US and the UK have emerged, as cases not explained by overseas travel or contact with a person known to be infected were reported in California, Oregon and Washington state, as well as England.
All prior confirmed cases of the virus could be explained by overseas travel or contact with someone who had been ill.
Trump said he will meet at the White House on Monday with representatives of major drug companies about speeding up development of a vaccine. "We are having very good initial feedback "about a vaccine, he said.
Pence said the administration was issuing a "do not travel" warning-the highest-level-to Italy and South Korea, the countries now most affected by the coronavirus. Travelers from both countries also will be screened in the US.
The US is also barring all travel to Iran, and barring entry to any foreign citizen who has visited Iran in the previous 14 days.
Trump said the US is also considering restrictions at the Mexican border.
The first coronavirus patient who died in the US was a patient at a hospital in Kirkland, Washington, near Seattle. The patient, who was not identified by name, did not have any travel history to areas where the virus was circulating.
At the White House news conference, Trump initially erroneously identified the person as a "wonderful woman" and a "medically high-risk patient" in her late 50s.
The CDC later said it had mistakenly described the patient's gender to Trump and Pence, and local health officials clarified the deceased was a man.
Washington State health officials also announced two confirmed virus cases of two people tied to a nursing facility in Kirkland-a health-care worker and a resident at the facility, Life Care Center of Kirkland.
Health officials said more than 50 people at the facility had begun to show symptoms. There are 288 staff and residents at the facility.
Washington Governor Jay Inslee declared a state of emergency, directing state agencies to assist affected communities. The proclamation allows the use of the state National Guard, if necessary.
California, Oregon and Washington have reported four cases of what has been called "community coronavirus" for people who have not traveled recently to countries hit hard by the outbreak or come into contact with anyone known to have the.
The number of infections in the US stood at 23, excluding repatriations, as of Saturday, CDC said.