Wuhan beefs up efforts to guarantee daily needs
Share - WeChat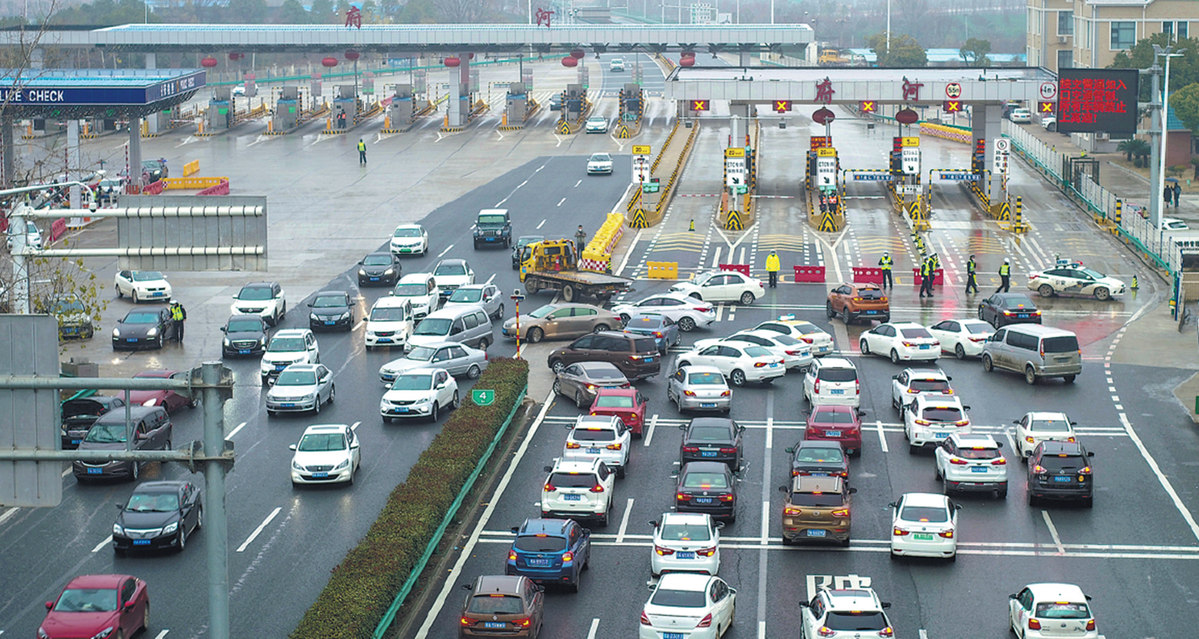 Authorities in Wuhan, Hubei province, epicenter of the novel coronavirus pneumonia outbreak, have coordinated efforts to guarantee the supply of daily necessities to residents as delivering goods to them has become increasingly difficult since communities were put on lockdown for epidemic control purposes.
The efforts come after President Xi Jinping urged officials to "unclog the last mile" for the supply of daily necessities for epidemic-affected residents when he addressed a key meeting on coordinating epidemic control and socioeconomic development on Sunday.
Chen Yixin-secretary-general of the Commission for Political and Legal Affairs of the Communist Party of China Central Committee and also deputy head of a team dispatched by the central government to facilitate epidemic prevention and control-called for a people-centered approach in coordinating disease control and people's livelihood.
Speaking at a meeting on Tuesday in Wuhan, Chen said efforts should be made to increase commodity categories, stabilize prices and optimize delivery services, and special attention should be given to the needs of seniors and the disabled to ensure daily necessities are available for them.
After the Jan 23 announcement of the lockdown of the city and suspension of all the public transport, authorities in Wuhan released a public notice on Feb 14 that required all the residential communities to be locked down and reduce population movements to cut transmissions of the disease.
Following that, some district authorities further required that starting on Feb 18, individuals without authorized passes are not allowed to enter supermarkets. Instead, they encouraged residential communities to organize group buys in line with residents' needs.
Online purchasing has also become more popular due to the strict control of population movements in the city. Online platforms of supermarkets such as Zhongbai Cangchu, RT-MART and Carrefour have promoted group-purchase businesses through internet orders and dedicated deliveries.
Chen asked community officials, workers and volunteers to play a more active role in delivery services to help seniors and the disabled who either do not have easy access to online shopping to join in the community's group buys to get their daily necessities.
A video posted online of a woman complaining about community workers recently aroused the attention of netizens as well as local authorities.
In the video, a woman with a Wuhan dialect accused the workers of failing to play a proper role in helping residents with a group buy of daily necessities from a local supermarket. She complained that the packages of goods the supermarket provided were not satisfactory and the prices were not reasonable.
In response, Tian Ming, head of the neighborhood committee of the Fozuling B Community in the Wuhan East Lake High-Tech Development Zone, said he understands her complaints. However, community workers are not omnipotent, and there are circumstances they might neglect, but they will do their best, he said.
Also on Tuesday, Wang Zhonglin, secretary of the Communist Party of China's Wuhan City Committee, inspected communities and supermarkets in the city, urging various departments to make coordinated efforts to facilitate the delivery process so that orders placed by residents can reach them in a timely manner.
To mobilize more human resources to help community workers, authorities in Wuhan launched a campaign on Sunday to recruit volunteers to work for the city's communities. On that day, more than 10,000 people applied to community volunteers throughout the city, officials said.