US stock markets drop for a 4th day on coronavirus fears
Share - WeChat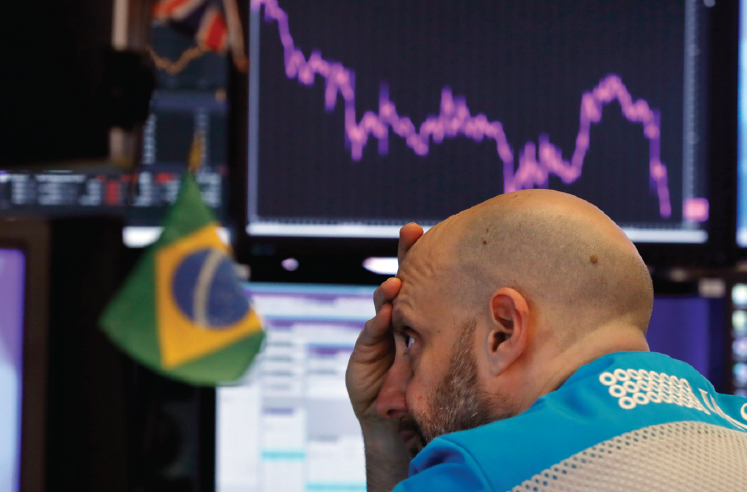 Continued concern about worldwide economic disruption due to the expanding coronavirus outbreak sent US stocks plunging Tuesday.
It was the fourth losing day for the Dow Jones Industrial Average and followed Monday's rout, when the blue-chip index lost more than 1,000 points.
On Tuesday, the DJIA fell 879.44 points, or 3.15 percent, and closed at 27,081.36. The S&P 500 fell 3.03 percent, while the Nasdaq Composite index lost 2.77 percent.
The price of Brent crude, the worldwide benchmark for oil, slid Tuesday to $54.71 a barrel, down $1.50 or 2.67 percent. The yield on 10-year US Treasury notes fell.
In the US, Dr Nancy Messonnier, director of the National Center for Immunization and Respiratory Diseases at the US Centers for Disease Control and Prevention (CDC) said it's inevitable that the coronavirus will spread to communities throughout the country.
"It's not so much a question of if this will happen in this country and more but a question of when this will happen," she said. "We are asking the American public to prepare for the expectation that this might be bad."
The belief that health officials in China and throughout the world would be able to contain the coronavirus, also called COVID-19, and therefore any economic disruption would be minor and short term, sent stocks to record highs last week.
But the market drop worsened Tuesday following reports that the coronavirus continues to spread. Countries including South Korea, Switzerland, Italy and Austria reported new infections. The number of infections remains low, and the World Health Organization said it's too soon to call the outbreak a pandemic.
"The coronavirus situation becomes a catalyst for various government agencies and firms to speed up their investments and expansion of technological capacity to move work and production online," Haoxiang Zhu, an associate professor of finance at the MIT Sloan School of Management, told China Daily.
"The expedited adoption of technology now will improve the speed and quality of economic growth in the long run."
In the short term, he said the coronavirus will hit China hardest.
"Small businesses in China suffer the most, and many may not survive without help from the government or banks with tax and financial accommodations," Zhu said.
"Some lost ground in production, and consumption will be recovered once the movement of labor and merchandise return to normal, but it's likely to take a while."