Special Wuhan composition makes European debut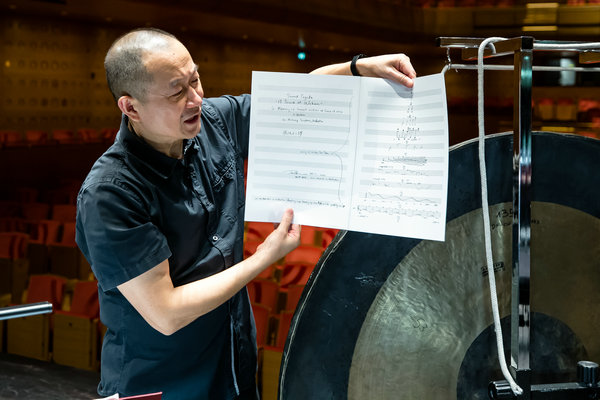 ANTWERP, Belgium-The premiere of renowned Chinese musician Tan Dun's new composition, Sound Pagoda-The 12 Sounds of Wuhan, was performed by the Antwerp Symphony Orchestra in the city's Queen Elizabeth Hall on Feb 15.
The concert, conducted by Tan, was the first held by the international music community to extend love, care and support to the central Chinese city of Wuhan, the epicenter of the novel coronavirus outbreak, which has caused over 2,200 deaths and infected more than 75,000 people in China as of Friday.
Around two pools of clean water in the center of the stage were placed 12 gongs, one of the first Chinese musical instruments that made its way into Western orchestras.
Dedicated to supporting Wuhan's battle against the epidemic, Tan, who has won both an Academy and a Grammy Award for his original composition for soundtrack of the Oscar-winning blockbuster Crouching Tiger, Hidden Dragon, created the new piece during his flight from New York to Brussels earlier this month.
The composition was written to honor Wuhan's percussion instruments as the city is known throughout the world for its cymbals and gongs. The Antwerp Symphony Orchestra has three Wuhan gongs, which were played during the performance.