Xi sets out major tasks for officials
Share - WeChat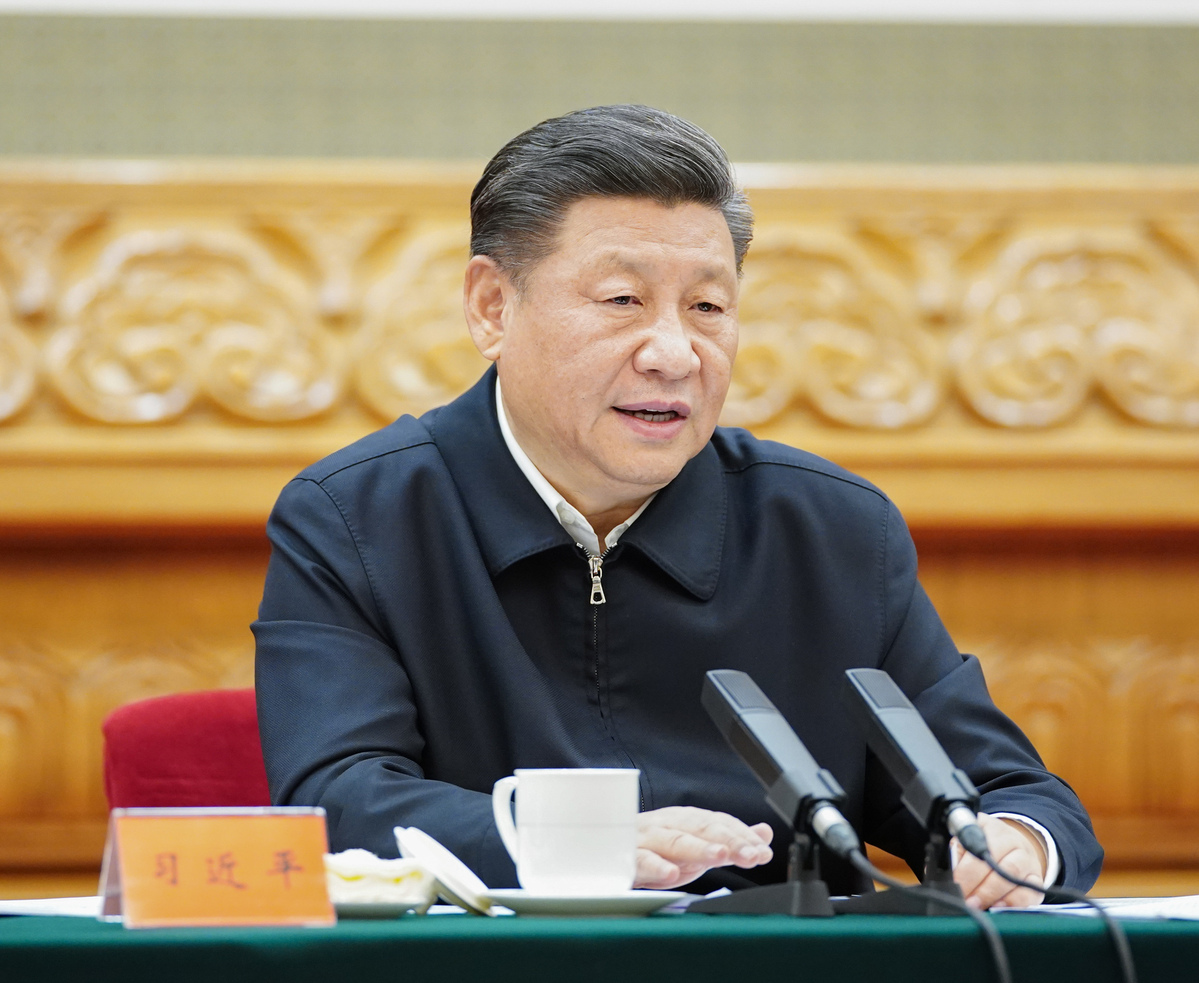 Meeting hears calls to get economy on sound footing while achieving victory over virus
President Xi Jinping set out eight requirements at a key meeting held on Sunday, including taking more targeted tax-cut measures and stabilizing employment, to resume the nation's economic activities in an orderly way.
Xi, who is also general secretary of the Communist Party of China Central Committee and chairman of the Central Military Commission, delivered an important speech at the meeting on coordinating the prevention and control of novel coronavirus pneumonia and economic and social development.
The high-profile meeting, in the form of a tele-conference, was attended by officials from county-level Party and government organizations and above from across the nation.
It is inevitable that the disease will largely affect China's economy and society, so it is crucial to boost confidence at this time and judge the country's economic outlook from a long-term perspective, Xi said.
The good economic outlook of China's economy is not changed from a long-term view, and the disease's impact is temporary and controllable, he added.
At the meeting, Xi set the pace for resuming the country's economic activities, with production and social order being fully and quickly restored in low-risk regions, while prevention and control of the disease should remain the only focus in high-risk areas.
He required the officials to make more targeted policies on tax-reduction and more flexible monetary policies to help small and medium-sized companies overcome their difficulties.
Stabilizing employment
Noting that some companies are short of employees while many migrant workers also have difficulty in returning to their jobs, Xi said employment should be stabilized with multiple measures.
He required the officials to make more efforts to strive for the country's poverty-reduction goal, help poorer workers return to their jobs in an orderly way, and support the restarting of production as soon as possible at major enterprises.
The officials should make more efforts to promote the implementation of major foreign investment projects, expand the opening-up of service sectors including the finance industry, continue to create a better business environment, and boost foreign investors' confidence, Xi said.
Xi also made some requirements in terms of lifting the restrictions on logistics and transportation, enhancing agricultural production, securing food supplies and promoting international trade.
He pointed out that the disease — which spreads very rapidly, infects a wide range of people and presents great difficulties in terms of its prevention and control — is an unprecedentedly serious public health incident since the founding of the People's Republic of China in 1949.
Facts prove that the CPC Central Committee's judgment on the situation of the disease is correct and all relevant measures are timely and effective, which has demonstrated the great advantages of socialism with Chinese characteristics under the Party's leadership, Xi said.
Remaining alert
The Chinese nation has experienced lots of difficulties and sufferings in its history, but it has never been defeated and has become braver and stronger in these great struggles, he said.
Party committees and governments at all levels should remain on high alert over the disease and continue to implement all detailed measures until final victory is achieved, Xi said.
He required officials to continue to take strong measures in Hubei province and in Wuhan, prevent the spread of the disease, and raise the hospitalization and recovery rates while lowering the infection and fatality rates.
Xi paid great attention to prevention and control work in Beijing, saying that the Beijing-Tianjin-Hebei region should make joint efforts and try its best to cut the sources of infection.
China will continue to maintain good contacts with the World Health Organization, share its experiences on disease control with other countries and enhance international cooperation on the research and development of medicines and vaccines, Xi said.
He required publicity authorities to improve the releasing of information on the disease and respond to people's concerns in a proactive way.
Criminal activities such as interfering with medical services, disease control efforts, market order and social order should be gravely punished in accordance with the law, Xi said.
He also highlighted the importance of issues such as distributing medical resources, speeding up scientific research to develop medicines and vaccines, and improving the work of the media.
On behalf of the CPC Central Committee, Xi greeted those who are contributing to the fight against the disease, including medical workers and People's Liberation Army commanders and soldiers. He also expressed sympathy for the victims of the disease.
Officials from grassroots Party and government organizations deserve more care, Xi said, adding that their problems and difficulties should be addressed in a timely manner.