Prison system hit by outbreak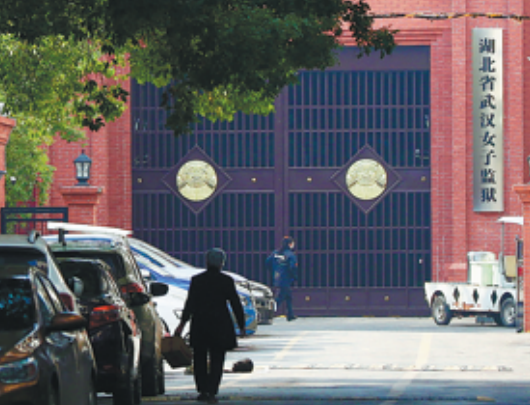 More than 500 novel coronavirus cases were confirmed in China's prison system as of Thursday, prompting the central leadership to dispatch an investigative team to one hard-hit facility in Shan­dong province on Friday, leading to an appeal for strengthened disease control efforts in prisons.
Nearly 90 percent of the 505 infected prisoners were added on Thursday, while the others were added earlier, bringing the number of daily new infections on the Chinese mainland to 889. That made for a spike from 394 reported a day earlier that disrupts the overall decline in new cases.
He Ping, a senior official with the Ministry of Justice's prison administration bureau, said on Friday that five prisons in Hubei, Shandong and Zhejiang provinces have reported outbreaks of the virus, with no deaths and no severely ill patients.
In Hubei, the epicenter of the outbreak, the Wuhan Women's Prison registered 230 infected patients and Hanjin Prison in Jingmen reported 41 infections and nine suspected cases. One more suspected case was reported in a juvenile correctional facility, He said.
Hubei health authorities said prisons in Hubei are not linked to the online reporting system of infectious diseases. Instead, the government obtained handwritten documents from the prison department on Thursday evening that tracked a total of 271 confirmed infections among inmates.
Head of the Wuhan Women's Prison was sacked and a police officer at Hanjin Prison was given a serious warning for failing to perform their duties, He said.
In Shandong province, Rencheng Prison in Jining reported 200 confirmed cases and 10 suspected cases among its inmates as of Thursday, according to He.
The provincial health commission said on Thursday morning that seven prison officers had also been infected, with one of them diagnosed as infected as early as Feb 13.
Xie Weijun, head of the provincial department of justice, two officials with the Shandong Provincial Prison Administration and five officials with Rencheng Prison were removed from their posts due to negligence in disease control work.
The Commission for Political and Legal Affairs of the Communist Party of China Central Committee announced on Friday that it has dispatched a team to Shandong to probe the outbreak. Team members were drawn from the Ministry of Public Security, the Supreme People's Procuratorate and the Ministry of Justice.
In Zhejiang province, Shilifeng Prison in Quzhou reported 34 infected prisoners as of Thursday. Two top officials of the prison were removed from positions and the local public security force has begun an investigation of one prison officer.
He, from the Ministry of Justice, said, "We'll learn a lesson from these infection clusters, enforce responsibilities and implement thorough quarantine management while striving to treat the infected in order to curb the disease's spread."
Infected prisoners will receive standard and timely treatment under quarantine like regular patients, he added.
Previously, the number of the Chinese mainland's new infections outside Hubei had dropped for 16 consecutive days to 45 cases on Wednesday. On Thursday though, areas outside Hubei added 258 cases.
Nationwide, the death toll went up by 118 to 2,236 as of Thursday. The accumulated number of infections was put at 75,465, according to the National Health Commission.
Despite the swell in newly confirmed cases, health authorities have maintained that the broader circumstances of the epidemic are moving in a positive direction.
Fourteen provincial-level regions reported zero new infections on Thursday, with six of them declaring a clean slate for at least four days in a row, Zeng Yixin, vice-minister of the National Health Commission, said on Friday.
The number of newly discharged patients has been climbing fast, exceeding that of new infections for three days in a row as of Thursday, he said.
On Thursday, 2,109 patients had recovered and were released from hospitals, bringing the total number of recovered patients amid the epidemic to 18,264.
A wider perspective also shows noticeable decreases in new infections and a reduction in suspected cases this month, Zeng said, adding that stringent measures should be taken to keep the virus from flaring up again.
Mi Feng, the commission spokesman, said that in Wuhan, the number of cured patients surpassed new confirmed cases for the first time on Thursday. "More efforts will be devoted to treating and managing milder cases, preventing their conditions from worsening into severe illnesses," he said.
Hu Yabo, vice-mayor of Wuhan, said that starting on Saturday, the city will be able to confirm whether high-risk people are infected the same day they are reported because the city now is capable of conducting 20,000 nucleic acid tests a day.
The city has been instructed by a team dispatched by the central government to facilitate epidemic control and prevention work in Hubei to increase beds in designated and makeshift hospitals by 30,000 each by Tuesday to treat infected patients.
Hu said the designated hospitals and the temporary hospitals in the city can now guarantee a daily increase of 3,000 beds. Meanwhile, there are 30,000 beds in locations for quarantine and medical observation.
"Previously, some patients were not hospitalized in a timely way. The problem has been addressed," he said.
Despite all the positive changes, Hu said, the epidemic control situation in the city "remains grim" and there is still a large demand for more hospital beds.
To meet the demand, the city plans to complete the construction of another 19 makeshift hospitals by Tuesday, increasing the number of such hospitals in the city to 32.
Ma Zhenhuan and Zhao Ruixue contributed to this story.