Public security bureaus play essential role in virus prevention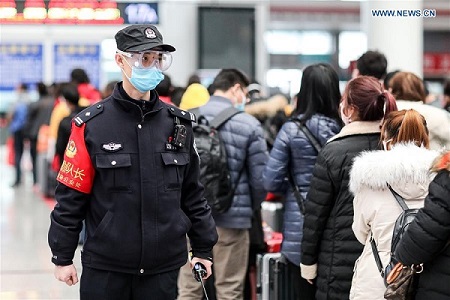 To date, public security organs across the country have assisted in repatriating, isolating and identifying 166,000 people who may have made contact with the novel coronavirus, said Li Jingsheng, director of the security administration of the Ministry of the Public Security on Friday.
The public security organs in Wuhan, capital city of Hubei province, have made transfer work the current top priority. Local police stations took the initiative to contact communities and implement measures to coordinate community cadres and accompany patients' families to ensure all staff are mobilized, Li said.
Each station in Wuhan operates three shifts to provide a 24-hour response and ensure the transfer work is carried out, Li said.
From Feb 6 to 20, a total of 63,000 police officers were deployed to assist in the transfer of 22,000 people who were confirmed cases, suspected cases, fever patients who cannot be ruled out from infection and those who have had close contact with the confirmed.
Public security organs around the nation are also taking measure to severely crack down on all kinds of illegal and criminal acts that hinder prevention and control of the epidemic.
So far, public security organs have investigated 274 cases of illegal business operations, including price-gouging and hoarding. In addition, 1,787 cases of acquisition, transport or sale of wildlife, 198 cases of endangering public security by dangerous means, 2,530 cases of obstructing the prevention and control of infectious diseases and 3,446 cases of obstructing public affairs were investigated.
Public security organs have also investigated and dealt with 604 cases of manufacturing and selling fake and substandard masks and other protective materials, and 722 cases involving the manufacture and sale of fake and inferior products, medicines, medical devices and medical hygiene materials.
A total of 3,644 people have been detained in criminal cases, 25,000 people were issued administrative detention and 46,000 were criticized by the police.