China ensures medical supplies for frontline medics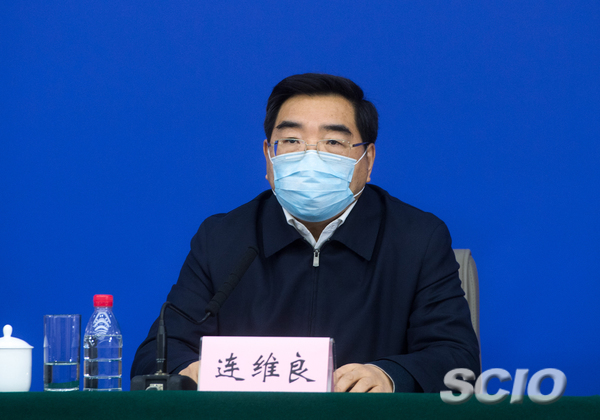 Medical supplies are generally guaranteed in the fight against the novel coronavirus outbreak, said Lian Weiliang, a member of the central government group guiding epidemic control work in Central China's Hubei province on Thursday.
The overall situation of medical supplies has greatly improved from a serious shortage with the joint efforts of all parties, said Lian, who also is deputy head of the National Development and Reform Commission.
Since the outbreak, the shortage of medical supplies has been a weakness in the prevention and control of the epidemic, which severely restricted the treatment of patients and threatened the safety of medical staff, he said at a news conference.
Ding Xiangyang, deputy secretary-general of the State Council and another member of the central government group, said that when the group first arrived in Wuhan on Jan 27, medical supplies, especially protective clothing, were in severe short supply.
At that time, the daily demand for protective clothing was about 50,000 sets, but only 10,000 sets could be guaranteed, which were produced by the province or transferred from other places, according to Ding.
Vice-Premier Sun Chunlan, who headed the group to Hubei, gave instructions that the productive potential of medical resources in the province should be developed and more supplies could be supported by other provinces or imported from abroad.
Sun and the group ordered two factories that produce protective clothing in the province to return to work and hire workers who came home to go back to work with high salaries. The losses to the factories would be subsidized by the country, Ding said.
Lian said the key medical supplies required by front-line medical staff can be guaranteed now, and daily living supplies are basically adequate.
On Wednesday, 336,000 N95 masks and 133,000 protective suits were supplied from various channels across the country to Hubei, which is equivalent to twice the original production capacity of the products, he said.
Lian said, however, with the increase of medical staff to the province and the increase of hospital beds to receive more patients, a large number of medical supplies will be needed.
The central government group has launched a daily docking mechanism with the province to check and solve problems regarding materials supply. It also communicates directly with medical teams to help deal with their problems, he said.
In the next step, the quantity and quality of medical supplies will be further improved, he said.