The Chinese economy can rebound from outbreak
Share - WeChat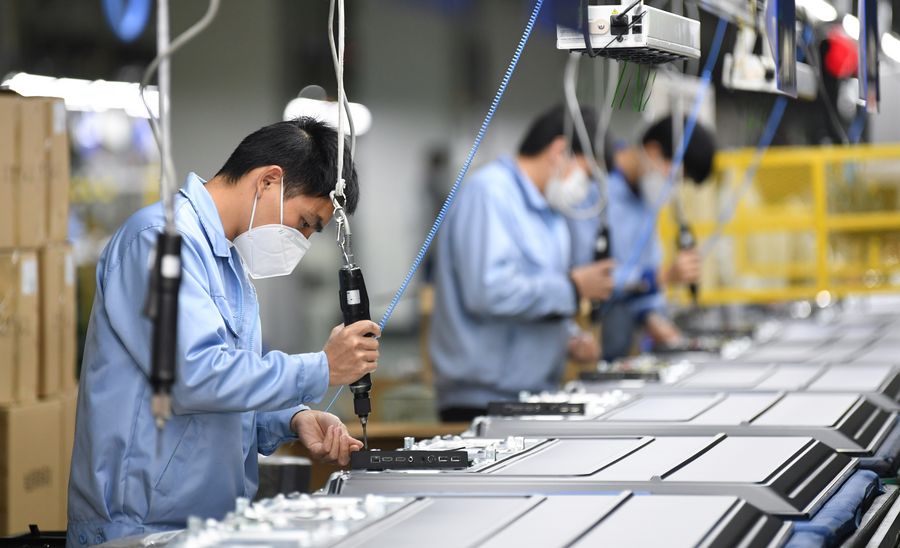 There is no doubt that the novel coronavirus epidemic is hurting the Chinese and global economies right now. Every year, Chinese economic activity is slowed by the Spring Festival holidays, with production ramped up to meet orders before factories close and the month of February showing a notable month-on-month dip as a result. This year that closure is longer because of the virus, but steadily factories are reopening and there will be opportunities to meet pent-up demand during the remaining three quarters of the year.
However, this outbreak has happened in an era of digital transformation, with innovation the watchword. The widespread switch to working from home has plenty of support. Delivery workers are still in action for food and merchandise orders, and online conferencing services are in high demand. Some of this may permanently change habits. Take Chinese university education, where faculty are preparing online courses to teach their students remotely, before pupils come together after the reopening of campuses. That is a big investment which should not be wasted, and might change the online-merge-offline balance in education and support access for a wider community.
Like the huge investment in metro station airline-style security machines for the 2010 Shanghai World Expo, which have remained in use ever since, health screenings in public transport hubs is likely to remain, with beneficial results.
Innovation to meet new needs is already in evidence. Tencent's WeChat Work has increased the maximum number of participants in a meeting to 300, and Ding Talk has a video service which helps participants look their best. Healthcare through digital products and apps will grow, with WeChat Work also offering telemedicine services and online training to professionals. In general, B2B and B2C will expand through digital enterprises.
The temporary closure of factories in China has illustrated how interconnected supply chains are, with businesses across the world anxious about China-sourced components. If nothing else, this shows ideas in the West of it being possible to decouple from China are unrealistic. The wise words of Foreign Minister Wang Yi at the recent 56th Munich Security Conference are appropriate: "This sudden outbreak reminds us once again that…no country can prosper in isolation or meet all challenges on its own, as our interests are closely interconnected." The WTO has said: "Every component of the goods trade barometer will be influenced by the economic impact of Covid-19 and the effectiveness of efforts to treat and contain the disease." China's economic performance will depend partly on that of the global markets it serves.
As more data is released on how the world economy has performed in 2019 it shows strong headwinds already existed, with the WTO citing global trade tensions and associated drops in container shipping and agricultural raw materials. We now know Japan's economy shrank more than six percent in the fourth quarter of 2019. In Europe, post-Brexit uncertainty continues to impact. None of this is connected to the otubreak.
The Chinese authorities have pumped liquidity into the financial system, introduced rent rebates and friendly tax policies to help businesses in the current downturn. Employees working from home or unable to return to the office and factory-based work will have their wages protected. Some sectors such as restaurant trade, physical retail and tourism remain under pressure. The Spring Festival for many years has witnessed increasing international travel and shopping by Chinese – that downturn has a global impact, as do cancelled flights.
For 2020 globally, economic forecaster Moody's has predicted G20 economies will grow a collective 2.4 percent, thus slower than in 2019. Economists are optimistic about China rebounding, and at worst achieving 5 percent GDP growth versus the 6.1 percent estimated in 2019. In the context of the global estimates, that would be a major contribution to world economic growth. Of course, it all depends on how effectively the virus continues to be brought under control after robust action by Chinese authorities, but we also need to look at how well countries follow the WHO's advice that this is not a pandemic and borders need not be closed. There is danger in political reactions which seek to close off China through high-level travel warnings, cancelled flights and unreasonable prejudice against Chinese enterprises. China and the world economy should work together to overcome all challenges.
Colin Speakman is an economist and an international educator with CAPA: The Global Education Network.
The opinions expressed here are those of the writer and do not necessarily represent the views of China Daily and China Daily website.
Most Viewed in 24 Hours
China Views